The Top 5 Hands of the World Series of Poker Main Event…So Far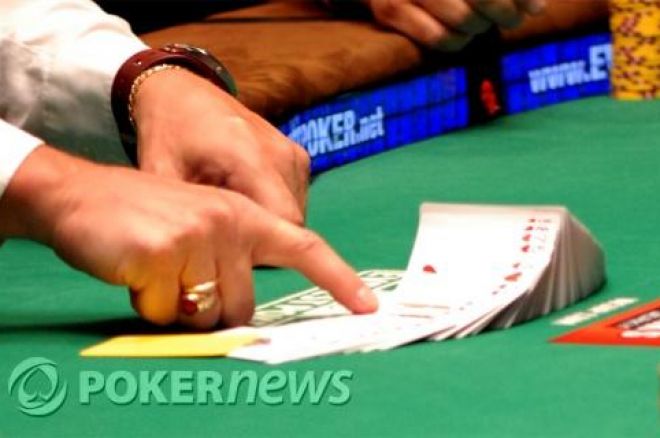 For the last 12 weeks we've watched as 6,494 players were whittled down to the "November Nine" in the first 24 of ESPN's 26 hours of WSOP Main Event coverage. This year's expanded broadcast showed far more action than ever before, not only the game-changing double-ups and soul-crushing eliminations, but also many of the deft folds, keen three-bets, and courageous bluffs that gave audiences a more complete picture of the tournament. In anticipation of this weekend's final table, we took a look back at the last three months of WSOP coverage and selected our top five hands of the Main Event… so far. Take a look and see if you agree.
5. Phil Ivey Four-Bets James Akenhead
Facing an opening raise from an unknown opponent and a call from Phil Ivey, James Akenhead picked up A-T and went for a squeeze raise, most likely hoping to end the hand before the flop. It was enough to chase away the unknown opponent, who mucked
, but Ivey sensed that Akenhead was making a move. Holding J-T offsuit, Ivey put in a four-bet, eliciting a sigh from the young Brit, who made the fold.
"You know I can have a hand once in a while," Ivey said, as he raked in Akenhead's chips.
4. Joe Hachem's Hunch Pays Off
Nick Brancato made it 18,000 to go with
and the action folded to Joe Hachem in the big blind. He elected to defend with
, and they saw a
flop. Brancato picked up an open-ended straight draw and led out, Hachem, making the call with bottom pair. Brancato missed his draw when the
hit the turn but nevertheless decided to fire another bullet, making it 30,000 to go. Hachem appeared to pick up a read on his opponent as he made the bet and flatted again. The board paired when the
fell on the river, and Brancato bet again, putting out 60,000. Not believing the story Brancato was trying to sell, Hachem made what ended up being a fantastic call and took a huge pot with fives and threes.
3. Mike Matusow lays down a queen high flush
In a pot from Day 1, five players, including Mike Matusow and Richard Johnson, limped in for 300 apiece and saw a
flop. Holding
, Matusow flopped the third-nut flush while Johnson hit the nut flush draw with
. Everyone checked to Johnson who bet just under half the pot and put 700 chips into the 1,500 chip pot. Matusow decided to play his hand fast, raising to 2,200, a bet that scared away the other three limpers. When the action came back around to Johnson, however, he moved all-in for 16,300. Matusow was utterly agonized over his decision because the raise (a) came from the tightest player at the table, and (b) calling it would cost him most of his chips. The Mouth ultimately decided to lay down his flush, saving his chips for a better opportunity.
2. Phil Ivey mucks a winner
Day 8 was a long grind for Phil Ivey, who saw his stack dwindle throughout the day. Looking down at pocket eights, Ivey opened for 320,000 from under-the-gun and Jordan Smith three-bet to 1 million from the big blind. Ivey called and they saw a
flop. Both players checked the flop, as well as
that came on the turn. The
hit the river, making Smith aces up, albeit with four spades on the board. Smith checked and Ivey checked behind, Smith opening up his
. Despite having the
in his hand for the winning flush, Ivey mucked his cards, their suits slipping his mind as he saw Smith's two pair.
1. Darvin Moon eliminates Billy Kopp
In the most dramatic, head-scratching, mind-boggling hand we've seen thus far in the Main Event (and maybe all year), big-stacked Billy Kopp opened for 600,000 from early position with
, and Darvin Moon called out of the small blind holding
. Both players made flushes on the
flop, Moon's the second-nuts. Moon checked, Kopp bet 750,000, and Moon smooth-called. The turn was the
and Moon checked again, Kopp firing again for 2 million. Moon came in with a raise to 6 million only to watch Kopp move all-in for 20+ million. Did he have the ace? Did he turn a full house? Moon decided to find out, calling off the vast majority of his chips. Kopp was drawing dead, and Moon raked in a 45-million pot on this critical hand, which made him the far-and-away chip leader. Kopp, looking like he wanted to die, practically ran out of the room, eliminated in 12th place.
The World Series of Poker Main Event final table kicks off tomorrow morning at 12:00 noon PST. Tune in to our Live Reporting Page for all the play-by-play, and follow us on Twitter for even more instant gratification.