PokerStars.net Asia Pacific Poker Tour Grand Final: Aaron Benton Takes The Title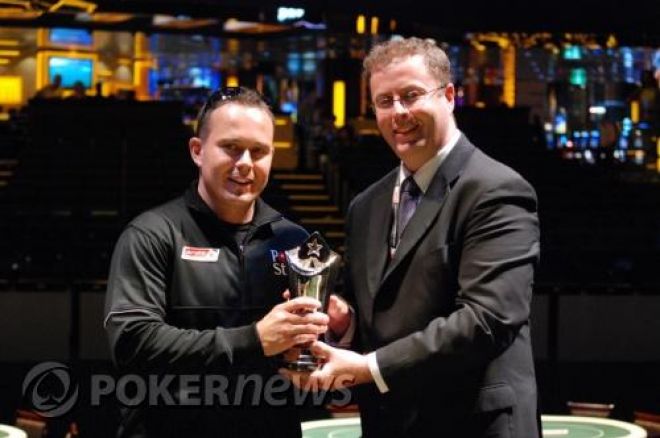 Eleven hours and 14 minutes after the first cards were dealt at the PokerStars.net Asia Pacific Poker Tour Grand Final Main Event final table, Aaron Benton raised two clenched fists in the air and let out a victory roar. The 32-year-old Aussie from Wollongong, New South Wales, is the 2009 APPT Sydney Main Event champion.
2009 has been a year to remember for this former reality TV star. Benton qualified for all four APPT Season 3 stops on PokerStars and managed to make the most of this one, besting a 396-player field to claim his first major live title.
During a post-match interview with PokerNews' Lynn Gilmartin, Benton said he plans to buy his mother a house with some of the winnings.
While coming in runner-up generally carries a bittersweet taste, Ernst Hermans has to be pleased with his result this week. He was one of only two non-Aussies at the final table and qualified for his seat in the main event via a $22 rebuy satellite on PokerStars.
Congratulations is also in order for the other seven finalists for a tournament well-played. Here's a quick look at the final results (all amounts listed in AUD):
1st: Aaron Benton (Australia) - $500,348 (adjusted for chop)
2nd: Ernst Hermans (Netherlands) - $475,000 (adjusted for chop)
3rd: Leo Boxell (Australia) - $213,840
4th: Wayne Carlson (Australia) - $166,320
5th: Tom Grigg (Australia) - $130,680
6th: Andrew Hiscox (Australia) - $106,920
7th: Barry Forrester (Australia) - $83,160
8th: David Formosa (Australia) - $65,340
9th: Thomas Slifka (USA) - $47,520
Follow us on Twitter for up-to-the-minute news, and also become our fan on Facebook.