Andrew Robl Analyzes the NAPT High Roller Field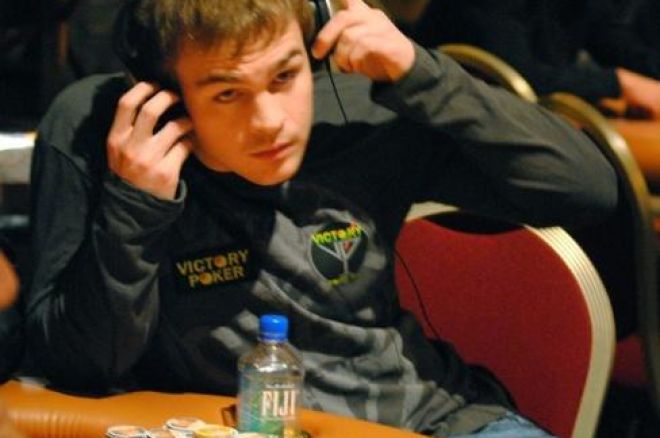 Feared online poker player Andrew Robl will jump into action tonight at the PokerStars.net High Roller Bounty event. Before heading to the Venetian, Robl sat down with PokerNews to analyze each table and give us his picks on who will move on.
Table 1
1. Joe Sebok
2. Phil Laak
3. Justin Bonomo
4. David Williams
5. Joe Cassidy
6. Yevgeniy Timoshenko
7. Tommy Vedes
This heat packs a lot of punch with a lot of players running very hot recently. I think the two favorites are Yevgeniy Timoshenko and Justin Bonomo but I'm going to take Bonomo since he has played tens of thousands of sit-n-gos. He definitely has the most experience with this format.
Table 2
1. (Satellite winner)
2. Dario Minieri
3. Tony G.
4. Alec Torelli
5. Isaac Haxton
6. Daniel Alaei
7. Peter Eastgate
I have a conflict of interest on this table since Alec Torelli is sometimes my roomate and one of my best friends. But for the sake of PokerNews readers I have to be objective. Issac Haxton has a slight edge over the table, as he is one of the best all around no-limit hold'em players in the world, and knows how to play with any type of stack.
Table 3
1. Chris Moneymaker
2. Keith Gibson
3. Joe Cada
4. Jason Mercier
5. Hasan Habib
6. Matt Glantz
7. Ashton Griffin
My two favorite horses at this table are relative unkowns to the general poker public. Ashton "ashman" Griffin is a sick online cash game player who has run his bankroll up into the millions, and also lost it several times. Keith Gibson on the other hand, while being totally off the mainstream's radar has been one of poker's most consistent winners in Bobby's Room at the Bellagio.
Table 4
1. Andrew Robl
2. Lee Markholt
3. John Hennigan
4. Phil Galfond
5. Alex Kamberis
6. Brett Richey
7. Daniel Negreanu
I think this is one of the tougher tables, and not only because I'm at it. Brett Richey and I have had a small personal feud over words exchanged at a drunken $1/$2 no-limit cash game. He is a sick pot-limit Omaha and mixed game player, but as far as I know, not as experienced playing no-limit hold em.
Daniel Negreanu is one of the most successful tournament players in history, but my friends booked big action ($150,000) on me winning the tournament vs him so at least they have confidence in me! I am going have to take my long-time friend Phil Galfond. He is one of the best poker players in the world, period, and I think he will do the best job getting into other pros' heads.
Table 5
1. J.C Tran
2. Joe Hachem
3. Annie Duke
4. Jennifer Tilly
5. Vanessa Rousso
6. Di Dang
7. Faraz Jaka
The cameras are going to love this table as it has quite a lot of eye candy. I don't have as much experience with these players so it's harder for me to handicap accurately. Jennifer Tilly is hugely underrated by the poker world; she has spent a lot of time working on her game. Whenever I'm over at her house she is watching training videos or playing online, and from what I've seen she has been holding her own in high-stakes cash games.
J.C. Tran is one of the best tournament players in the world, and Vanessa Rousso has also had amazing results recently,  but even though I have a lot of respect for all these players, I am going to have to go with Di Dang. Although he does not have much live experience, he has won more money playing online poker than all but maybe a half dozen people in the world. If he can avoid giving off any tells he should be the favorite to take this down
Table 6
1. Scott Sevier
2. Brian Rast
3. Chau Giang
4. ElkY
5. Antonio Esfandiari
6. Sorel Mizzi
7. Barry Greenstein
I think this is the toughest table in the tournament. There are no weak spots here. Look for a lot of action at this table. I think it will be very dependent on the cards in this match. Scott Sevier and Brian Rast will battle a lot early, so whoever emerges victorious from this battle will come out the winner. I'll give a slight nod to Rast, since he has position.
Table 7
1. Phil Hellmuth
2. Adam Richardson
3. Hoyt Corkins
4. Greg Raymer
5. John Duthie
6. Hevad Khan
7. Steve Paul
I don't think I've ever played with Adam Richardson, Hevad Khan or Steve Paul before, so I only know them by reputation. I'm going to go with Greg Raymer as I think he is the best player of those I've played with. He has done a lot of work on the math of playing vs short-stacks, which will help him out in this fast structure
You may notice in this format I'm favoring cash-game players over tournament superstars. The field is very tough and cash games are about all about out-thinking and winning against tough opposition. Most tournaments are about exploiting and getting maximum value out of weak players, which just don't exist in this field.
Andrew Robl plays on Victory Poker.
Be sure to follow all the action in right here at PokerNews, and to watch the event as it's happening check out the live streaming feed right here.