EPT Copenhagen Day 5: Anton Wigg Kisses the Trophy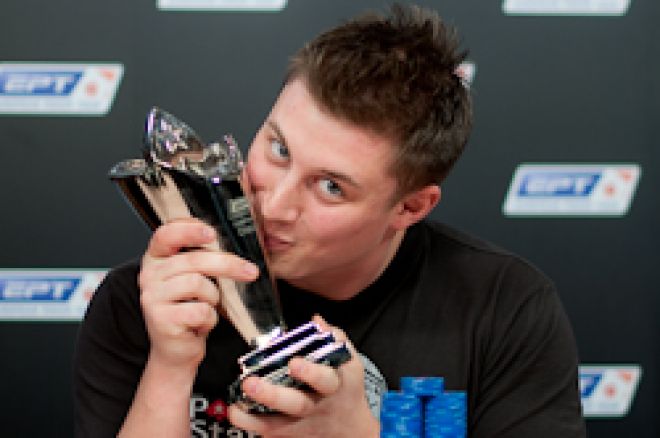 One player too many returned for the concluding day of the PokerStars European Poker Tour Copenhagen on Sunday, and all eyes were on the big shiny trophy on a small side table. The nine who filed onto the EPT Live stage this afternoon had to be reduced to eight before they could call it the "official" final table.
It sounded like a great plan, and the early action fraudulently hinted at the possibility of a short day. As it turned out, though, the quick start was merely a red herring. It would take a couple hours of grinding to knock off the ninth-place finisher and get down to the serious business. That unfortunate position went to Magnus Borg Hansen, his
losing a crucial flip to Anton Wigg's
. With most of the chip counts hovering in the same ballpark, that pot was the difference between Hansen being out in 9th place (215,000 DKK) and Wigg heading into the official final table as the chip leader.
Well over an hour would pass before the next elimination. Jesper Petersen had been playing awfully tight, tight enough to draw sweeping criticism from the media and the commentators on the television broadcast. In one eyebrow-raising pot, Petersen three-bet a raise from Morten Klein up to 270,000. When Klein shoved over the top, Petersen chose to save his 600,000 remaining chips, open-mucking the surprise
. A few hands later, he put another 120,000 chips into the pot preflop, but he yielded once more when Francesco De Vivo moved in on him.
Down to just about 400,000, Petersen finally went with
. Wigg had plenty of chips to look him up with
, and a board of
was unkind to the at-risk Petersen, sending him off in 8th place (282,800 DKK).
Another long period of inactivity followed, but the inevitable would finally occur. Morten Guldhammer came into the day second in chips, but a shaky first few hours saw his stack shrink to the smallest at the table. His play had been rather unusual for several days, but his tournament eventually came to an end in what was ultimately a very standard situation. Guldhammer's
was plenty good enough for him to go with, and Yorane Kerignard's
arrived just in time for the big race. The board gave no help to the at-risk Guldhammer coming
, and his day was done in seventh place (425,000 DKK).
With the blinds starting to get a bit more meaningful and Wigg hoarding a large percentage of the available chips, the action finally began to pick up temporarily. Roberto Romanello became the sixth-place finisher (570,000 DKK) after he made a bit of a misstep with
. He four-bet shoved on the chip leader, and the call came instantly from Wigg's
. The flop was an fantastic sweat as it came
to give the good-natured Welshman hope. The turn
took away three of his outs, but he still had a myriad of help cards to look for. The
was not one of them, though, and that was the final river card of Romanello's day.
Next to depart was Richard Loth (5th place, 715,000 DKK). Loth raced his
against Francesco De Vivo's
, and an ace in the door crippled him down to just a single, lonely big blind. The remainder went into the next pot, and De Vivo's queen-jack paired up to send Loth to the payout desk.
Just moments later, the largest pot of the tournament materialized out of nowhere. Kerignard opened on the button for 150,000. In the small blind, Wigg three-bet it up to 355,000, and Kerignard went ahead and moved all in for 2.475 million total. There was no hesitation in Wigg's call as he tabled his
. Kerignard was in danger with
, and the board of
ushered him out the door in fourth place (1,050,000 DKK).
With that, the brief flurry of action was officially over. Three-handed play dragged on for a couple of tedious hours with not much activity at all. All three men had their paws on the chip lead at one point or another, but none of them could manage to open up any sort of breathing room.
Finally, the action arrived with Wigg steering the ship. He opened to 205,000 on the button, and Klein three-bet to 540,000. Wigg moved all in with his slightly-covering stack, and Klein made a near-instantaneous call with
. Wigg knew he had his hand caught in the proverbial picnic basket, sheepishly turning up
. To Klein's detriment, though, the dealer ran out a board of
. The final two running cards gave Wigg the unlikely straight, earning him a significant chip lead and sending a gutshot Klein off the the cashier in third place (1,400,000 DKK).
Heads-up play refused to buck the trend of inactivity, both players proceeding with excessive caution. The odd notable pot erupted every now and then, but neither man was able to close out the battle for several arduous hours. Wigg was crippled down close to a million chips at one point, but within a few hands, he was right back to even, and the battle carried on. Back and forth they went for nearly four hours before the decisive hand finally came.
After finally working his way to a two-to-one chip lead, Wigg called De Vivo's final shove with
. His opponent was drawing live with
, but a board of
failed to improve him, and De Vivo was out in second place (2,275,000).
EPT Copenhagen is historically familiar with eternally long final tables, and this one certainly did not disappoint in that regard. After nearly 12 hours of battle, 22-year-old Swedish pro Anton Wigg emerged at the top of the pack, collecting every chip in play, the shiny silver trophy, and 3,675,000 DKK in cash!
Follow and friend us on Twitter and Facebook. It's the best way to get news and updates from the poker world embedded into your social life!