PokerStars.net LAPT Punta del Este Day 1 Recap: Fuentes Leads the Way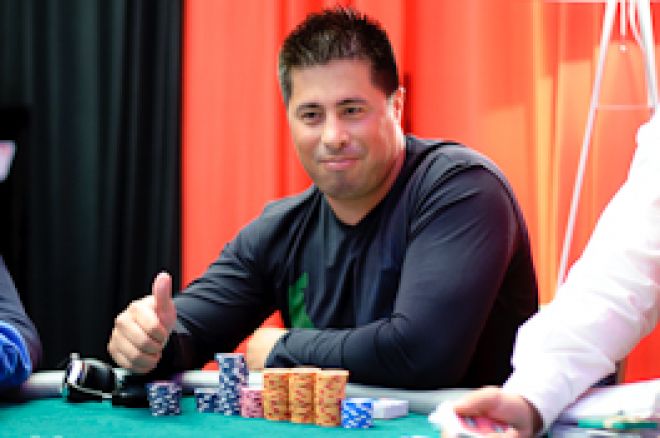 The PokerStars Latin American Poker Tour continued on Wednesday with its second stop of the season, this one being in Punta del Este, Uruguay. A field of 307 ponied up $3,500 + $200 for the event, setting first place at $279,330. Through eight levels of play on Day 1, over half the field has been eliminated. Martin Fuentes emerged as the chip leader with 118,000 in chips with 145 players remaining.
Fuentes quietly built up his stack to over 80,000 during the first few levels and jumped to over 115,000 during the last few hands of play. With blinds at 400/800 with a 100 ante, Fuentes limped in from middle position and the player in the small blind shoved for just over 10,000. Fuentes called and tabled
, having his opponent's
crushed. A third ace on the flop sealed it and set Fuentes as the chip leader. Hot on his heels are Cesar F. Mostafa, Ernesto Panno, and Jose Gonzalaz, all within 10,000.
A solid number of notables made the trip to Uruguay this week including, of course, a number of Team PokerStars Pros. Humberto Brenes survived Day 1, although his sons Roberto and Jose Humberto Brenes did not make it through. Other PokerStars Pros to make it to Day 2 include Leo Fernandez, Veronica Dabul, and Jose Ignacio Barbero. Other Team PokerStars Pros did not fare as well; Andre Akkari, Alexandre Gomes, Angel Guillen, and Pieter de Korver were all sent to the rail on Day 1.
Team Pokerstars Pro Maria "Maridu" Mayrinck's day got off to a slow start. She slipped to 15,000 in level three tangling with an opponent. The board read
and Maridu's opponent bet 1,500. She popped it to 4,200 and her opponent tanked for about one minute before calling. Maridu showed
for the straight and her opponent stood up to see her hand, waiting a few seconds before slamming over his hand -
for a full house.
Despite the slowroll, things improved for Mayrinck after that. She doubled with top pair top kicker against a flush and straight draw after the turn. Shortly after that, top-top worked for her again as she busted an opponent with a flush draw after the turn. She ultimately finished the day with 41,300.
Play resumes at noon local time Thursday with the goal of reaching the final 24 players. Our Live Reporting Team will be back on the floor to keep you up to date on everything that happens, and as always, follow us on Twitter for up-to-the-minute news.