UB Online Championship Awards: A Closer Look at the Two-Week Online Poker Event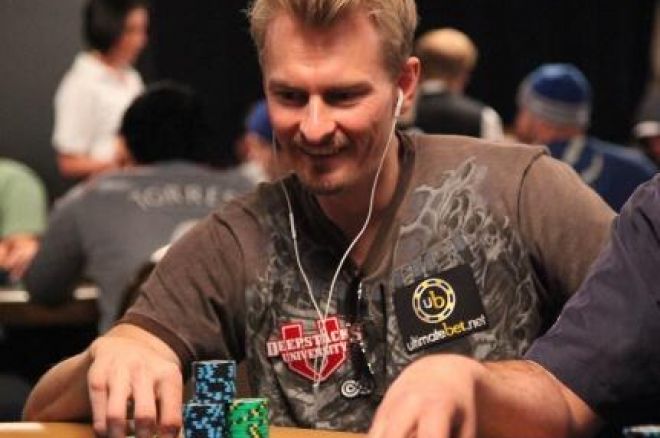 With awards season in full swing, UB has been busy awarding some serious prizes of its own. The fourth annual UB Online Championship came to a close on Sunday after two weeks and 18 high-stakes events. In case you missed any of the virtual drama, here are the highlights and biggest winners of UBOC 4. Joan Rivers' best- and worst-dressed list should follow shortly, unless Annie Duke gets to her first.
And the envelope please...
UBOC Champion: Dave D'Alesandro
Dave "DOUBLEDAVE22" D'Alesandro lived up to his name during the latest UB extravaganza, posting double final-table appearances and earning the UB Online Championship crown. He got a running start with a final-table finish in the series' first event. For sixth place in the Sniper no-limit hold'em event, he earned $12,954 plus the bounties he accumulated for busting his unfortunate opponents. D'Alesandro didn't end his assault on the competition after the sniper tournament. Instead, he came out firing in the UBOC Main Event, a $1,000 + $50 no-limit hold'em tournament with a prize pool over $1.3 million. D'Alesandro won the tournament outright for $279,004 and the title of UBOC Champion.
Honorable Mentions: Scott Sitron, SAILORLOBELL, GIT PAPER, SEBBAU
Scott "SCOTTYTHEFISH" Sitron also made it to two final tables. Sitron finished fifth in the first Sniper no-limit hold'em event (one place ahead of D'Alesandro). A few days later, Sitron picked up another fifth-place finish in the mixed pot-limit event for a total of $24,558. SAILORLOBELL and GIT PAPER each made two UBOC final-table appearances as well.
Although he only had one final table finish, SEBBAU certainly made it count. He pocketed more UBOC cash than any other player, earning a sweet $361,100 for his victory in the $2,500 + $100 6-Max Deepstack NLHE tournament.
Best Performance by a UB Pro: Michael Binger
Michael Binger defended his honor on UBOC 4's opening day by giving an impressive performance in the 8-game mixed event that he hosted. The seasoned pro had a much bigger payday in mind when the Main Event began, but it looked like his final table hopes were over when he found himself under 1,000 chips. Through shear determination (and a runner-runner miracle or two), Binger rebuilt his stack and rode the momentum all the way to a fifth-place finish. Binger picked up $69,924 for his Main Event showing, by far the largest chunk of change earned by a UB pro during this installment of the Online Championship.
Honorable Mentions: Phil Hellmuth, Bryan Devonshire, Gary DeBernardi, Liv Boeree
Phil Hellmuth comes in just a hair behind Binger in the race for "Pro of the Series." We could have given him the nod, but Hellmuth doesn't exactly need another accolade to boost his self-esteem. The Poker Brat made it to the quarter-final round of the heads up event, finishing eighth for $5,985. He added another final table to his resume and $4,250 to his UB account with a seventh-place performance in the pot-limit Omaha 8 or Better tournament. If that's not enough, Hellmuth also cashed in two other UBOC events.
Bryan Devonshire deserves props for working the hardest to rep his site. Devo played in almost all of the events, posting several deep runs. He finished just short of the six-max limit hold'em final table, earning $998 for eighth place.
Gary "DEBO34" DeBernarndi also worked overtime during UBOC 4. Debo went deep in the 4-Max no-limit hold'em event that he hosted and final tabled the mixed Omaha-stud tournament.
Although she's long been on the radars (and possibly screen savers) of many online poker fans, Liv Boeree could be the breakout star of the year. The UB pro cashed in several events, including a deep run cut short by a two-outer in the six-max deep-stack no-limit hold'em event hosted by Joe Sebok. She definitely deserves the pro-on-pro violence award (and a nice bounty) for busting Sebok from his own show. In addition to her in-the-money UBOC finishes, Boeree took second in the Mini UBOC pot-limit Omaha tournament for more than $2,000.
Best Mixed Doubles Performance: Mike Sowers and Lauren Kling
Early on, it looked like Joe "JOEUGLY" Reitman and UB pro Annie Duke could be the king and queen of the UBOC prom. Reitman finished seventh in one of the first few events, but Duke failed to hold up her end of the deal. That left the field wide open for online powerhouse couple Mike "SOWERSS" Sowers and Lauren "SUPERMODL" Kling. The pair picked up matching his-and-hers second place finishes in the last two events of UBOC 4. Sowers already recorded WCOOP and FTOPS second-place finishes in the last 12 months, and he picked up another second and $26,336 to go with them in the turbo rebuy no-limit hold'em event.
The next day, Kling got to work in the UBOC Main Event, powering all the way to the final table. She fought hard heads-up and looked poised to double into the chip lead, but alas, her pocket nines were no good against Dave D'Alesandro's mighty pair of fives. Despite the ugly beat, SUPERMODL earned a beautiful $163,244 for second place.
Worst Bubble Beat: Matt Graham
It's an online tournament series. What do you expect? This category could probably include enough hand histories to crash your replayer, but we'll pick just one. On the final table bubble of a no-limit hold'em event, BUSK9 raised under the gun, SOMPAS reraised, and UB pro Matt Graham cold four-bet with pocket queens. BUSK9 got out of the way, but SOMPAS wasn't going anywhere. Instead, he five-bet shoved, and Graham called all-in to find that his
was up against SOMPAS'
. The
on the flop and the
on the turn were all she wrote for Graham, who was left with $2,939 for 10th place. At least SOMPAS put Graham's chips to good use. He went on to win the event for over $65,000.
Honorable Mention/Least Surprising Bubbler: Joe Sebok
The UBOC Main Event boasted 1,307 runners and paid the top 135 finishers. So no one was surprised when, after wading through most of the field, Joe "seventhbok" Sebok busted only a few spots shy of the money.
Other Notable Performances
Ty "KEEFKING420" Reiman rode the rush from his second-place finish at the PCA to a victory in the first event of the series. He earned $65,488 for winning the sniper no-limit hold'em event. Brandon "ARE THESE UTZ" Hall, reigning champion of UB's Aruba Poker Classic, proved that he's a force to be feared on the virtual felt as well, making the final table of the deep-stack pot-limit hold'em event.
Other well-known players who added UBOC final table appearances to their long list of online achievements include Evan "PURPLEPILS99" Parkes, Cliff "JOHNNYBAX" Josephy, Jon "PEARLJAMMED" Turner, and Kevin "BEL0WAB0VE" Saul.
The UBOC may be over, but the action is still fast and furious over at UB. Sign up for an account today to start building your 2011 UBOC bankroll.