The Online Railbird Report: Hansen's Struggles Continue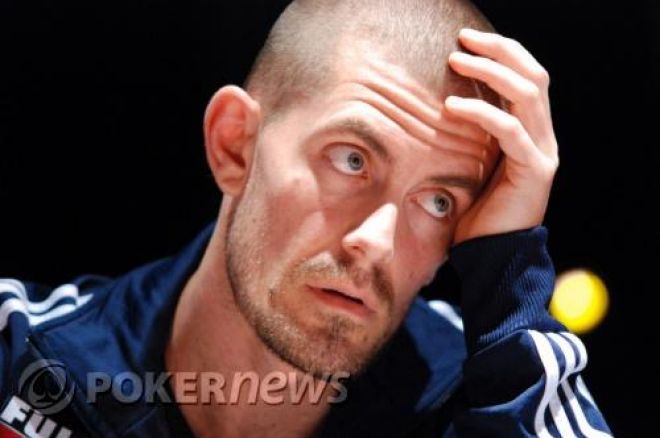 The recent frantic high-stakes cash-game action on Full Tilt Poker has subsided — for now. The seven-figure swings that were prominent over the past few days fell back to the usual six-figure gains and losses with "Isildur1" and Brian Hastings laying relatively low after some previous turbulent sessions. Some other regulars, however, were still going at it as Gus Hansen, Tom "durrrr" Dwan, and Ilari "Ziigmund" Sahamies have been mixing it up.
Hansen's Slide Carries On
Gus Hansen is now flirting with the red zone after having been up nearly $3,000,000 earlier in the year. His recent downswing shows little sign of letting up,and he is down nearly $400,000 over the last few days. Key hands are failing to hold up for Hansen, like this one against Cole South.
They were playing $300/$600 pot-limit Omaha and Hansen raised to $1,800 on the button. South made it $5,400 to go and Hansen called, bringing a
flop. South bet $7,800 and was met with a raise to $21,000 by Hansen. South went all in for his remaining $47,700 and Hansen made the call with
. His top-two pair and inside-straight draw held the lead against South's own two pair and straight draw holdings of
. Alas, the
turn card made a straight for South and put Hansen s on the ropes. The
fell on the river and while Hansen made a straight to the eight, South's straight to the nine was best and the $121,800 pot went his way.
Small Downswing for Dwan
Tom "durrrr" Dwan is having a very good month but hit a minor bump recently. He's down roughly $150,000 since Tuesday and lost almost that amount to Ilari "Ziigmund" Sahamies in this hand.
The game was $500/$1,000 pot-limit Omaha and "durrrr" raised to $3,000 on the button. Sahamies popped it to $9,000 from the big blind and Dwan called. The flop came down
and Sahamies fired a pot-sized bet of $18,000. Dwan called and the
landed on the turn. "Ziigmund" fired again, this time a modest $23,000 into the $54,000 pot. Dwan made the call, leading to the
hitting the river. Sahamies went all in for just over $80,000 and "durrrr" called all-in for just a little less. Dwan's hand was mucked when Sahamies tabled
for a straight flush, winning the $247,367 pot.
Who's up? Who's down?
This week's biggest winners (3/16-3/18): POKERBLUFFS (+$216,000), ClockWyze (+$182,000), URnotINdanger2 (+$130,000)
In the red: Gus Hansen (-$367,000), Alexander "PostflopAction" Kostritsyn (-$156,000), Tom "durrrr" Dwan (-$146,000)
Top earners, 2010 to date: Tom "durrrr" Dwan (+$3.44 million), Alexander "PostflopAction" Kostritsyn (+$2.27 million), NEKOTYAN (+$1.84 million)
Want to watch the action yourself? Sign up for a Full Tilt Poker account today. Follow us on Twitter too, for up-to-the-minute news.