The Online Railbird Report: Win a Million, Lose a Million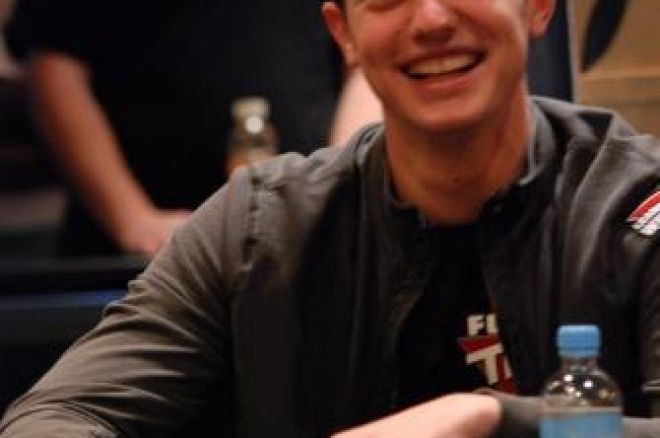 No matter what stakes they play, no matter how big their bankrolls, no matter how often it happens, a seven-figure swing is still an undeniably emotional experience for a high-stakes cash game player. This week, two members of the young, rich and undeniably talented set of nosebleed-stakes players endured such bankroll fluctuations, Tom "durrrr" Dwan continuing his rebound with a million-dollar win, and Cole South's first-quarter winning streak coming to an abrupt halt with a million-dollar loss. It was also a nasty week for South's CardRunners colleague Brian Townsend, who dropped over $750,000 as well as Marcello "luckexpress10" Marigliano, who suffered a single-day loss of $451,000.
Hot-running South sheds a million
Only a few days ago, Cole South was sitting pretty as the year's biggest online winner with more than $3.5 million in the till from the first two months of the year. But as we all know too well in poker, what goes up must eventually come down—at least a little. South hit a gruesome patch of variance on Tuesday night, dropping just over $1 million inside 3,648 hands of play. His two biggest benefactors were Tom "durrrr" Dwan and Ilari "Ziigmund" Sahamies, who each collected about $500,000 of South's money.
Sahamies was the recipient of the monsterpotten of the night, coming in at $291,000. South led off the betting with a raise to $1,800, Sahamies made it $5,600 to go and South called. Sahamies bet $11,400 on the
flop and South made the call. The turn came the
and Sahamies fired a second bullet for $34,200. South shoved for $128,399 and Ziigmund quickly committed the rest of his chips, turning over
for a pair of queens, the nut flush draw, a gutshot broadway straight draw and a gutshot wheel draw. South was temporarily ahead with
for two pair, but the

on the river made Sahamies' flush, earning him the $290,997 pot.
Luckexpress10 derails, loses $451k
Often a catalyst for high-stakes short-handed no-limit hold'em games, Marcello "luckexpress10" Marigliano mixed in some pot-limit Omaha on Monday night and ended the evening over $451,000 in the hole. Gus Hansen was around to gobble up nearly half of his losses, while Patrik Antonius picked up a few crumbs as well.
Hansen raked in the largest pot of the night against Marigliano, the two of them playing heads-up $300/$600 pot-limit Omaha. Marigliano opened for $1,200 from the button, Hansen three-bet to $3,600 from the big blind and Marigliano called. Hansen made it $7,200 to go on the
flop, Marigliano raised to $28,800 and Hansen shoved for $64,200. Marigliano looked him up, turning over
for straight and flush draws while Hansen showed
for top pair and the nut flush draw.
The turn didn't change much with the
, but the
on the river gave Hansen top two pair and the $121,200 pot.
Dwan and Bonomo share suspicions regarding DrPill and Isildur1
It wasn't too long ago that unknown Swedish player "DrPill" accused Justin "ZeeJustin" Bonomo and Isaac "luvtheWNBA" Haxton of sharing accounts on Full Tilt Poker. Bonomo also made similar insinuations about DrPill and fellow mystery Swede "Isildur1," but vehemently denied any account-sharing activities with Haxton.
A few nights ago, the topic came up again while Tom Dwan and Cole South were playing each other heads-up.
Cole South: there were like 12 100200 tables goin at one point though
durrrr: wow
durrrr: howd pill do?
Cole South: i think he won
Cole South: mahbe 150k
durrrr: hav u played pill?
Cole South: nope
durrrr: i dont think they share accnts much
Cole South: never seen him at plo
durrrr: but all the nl guys seem to think they do
Cole South: and havent been playin too muc hnl
Cole South: yea silly for them to make accusations in public on a hunch though
durrrr: well not rly in this case
durrrr: b/c isil for sure did that w/ a diff accnt
Cole South: ah dont know the story there
Dwan's million-dollar day
Tom "durrrr" Dwan went a long way toward rebuilding his damaged online bankroll on Thursday night, winning just short of $1 million over the course of 2,700 hands. Dwan stuck to heads-up $200/$400 pot-limit Omaha, the bulk of his winnings coming from the CardRunners duo of Brian Townsend and Cole South.
Dwan's match against Townsend was swift and utterly brutal, Townsend shedding $496,000 in only 126 hands. After Townsend quit, Dwan sat down at six tables with South and 2,000+ hands later, emerged with a $300,000 win.
Dwan took down the largest pot of their match, coming in at nearly $176,000. South opened for $1,200, Dwan three-bet to $3,600 and South made the call. Dwan led out for $4,800 on the
, setting off a raising war that ended with both their stacks in the middle. South showed
for top two pair while Dwan turned up
for the same two. The
on the turn was a great card for Dwan, giving him a straight draw, and the
on the river spelled heartbreak for South. Dwan's jack kicker played, earning him the $175,593 pot.
Who's up? Who's down?
This week's biggest winners (2/24-3/2): Tom "durrrr" Dwan (+$1.75 million), Patrik Antonius (+$738,000), Di "Urindanger" Dang (+$677,000)
In the red: Cole South (-$884,000), Brian Townsend (-$751,000), Ilari "Ziigmund" Sahamies (-$556,000)
Top 3 earners, February 2010: Cole South (+$1.98 million), Alexander "PostflopAction" Kostritsyn (+$1.56 million), Tom "durrrr" Dwan (+$1 million)
Biggest downswings, February 2010: Brian Townsend (-$1.29 million), Ilari "Ziigmund Sahamies (-$873,000), Brian Hastings (-$795,000)
Are you as addicted to the high-stakes action as we are? Open up an account at Full Tilt Poker today and watch it live.