The PokerNews Top 10: The Top 10 Online Poker Innovations, Part 2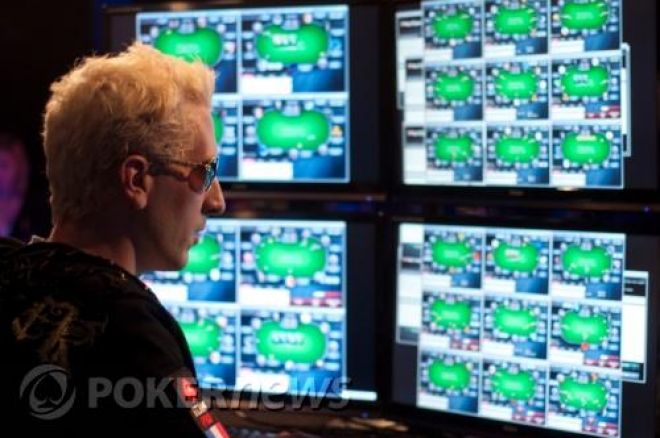 Yesterday, we shared the first half of our picks for the Top 10 Online Poker Innovations; today we're wrapping it up with our final five. Agree or disagree with us? Think we left something out? Fire away in the comments!
5. Resizable tables
Not too long ago, Bertrand "ElkY" Grospellier set a sit-n-go world record by playing 62 games in one hour, managing up to 40 tables at a time across four screens. Hevad Khan was once accused of being a "bot" until he videotaped himself playing 26 sit-n-goes at once. And every day, grinders across the globe earn a living by playing eight, 12 or even 16 tables at a time to maximize their profit. None of these feats would be possible without resizable tables.
Before resizable tables were introduced, players were limited to what they could fit on a computer screen. With a decent-sized monitor, it was possible to tile four tables without any overlap. On a smaller laptop, two tables could be squeezed together side by side. However, with the ability to customize the size of each table, players no longer had to worry about missing any action. Tables could be automatically tiled or cascaded to fit one's screen. Now, it's possible to fit a dozen tables even on the smallest screens, much to the relief of multitablers on the go.
4. Guaranteed prize pools
If you guarantee it, they will come. Online poker sites have proven over and over that the promise of a hefty prize pool is more than enough to fill the seats. PokerStars' Nightly Seventy Grand and Daily Eighty Grand tournaments frequently boast six-figure prize pools, and the $1.5 million guaranteed Sunday Million surpasses that guarantee weekly. Only a few months ago, Full Tilt Poker saw a record number of tournament players flock to "Double Guarantees Week," and on February 21, PokerStars shattered all previous Sunday Million records with a special $4 million guaranteed, fourth anniversary edition that drew over 36,000 players and resulted in a $7.2 million prize pool.
3. Tracking software
Some players believe that tracking software is one innovation that ruined online poker. The only thing is, the people that usually make that argument tend to be losing players. Not only do programs like PokerTracker, Hold'em Manager, and PokerAce HUD make it far easier for players to monitor their opponents' tendencies, but they enable them to keep extensive, exacting records of their time at the tables. With thousands of hand histories at one's disposal, it's far easier to find leaks and make improvements. Win-loss records, ROI calculators and itemized cash-game results make it incredibly simple for one to evaluate progress and determine where one is having the most success. And those amazing little EV graphs? With those, players never have to guess whether they're running good, bad, or right on target.
2. Rakeback
It's possible to be a break-even or even slightly losing player online and still earn a nice monthly check for all that work. Whatchoo talkin' about Willis? We're talking about the magic of rakeback, a true game-changer in the online poker world. When a player signs up for an online account under a rakeback program, each month the player receives a refund of a fixed percentage of the rake he or she paid. For low-limit grinders playing eight or twelve tables at a time for 40 hours a week, that money can really add up.
Rakeback can make an unprofitable game profitable. Take limit hold'em below $5/$10, for example. Even the best LHE players online can barely beat the rake with their hourly profits, but with rakeback, it suddenly becomes a far more lucrative venture. Rakeback is also a godsend for anyone trying to grind up an online bankroll or rebuild at smaller stakes after a big loss.
1. Live tournament satellites
What would the poker world look like today without online satellites to live events? Without them, it's fair to say that the poker boom would have been a whole lot smaller.
Running inexpensive online satellites to major live events was the key element that launched poker into the mainstream. Where would we all be if Chris Moneymaker hadn't turned his $39 satellite win into $2.5 million and a World Series of Poker bracelet? Moneymaker proved to all of us that anyone can play on the world stage ― and anyone can win. And with hefty entry fees obtainable through a minimal online investment, tens of thousands of players followed in his footsteps. Online satellites led to the explosion in WSOP Main Event entries and gave a huge boost to the World Poker Tour during its first few seasons. It's also no coincidence that when the UIGEA made it more difficult for online sites to directly buy their American customers into some live events, numbers for those tournaments began to drop.
The instant success of PokerStars' new North American Poker Tour proved just how crucial it is to run online satellites to major live events. Last month's $5,000 buy-in NAPT event at Venetian Las Vegas drew 872 entries, more than 300 of them online qualifiers. Over 150 players have already won their seats online to the NAPT's next stop at Connecticut's Mohegan Sun, and the event is still nearly a month away.
Have we done enough to whet your appetite for some online poker? Open up an account at one of our partner poker rooms today and get cracking!