The PokerNews Top 10: The Top 10 Online Poker Innovations, Part 1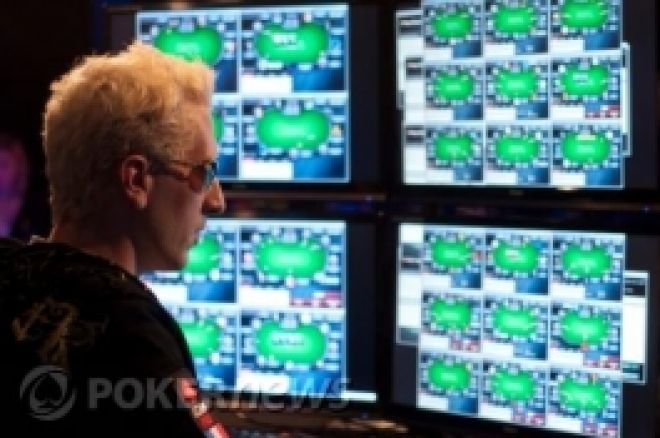 Think back to the first time you played online poker. Were you on the Moneymaker bandwagon in late 2003? Or riding the WPT wave in 2004? Maybe Joe Hachem inspired you to start playing in 2005 or "Isildur1's" run convinced you to ante up three months ago. Regardless of when you first clicked the all-in button and saw a pot shipped your way, the online poker experience has changed immensely and it's still rapidly evolving. Here at PokerNews, we put our heads together, hopped in the time machine (so to speak), and came up with what we believe are the ten most significant innovations in online poker over the last several years. In Part 1, we'll look at numbers six through ten and in Part 2 we'll reveal the top five.
10. Rush Poker
Full Tilt's Rush Poker tables are the new, hip thing when it comes to online cash games, and the playing experience has been likened to crack cocaine in print, on Twitter, and in everyday conversations more times than we can count. Love it or hate it, Rush Poker is the most significant innovation in terms of game format brought to an online poker site in years. Rush tables eliminate nearly all the waiting time involved in playing a hand, the "quick fold" option functioning much like a fast-forward button on a remote control.
Not only are players able to log more hands per hour, but the game dynamics are significantly altered. Table lineups are constantly changing. Tracking players is much more difficult and as a result, one's history with an opponent matters much less than at a traditional table. Playing styles trend toward either end of the spectrum; people are either nitting it up and quick-folding their way to premium hands or preying on the nits by three-betting light before the flop. New tables and limits are still being added—Full Tilt recently began spreading limit hold'em Rush tables and expanded their pot-limit Omaha offerings.
9. Mac clients
Several of us here at PokerNews HQ played our first hands of online poker at the now-defunct PokerRoom.com. Back in 2003, it was the only online poker site that supported Macs and, well, a lot of us here are "Mac People" despite the unfortunate hipster connotations. Back then, Apple enthusiasts who wanted to play on PokerStars, Party Poker, or Ultimate Bet had to jump through several software hoops including installing something called "Virtual PC" that reduced system speed to a crawl. It was almost enough to make one want to give up the iBook for a Dell. Then, like manna from heaven, sites finally began releasing Mac clients for their poker software. Full Tilt Poker was the first, in late 2005, followed by Party Poker in 2006 and PokerStars in 2007.
8. Online training sites
It used to be that an Amazon.com gift card could be one's ticket to improving one's poker game. Players looked to texts like The Theory of Poker, Super System, and Harrington on Hold'em for new strategies and advice on plugging leaks in their game. Now, an online player looking to get more serious about poker is more likely instead to turn to a training site like CardRunners, PokerVT, or Deuces Cracked.
Membership on a training site puts you directly behind the shoulder of some of the most wildly successful players in the game while they open up their playbooks and reveal their hole cards. Instead of reading cards and suits in print, they come alive on the screen in extensive video lessons that can cover entire tournaments or cash-game sessions. And unlike a printed book, content on training sites is constantly evolving. As the game changes, players must adjust to keep winning. With fresh videos uploaded every day, training sites enable players to keep up with metagame trends and stay on the cutting edge.
7. Synchronized tournament breaks
In April 2009, Full Tilt Poker instituted synchronized tournament breaks, forever changing the lives of MTT grinders. Instead of having tournaments go on a five-minute break after 60 minutes of play, all events went on break at 55 minutes past the hour, regardless of when they began. Multitablers were given the ability to actually take a break because all of their tournaments stopped at once, and the millions of laptops that were being unplugged and dragged into restrooms around the world out of pure necessity were now being left in peace on desks and coffee tables. PokerStars quickly followed Full Tilt's lead and most of the major online sites including UB, Absolute Poker, and Cake Poker came along shortly thereafter.
6. Heads-up play
Before the Internet age, heads-up matches were special occasions typically reserved for epic high-stakes face-offs. Casinos didn't (and still largely do not) spread heads-up games and live heads-up tournaments were still many years away from making their debut. With the advent of online poker, however, heads-up play exploded in popularity. Sites added heads-up tables, heads-up sit-n-goes, and heads-up shootout tournaments to accommodate demand. Whatever the hour, whatever the stakes you play, whatever amount of time you have, there is always a heads-up table available online, be it a $7.50 Razz super turbo SNG or a $100/$200 no-limit hold'em cash game.
An entire class of heads-up specialists has evolved online and includes some of the game's brightest players like Isaac "luvtheWNBA" Haxton, Patrik Antonius, Vivek Rajkumar, Brian Townsend, and Dario Minieri. The popularity of the heads-up format has also spilled over to live tournaments, inspiring events like the NBC National Heads-up Poker Championship and the $10,000 buy-in World Championship Heads-up No-Limit Hold'em event at the World Series of Poker.
Check back tomorrow for Part 2, where we reveal our picks for the top five. In the meantime, head over to one of our online poker rooms and see what we're raving about.