The Nightly Turbo: Full Tilt Poker Signs Two Aussies, Chris Ferguson in the Movie Biz, and a StoxPoker Collusion Analysis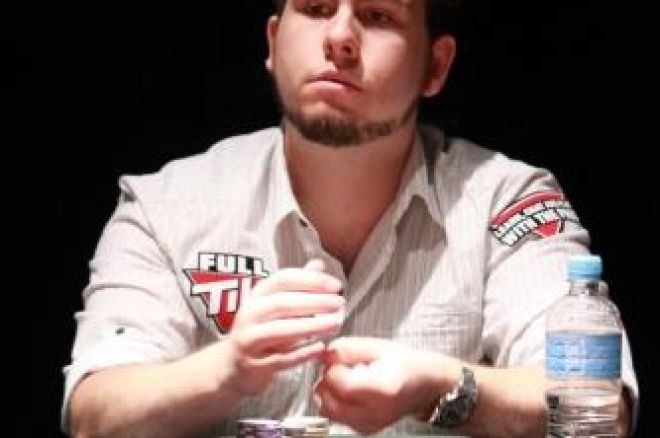 Full Tilt has added two new players to the Red Pro roster, Chris Ferguson is making his way into the movie business, and an analysis of the StoxPoker collusion controversy in tonight's Nightly Turbo.
Barney Frank is holding a hearing that will focus on his bill to delay full implementation of the UIGEA. Find out more about it here.
We're back with the Sunday Majors results. Would you expect anything less on a Monday? Check them all out in The Sunday Briefing.
Dwyte Pilgrim has been running over the poker tables lately. We sat down with him recently to discuss his poker success and what's next on his tournament schedule.
The PartyPoker Big Game IV has been rolling for about 24 hours now, and we fill you in on how it's been going here.
UKIPT Coventry
The third stop of the PokerStars UK & Ireland Poker Tour is in the books. It was 22-year-old Gilles Augustus who came out on top when it was all settled. He took home £46,000 for first place and an entry into the season finale of the UKIPT, the PokerStars EPT London event.
Final Table Results
1. Gilles Augustus - £46,000
2. David Jones - £29,400
3. Joseph Grech - £16,100
4. Daniel Carter - £12,700
5. Paul Rigg - £10,200
6. Marius Lietuvnikas - £8,200
7. Chris Brice - £6,600
8. Ben Dobson - £5,000
9. Andrew Booth - £3,500
10. Ben Crellin - £2,500
There are plenty of stops left on the UKIPT. Win your way there. Sign up for a PokerStars account today!
Poker Pet Peeves
Pet peeves. We all have them. We wanted to find out what your biggest ones in poker were, so we took to our Facebook page and asked around at the NAPT Mohegan Sun and came up with a two part series. This is part one, and you can find part two, featuring PokerNews' Kristy Arnett, Lynn Gilmartin, and Allen Kessler below.
Make sure you're following us on Twitter. It's the best way to get up-to-the-minute news.
Call Time
Team Full Tilt member Chris Ferguson and Tiltware CEO Ray Bitar are lead investors of RCR Pictures, a new film/TV venture that will be run by producer Robin Schorr.
It took Schorr 18 months to convince the two to invest in the venture, but Ferguson and Bitar's love for movies and Schorr's track record got the best of them and they were hooked.
"These are incredibly smart guys. I'll ask their advice here and there, but Chris is not going to be reading scripts every weekend. When you are investing in development smartly, you can end up with so much more than if you put money into production financing. $5 million or $10 million can get you on the ground floor of many projects, and we hope to have a slate of 15 projects or more by the end of the year. And, yes, I would love to find a poker movie," Schorr said.
There have yet to many decent poker movies out there, but maybe with Ferguson and Bitar helping out, that may change.
Deadline.com has more.
Color Up
Full Tilt Poker has added two new names to its roster. Jonathan "xMONSTERxDONGx Karamalikis and Van "Sirens" Marcus are the newest online phenoms to be given Red Pro status on the site.
"It feels great to sign with Full Tilt. They are, in my opinion, the best poker site in the world. I love playing there and I'm looking forward to racking up a few big scores while representing them," said the 21-year-old Karamalikis, who has started off the year with stellar performances at the Aussie Millions.
Marcus and Karamalikis have established themselves as two of Australia's top players, both playing some of the highest stakes around. Full Tilt was looking to expand its Australian lineup and the two now join fellow Aussies Billy "The Croc" Argyros, Mark Vos, and Paul Khoury. Marcus has decided to make the switch from "Sirens" to his full name in red, while you'll still be able to find Karamalikis as "xMONSTERxDONGx," just in a different color.
Read more at PokerNetwork.com.
Analyzing Stox
Nick Grudzien, founder of StoxPoker, resigned from the online poker training site last month amid allegations of cheating. He admitted to multi-accounting on Full Tilt Poker and PokerStars. The poker community, not taking too lightly to cheaters, however, wanted to go a bit further and analyze things.
High-stakes players from the Two Plus Two community went so far as to collect databases of hand histories to analyze them in an attempt to prove or disprove allegations of collusion from accounts known to be associated with Grudzien.
NoahSD contacted Poker Table Ratings in an attempt to use its databases to compile irrefutable evidence in the case. PTR provided NoahSD with the data and he concluded that there was in fact collusion between the accounts in a 47-page PDF.
PokerNews Editor-in-Chief Matthew Parvis looked over the document and concluded: "Don't cheat at high-stakes online poker because nerds will always track you down with fancy graphs."
NoahSD has written up an analysis that is much too long for anyone with a short attention span, so you can find it at PokerTableRatings.com.