Dwyte Pilgrim: The Man with Three Gold Rings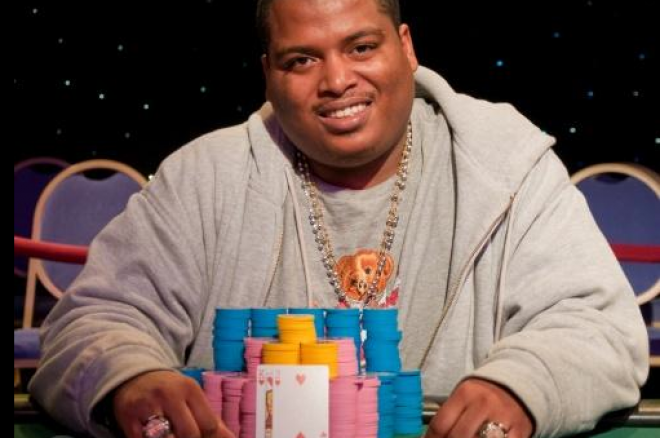 If you've ever been to a World Series of Poker Circuit event, you've probably noticed a young man underneath a hooded sweatshirt seated among the tournament tables grinding through the event with a big smile on his face and boisterous table chatter. You may have also noticed that he may struggle at times to moves his chips around because of the three large, heavy gold rings he wears on his fingers. Then, you're left asking yourself who this guy is and where he came from. Well, that man isn't wearing three school class rings from back in the day. Those are WSOP Circuit rings and the man is Dwyte Pilgrim.
Hailing from Brooklyn, N.Y., Pilgrim recorded four cashes on his tournament resume totaling roughly $50,000 in 2008. That's nothing special and there are thousands of players out there who have done the same. Then March of 2009 rolled around and Pilgrim really hit the scene.
During March, Pilgrim made a splash at WSOP-C events. First at Caesars Atlantic City where Pilgrim won a prelim event for $83,955. Then he went out to Rincon and final-tabled one event before claiming top prize in the Main Event for $125,775, giving him two rings. The rest of the year was good to Pilgrim, as well. He managed to cash 11 more times and make five final tables.
In 2010, Pilgrim won two events to kick off the year in January at the Southern Poker Championship in Biloxi and came in second in another. The following month, he final tabled the WSOP-C Main Event at Harrah's Tunica, won the $1,500 event at the Foxwoods Mega Stack Challenge XV and then ran deep at North American Poker Tour Venetian. Not stopping there, Pilgrim made another final table at the Chicago Poker Classic in March and then won his third gold WSOP-C ring in Rincon.
Already in under three years, Pilgrim has racked up 28 cashes, 18 final tables and six wins. He's scored nearly $650,000 in prizes from all of that and is really starting to make a name for himself. PokerNews caught up with Pilgrim recently for a quick chat and here's what he had to say.
Welcome Dwyte and congratulations on all of your success. First off, how did you get started in poker?
I got started at work. I used to be a loan officer and on Friday nights the senior reps would play a nice game. From there, I played about three years online then I moved to the Taj Mahal in Atlantic City for a year and Harrah's for the next year playing cash.
When did you decide you could really start making a living traveling and playing poker?
I left my job in 2006-2007. I realized that I could be successful, but March of 2009 is when I really started traveling beginning with Rincon.
You've been doing really well lately on the felt and had one heck of a 2010 so far after coming off a strong finish to 2009. You already have four wins under your belt and eight final tables. Along with that, you made a deep run at NAPT Venetian. What do you attribute to the hot run?
I would say the different styles of poker I have in me: cash, tourneys and online. And the drive to play consistent and put myself in profitable situations gives me the fuel to go deep.
What goes on in your head regarding making a deep run in a tournament?
I just want to win! That comes many different ways in poker, so I just try to make the play accordingly. I believe you have to be able to adapt to be successful. No strategy, just try to make best decision at all times.
With all of the recent success you've been having and results you're cranking out, the name Dwyte Pilgrim isn't just another name on the registration list now. How do you feel about the recognition you're starting to get?
I love the recognition, but nothing came easy. I worked seven years to get where I'm at now, and I still feel I'm the best, just not promoted right. But as long as you're playing well, there's pressure, as well. You're being watched even harder and your mistakes are magnified, so I'm just trying to make my next move my best move. This is chess, not checkers fool. (Laughs)
It looks like every week you're off to a new part of the country for another tournament series and are really getting after it. What are your plans for the rest of the year and what goals have you set for yourself? How do you see the rest of 2010 progressing?
As far as goals: number one is Player of the Year and number two is to put myself in a more comfortable situation to get my best game out there. I'm trying to play in different parts of the world like San Remo, Monte Carlo and Paris, so I'm going on a little trip from April 14th to May 14th.
Which tournaments do you have your eye on that you'd really like to take down this year?
Every tourney is important right now because it's a tight race in the top five for Player of the Year, but NAPT Connecticut $5k, Borgata East Coast Championship, $25K WPT, Monte Carlo, Grand Prix, WSOP-C New Orleans $5k and California State Championship. Those are some serious games before Series.
What are your plans for the World Series of Poker? How many events are you going to be playing and which ones are you really looking forward to?
I'll play as much tourneys this year as I can, but I'm focused on the pot-limit, limit and no-limit 10ks. Those are the main focus and everything builds around it.
Who have you learned from and turned to for advice in poker? Who do you respect the most in the game and do you have any tips you'd like to share with us?
I get advice from Victor Ramdin, David Williams, Dennis Tuttle, Mikah Raskin, Tyler Smith, Tyler Reiman, Maurice Hawkins, and friends and family. As far as advice, just keep learning and playing consistent and one day you will have those flips go your way.
When you're not playing poker, where do you usually spend your time and what do you like to do?
Relax, party and chill with friends.
Thanks Dwyte! Good luck on the felt!
Follow us on Twitter for up-to-the-minute news.