The Nightly Turbo: PartyPoker Signs New Team Member, EPT Season Seven Schedule, and More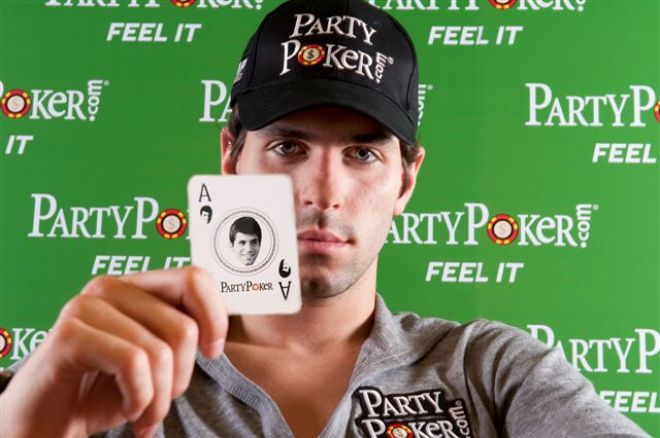 PartyPoker has signed a new member to the team, the EPT has released their schedule for season seven, and more - all in tonight's Nightly Turbo.
In Case You Missed It
The PokerStars European Poker Tour Grand Final kicked off on Sunday. Plenty of notables were in the field and some managed to make it through to Day 2. Check out the Day 1a recap here.
We're back with the Sunday Majors results. Would you expect anything less on a Monday? Check them all out in The Sunday Briefing.
Miss the latest episode of High Stakes Poker? Well, Negreanu's curse may be back and Matusow was the beneficiary. This recap has all the hijinks.
Chatting with PA
Gloria Balding caught up with Patrik Antonius for his yearly PokerNews chat at the PokerStars European Poker Tour Grand Final. They talked about golf, poker, and more.
Follow us on Twitter and become a fan on Facebook.
EPT Season Seven
The PokerStars European Poker Tour has announced dates for season seven. All the tour favorites are still on the schedule including Barcelona, London, San Remo, and everyone's new favorite, Snowfest. Season seven kicks off in a new location, Tallinn, Estonia, on August 11.
Check out all the dates revealed so far below:
Aug 11 - 16: Tallinn, Estonia
Aug 28 - Sept 2: Vilamoura, Portugal
Sept 29 - Oct 4: London, England
Oct 26 - 31: TBC
Nov 22 - 27: Barcelona, Spain
Dec 13 - 18: Prague, Czech Republic
Jan 7 - 16: PCA, Bahamas
Jan 25 - 31: Deauville, France
Feb 17 - 22: Copenhagen, Denmark
March 20 - 25: Snowfest, Austria
April 5 - 10: Berlin, Germany
TBC: San Remo, Italy
TBC: Grand Final
There are plenty of qualifiers running for other PokerStars tours, sign up for an account today and win your way to somewhere new.
Have a Sweat
Want to get in on a piece of some FTOPS money but don't grind it out for 10+ hours? Well, you could always buy a piece of someone. Ask the lucky eight who bought a piece of "MagicGog," who finished second in FTOPS XVI event #7 that garnered him a payday of $141,791. He offered up 50 percent of his action but not all his shares were bought, so he and his backers shared a nice payday.
MagicGog still has a few tournaments left in his ChipMeUp combo, or you could always buy a piece of someone else. Check it all out here.
FTOPS XVI Results
The 16th FTOPS has begun, plenty of money has already been awarded, and gold jerseys have been handed out. Everything kicked off on Friday when 3,673 players took to the virtual felt in $200 + $16 no-limit hold'em event, hosted by Allen Cunningham. There was a $750,000 guarantee and "BRO20" took home $134,250 for the win.
FTOPS XVI Results
Event #2 (no-limit hold'em super-turbo six-max)
Buy-in: $310 + $12
Guarantee: $300,000
Entrants: 1,436
Winner: scout315
Event #3 (limit hold'em six-max)
Buy-in: $200 + $16
Guarantee: 150,000
Entrants: 619
Winner: Randomizer2
Event #4 (pot-limit Omaha six-max)
Buy-in: $500 + $35
Guarantee: $400,000
Entrants: 742
Winner: -BeatMe79-
Event #5 (no-limit hold'em rebuy)
Buy-in: $100 + $9
Guarantee: $600,000
Entrants: 1,936
Winner: apestyles
Event #6 (no-limit hold'em rush turbo)
Buy-in: $200 + $16
Guarantee: $250,000
Entrants: 1,900
Winner: 4high20
We know there were FTOPS tournaments yesterday, but you'll have to check out the Sunday Briefing for those results - no use repeating ourselves. If you want a gold jersey all your own, you need to sign up for a Full Tilt Poker account here.
Here for the Party
PartyPoker has added another member to its team. Formula 1 driver Jaime Alguersuari will be the newest face representing the brand. The 20-year-old is the youngest driver in F1 history and he'll be taking part in exclusive tournaments online where the winners will get a chance to meet Jaime and go to one of his races.
"Some say that I am a novice in F1 and I would say the same about poker. I have loved the game from afar but with all my driving commitments, I have a lot to learn. I recently got my first points in F1 and am now about to secure my first PartyPoints at PartyPoker.com," Jaime said. "The popularity of poker in Spain is on the rise and I cannot wait to be part of it and improve my skills at the table by playing online. Poker is so popular among the F1 drivers at the moment, by becoming an ambassador for PartyPoker.com I aim to be the best of them all!"
You might not be able to take Jaime on on the course, but you can take him on at PartyPoker. Sign up here.