The Nightly Turbo: Tiger Woods Not a Gambler, Chicago Poker Classic, and More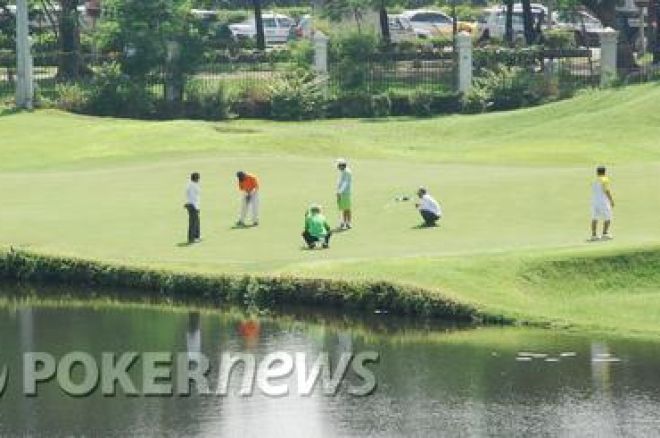 In tonight's Nightly Turbo, we're bringing you some news on Tiger's latest sponsorship offer, some results from the Chicago Poker Classic, and more.
In Case You Missed It
The 2010 World Poker Tour LA Poker Classic is officially in the books. A winner was crowned last night. Click this to see who it was.
Day 3 of the European Poker Tour Berlin might be underway, but there had to be a Day 2 to get there. Find out how we got to Day 3 in the Day 2 recap.
Want to know a good way to build your bankroll? How about trying low-limit turbo sit-n-gos.
Some of us here at PokerNews HQ made some predictions about the NBC National Heads-Up Poker Championship. Check out our picks and then let us know what you think.
The draw party for NBC HU was last night. There are definitely some interesting pairings. Check out who will be sitting with whom in The Bracket is Set.
Scammers Arrested
A Fort Wayne, Ind., charity gambling casino has been shut down after its operators were accused of theft and unlawful charity gaming contracting among other things. The investigation on the Parnell Poker Palace was under way for over a year before law enforcement had gathered enough evidence against the operators.
Allegedly, not all the funds raised were going where they were said to be going. Dealers, who were supposed to be volunteers, were being paid under the table and when one of the operators deposited Poker Palace money into his own account instead of a charity's, that's when things got fishy.
"When people then decide that they can profit for themselves by conducting charity events, that's when it really crosses the line," said Larry Rollins of the Indiana Gaming Commission.
Read more about it at OnlinePoker.net.
Chicago Poker Classic
The Chicago Poker Classic is off and running. The CPC began on Feb. 26 and will be running through Sunday. The $3,000 Main Event begins today and will run through Sunday. There are still events running through the weekend, however, so if you're looking for some poker action, you can find it at the Horseshoe Casino, about 20 minutes outside of downtown Chicago, among other places.
For Event #6, the $1,000 Heads-Up event, a 2010 Porsche Cayman S was added to the prize pool. Kevin Saul, Dwyte Pilgrim, and Tom Franklin were just a few of the pros who showed up hoping to win the event and get a new ride. It was online poker pro Joshua Goldstein, however, who went home with the bragging rights.
Find out more at ChicagoPokerClassic.com.
The Hostess Getting Hosted
Gloria Balding caught up with the hostess of the PokerStars European Poker Tour Michelle Orpe. Find out who would play her in a movie, who her favorite poker player interviewees are, and more in our latest Calling the Clock video.
If you're not following us on Twitter, you should be and while you're at it, become a fan on Facebook. There's really no reason not to.
Qualify for the 2010 WSOP at PartyPoker
Looking for a way to get to Las Vegas this summer for the 2010 World Series of Poker? PartyPoker wants to help you out. There is a wide range of qualifiers running from now until June 13. Satellites with a $700 + $50 buy-in will take place every Friday at 18:00 EST and Sunday at 15:35 EST. One in 20 players in those satellites will win a $14,000 WSOP package.
"A comprehensive schedule of qualifiers for packages are now online. PartyPoker.com is offering more seriously cost effective ways to qualify for the WSOP than ever before. It doesn't get much better than winning a package for absolutely nothing," said a PartyPoker spokesperson.
Sign up for a PartyPoker account today and win your way to the WSOP.
The Bet's Off
Tiger Woods has been approached by Irish bookmaker Paddy Power for a $75 million sponsorship deal. Paddy Power was offering a five-year deal. Even with Gatorade, AT&T, and others cutting his sponsorship, the deal with Paddy Power wasn't even looked at twice.
"We're not involved in any discussions to add to his sponsorship portfolio at this time," said Woods' agent at IMG Mark Steinberg.
Read more about it at BelfastTelegraph.co.uk.