The Online Railbird Report: Dwan and Ivey Score, "Odonkor1" and Sahamies Slip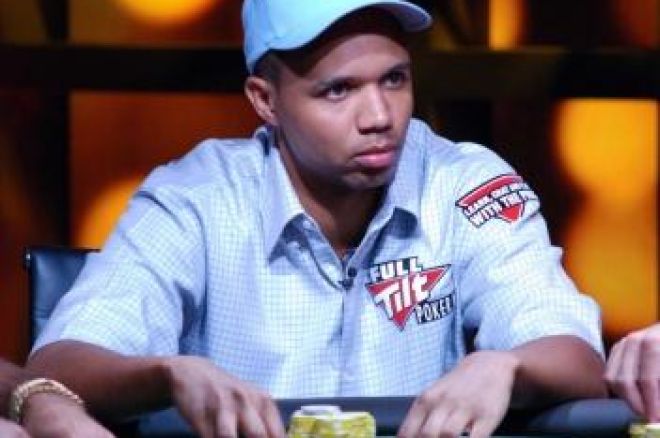 This week's high-stakes online action started off at a decent clip then ground to a halt over the weekend as players flocked to the European Poker Tour Grand Final in Monte Carlo. Topping the leaderboard were three familiar faces: Phil Ivey and Patrik Antonius earning over a million apiece while Tom "durrrr" Dwan continued his 2010 climb, raking in another $776,000. Dwan's primary victim was the always-volatile Ilari "Ziigmund" Sahamies, who dropped $1.5 million inside of two hours while Ivey made swift work of Ashton "theASHMAN103" Griffin at the nosebleed PLO tables.
Dwan, Lichtenberger halt Odonkor1's run
The remarkable run "Odonkor1" (the player presumed but not confirmed to be Joel Nordkvist) enjoyed last week came to a screeching halt on Wednesday after a heads-up session with Tom "durrr" Dwan. Dwan crushed Odonkor1 to the tune of $199,000 in 1,992 hands of $100/$200 no-limit hold'em, their largest pot coming in at over $110,000 (that's over 550 big blinds at these stakes, kids). Odonkor1 made a standard opening raise to $600 from the button holding
and Dwan three-bet him light with
. Odonkor1 re-popped it to $5,600 and Dwan flat-called. The
flop was pretty decent for both players, Odonkor1 with the overpair and Dwan hitting a flush draw. Dwan checked, Odonkor1 bet $6,800 and Dwan moved all-in for $52,609. Odonkor1 called in a shot, a 2-1 favorite to win the hand. The
on the turn was a blank for Dwan, but he completed his flush on the river with the
, wresting away the $110,131 pot.
Andrew "luckychewy" Lichtenberger was next in line for a shot at Odonkor1. Although the game and the stakes remained the same, Odonkor1 fared even worse in this session, logging off $300,000 lighter in the wallet. In another brutal case of aces cracked, Odonkor1 three-bet his rockets pre-flop and Lichtenberger called with
. The
flop brought Lichtenberger the nut straight and a straight flush draw while Odonkor1 held an overpair and the nut flush draw. All the money went in on the flop and blanks fell on the turn and river, Lichtenberger raking in the $85,793 pot.
Dwan decimates Sahamies
Who can lose $1.5 million online in less than two hours? Ilari "Ziigmund" Sahamies can, and did just that in a wild $500/$1,000 pot-limit Omaha match with Tom Dwan. The two sat for only 576 hands and let the chips fly — there were at least a dozen pots over $200,000, four over $400,000 and one that cracked the half-million mark.
In the aforementioned pot, Dwan started off the hand with $438,000 behind while Sahamies held $251,000. Dwan opened for $3,000, Sahamies raised to $9,000 and Dwan called. Sahamies led out for $18,000 on the
flop, Dwan raised to $55,000 and Sahamies called. The turn came the
and Sahamies led again with a pot-sized bet totaling $128,000. Dwan raised to $320,000 and Sahamies called off his remaining $59,418, turning over
for top pair, a straight draw and a flush draw. Dwan shoved
for a set of nines and they ran the river twice. The first river was the
, and the second was the
; both were blanks for Sahamies and Dwan scooped the massive $502,962 pot.
Ivey puts in the hours, wins a million
Compared to the rest of his peers, Phil Ivey hasn't put in much volume at all at the online tables this year, but he decided to put some hours in this week at Full Tilt's PLO and 7-Game tables. Ivey notched a $377,000 win in the 7-Game on Thursday night and followed it with a lucrative heads-up $500/$1,000 PLO session against Ashton Griffin over the weekend. They played for less than 200 hands, but Ivey still managed to come away with a $395,000 win. All told, Ivey earned just over $1 million online this week.
Ivey and Griffin's largest pot came in at $363,000. Griffin opened for $3,000 from the button with
, Ivey three-bet to $9,000 with
and Griffin smooth-called. The
flop was huge for both players — Ivey hitting a set of kings while Griffin flopped a straight draw and the nut flush draw. Ivey led out for $14,000 and Griffin called. The turn was a blank, the
, and Ivey fired again making it $40,000 to go. Griffin shoved for $158,492 and Ivey called, having him slightly covered. They only ran it once, the
falling on the river and Ivey's set held up to earn him the $362,984 pot.
Who's up? Who's down?
This week's biggest winners (4/20-4/26): Phil Ivey (+$1.06 million), Patrik Antonius (+$1 million), Tom "durrrr" Dwan (+$776,000)
In the red: Ilari "Ziigmund" Sahamies (-$1.9 million), Odonkor1 (-$585,000), Cole South (-$355,000)
Top earners, 2010 to date: Tom "durrrr" Dwan (+$6.3 million), Alexander "PostflopAction" Kostritsyn (+$1.7 million), Di "Urindanger" Dang (+$1.5 million)
OMG I'm so stuck: Brian Townsend (-$2.27 million), Matatuk (-$1.49 million), Justin "ZeeJustin" Bonomo (-$1.33 million)
The highest-stakes action on the internet all unfolds on Full Tilt Poker. Open an account today and see for yourself.