The Online Railbird Report: Enter Odonkor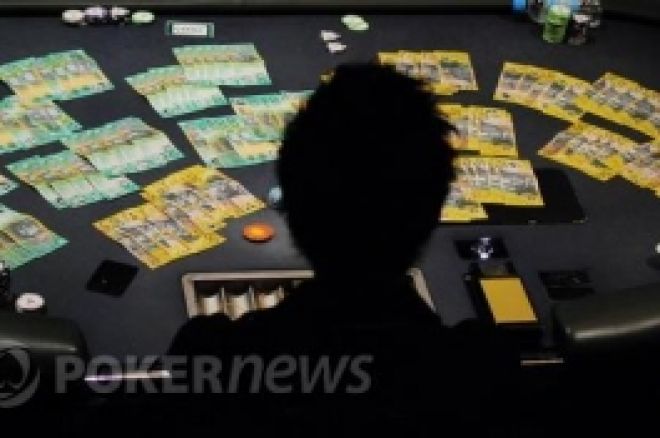 When a Swedish player called "Odonkor1" turned up at the high-stakes no-limit hold'em tables on Full Tilt this past week, the forums naturally erupted with speculation that this new challenger must be an incarnation of "Isildur1." While nothing is 100 percent confirmed, "Odonkor" is the longtime screen name of Joel Nordkvist, a Swede who was nominated for "Best Online Player" at PokerStars.com's 2009 Scandinavian Poker Awards. Odonkor has been a fixture in the highest stakes NLHE games on Betfair and the iPoker network for some time, but began putting in serious hours on Full Tilt only this week. Playing heads-up NLHE at the $100/$200 level and above, Odonkor1 has earned over $850,000 since Saturday, and finished second to Patrik Antonius when it came to this week's top earners.
Odonkor1 wins $850K in 72 hours
In the evening on Saturday, April 17, Odonkor1 played two significant heads-up matches at the $100/$200 NLHE tables. Isaac "luvtheWNBA" Haxton was his first customer, the two logging 583 hands over 90 minutes. Odonkor1 finished up with a $156,500 win. After a two-hour break, he returned for 1,124 hands against "URnotINdanger2," again at the $100/$200 level. Odonkor1 picked up $159,000 and won the largest pot of the match at $69,000 when his straight draw came in against top pair.
Odonkor1 was back at the tables on Sunday afternoon, this time to take on Sami "LarsLuzak" Kelopuro. Kelopuro and Odonkor1 played two three-plus hour sessions for a total of 2,987 hands, Odonkor1 booking a $179,000 win. Later in the evening, he jumped up to the $300/$600 and $500/$1,000 tables for a 316-hand match with "cerutten," finishing another $57,000 to the good.
Those matches turned out to be merely a warm-up for the marathon session Odonkor1 played Monday against "jungleman12." The two battled for seven and a half hours and 3,228 hands at the $100/$200 level, Odonkor1 ending the day with another $309,500 in his account. This 714 big-blind pot was the session's largest, jungleman12 opening for $600 from the button. Odonkor1 raised to $2,400 and jungleman12 four-bet to $6,200. Odonkor1 called, then checked the
flop to his opponent. Jungleman12 bet $4,400 and Odonkor1 called. When the
hit the turn, Odonkor1 checked again, and jungleman12 made it $14,700 to go. Odonkor1 moved all-in for $69,836 and earned a swift call, jungleman12 turning over
for top pair, top kicker. Odonkor1 needed an eight or a king on the river to fill his open-ended straight draw with
. He got there when the
fell and picked up the $142,787 pot.
Antonius and South rebound in the 7-Game mix
Patrik Antonius continued to make gains this week, primarily by sticking to the 7-Game tables. The Finn was this week's biggest online winner, raking in close to $887,000 in earnings as he continues to rebound from more than $2 million in first-quarter online losses. On Sunday night alone, Antonius pulled $293,500 off the tables, where he took on a slew of regulars including Cole South, Phil Ivey, Gus Hansen, and Tom "durrrr" Dwan. Hansen was the most significant donator that evening, shedding nearly half a million dollars, while South joined Antonius in the winner's circle with a $262,000 profit.
Antonius picked up a juicy six-figure pot from Hansen on this NLHE hand. Playing three-handed with $300/$600 blinds, Antonius opened for $1,800 from the button, Hansen called from the small blind and Joe "Nizot Skizared" Cassidy folded his big blind. Hansen led out for $3,600 on the
flop and Antonius smooth-called. Hansen took another shot when the
hit the turn, betting $10,800, only to face an all-in reraise. He called off the $52,054 he had behind, Antonius having him well-covered. Hansen showed
for a pair of fives and a gutshot wheel draw, seriously trailing Antonius' bottom set with
. The river was the
and Antonius got maximum value for his hand, earning a $114,907 pot.
Who's up? Who's down?
This week's biggest winners (4/13/-4/19): Patrik Antonius (+$887,000), "Odonkor1" (+$855,000), Ashton "theASHMAN103" Griffin (+$526,000)
In the red: Gus Hansen (-$553,000), Brian Townsend (-$485,000), "thecranium" (-$367,000)
Top earners, 2010 to date: Tom "durrrr" Dwan (+$5.53 million), Ilari "Ziigmund" Sahamies (+$2 million), Alexander "PostflopAction" Kostritsyn (+$1.71 million)
OMG I'm so stuck: Brian Townsend (-$2.63 million), Patrik Antonius (-$1.59 million), "Matatuk" (-$1.49 million)
The highest-stakes action on the internet all unfolds on Full Tilt Poker. Open up an account today and see for yourself.