The Nightly Turbo: GSN Adds More Poker Shows, Poker Hall of Fame Changes Induction Criteria, and More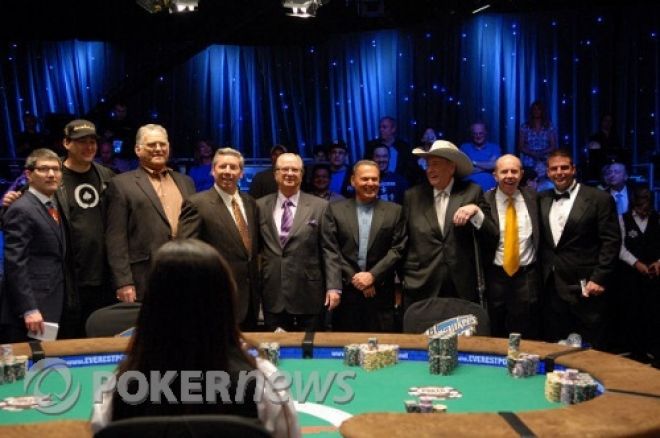 In tonight's Nightly Turbo, you'll find out that the GSN poker lineup is getting a couple of more shows, a few changes have been made to the induction criteria for the Poker Hall of Fame, and plenty more.
In Case You Missed It
All month we've been bringing you a list of players who will be making their World Series of Poker debuts. Well, in case you missed one or forgot one, we've revisited our WSOP Rookie Roundup.
We're dedicated to bringing you the latest in poker news, but there's plenty going on in the gaming industry that might not be so poker related. That's what Inside Gaming is for.
If you haven't noticed the changes at PokerNews, well, we don't know what you're looking at right now. In the Letter from the Editor, Matthew Parvis discusses the new look of the site, the Live Reporting page, and the WSOP.
We're sure that you and your friends have discussed how many bracelets Ivey will win and how Annette will do in her first WSOP. You weren't the only ones. The PokerNews Team has been discussing it as well. Here are our 2010 WSOP picks.
What it Takes
There has been a change in the criteria for induction into the Poker Hall of Fame this year. The bar has been lowered just a bit. Unlike in previous years when a nominee needed 75 percent of the total vote to make it, nominees this year need to receive more than 50 percent. The top two vote getters will be inducted if they meet the vote percentage. Mike Sexton was the only nominee last year to receive 75 percent of the vote, making it the first time since 2004 that only one player was inducted into the HOF.
The other criteria for induction remains the same, as does the public nomination process for the ballot. The HOF committee also reserves the right to vote a name off the ballot for not meeting any of the criteria incase the public decides to nominate one of their favorites, like they did last year with Tom Dwan.
Want to find out what the other criteria are? WSOP.com them for you.
UBlog
Tokwiro COO Paul Legett has decided to start blogging regularly, biweekly in fact, to cover a wide range of topics in the poker industry. His "first" blog deals with the UB refunds and the methodology that was used.
According to his blog, UB initally refunded over $22 million and then, because of errors made with split pots and accounts that were not yet processed, UB refunded a little over $700,000, bringing the grand total refunded to players to $22,777,240.77. He then goes on to explain the "net loss" method used to determine how much to refund to the players who were cheated.
Because we like to keep things short and sweet around here, you're going to have to read Leggett's blog to find out more.
New Time, Same Place
For those of you who don't like change, you might not want to hear this, or you could just set your DVR and pretend nothing happened. GSN is moving its poker block of programming from Sunday to Saturday beginning June 5. The "Poker Block" will run from 6 p.m. EST to 3 a.m. EST on Saturday.
On top of moving High Stakes Poker to Saturday, GSN will be premiering a few new shows, as well. Aussie Millions, presented by FullTiltPoker.net, will make its debut on June 5 at 9:00 EST. Then, beginning August 14, the Doubles Poker Championship, also presented by FullTiltPoker.net will take over the Saturday at 9 p.m. spot. Not only that, but thePokerStars.net Million Dollar Challenge will also be aired on GSN. The show will premiere June 5 at 11 p.m. and run through July 3. The Million Dollar Challenge will then re-air July 10 through August 7.
Check out GSN.com for more.
The List
There has been some serious detective work going on among members of the poker community. Haley Hintze has been doing a great job updating her blog with all the information she has discovered about the UB and Absolute Poker cheating scandal.
It seems that the boys over atWicked Chops Poker have come across a list of name associated with superuser accounts. Not just screen names, but real names. They're currently assessing the validity of the names and will release them to the public as soon as they're sure they've done everything possible to make sure the names are real.
Here's what they have to say.
PokerNews Kick Off Party
Last night, Team PokerNews headed down to Lagasse's Stadium inside the Palazzo for the PokerNews kick off party. Kristy Arnett, Gloria Balding, and Lynn Gilmartin caught up with some of the team to discuss some picks and predictions.
Your Facebook page can use another friend, so add us, and follow us on Twitter for up-to-the-minute news.