Vegas Grinder: Summer Roundup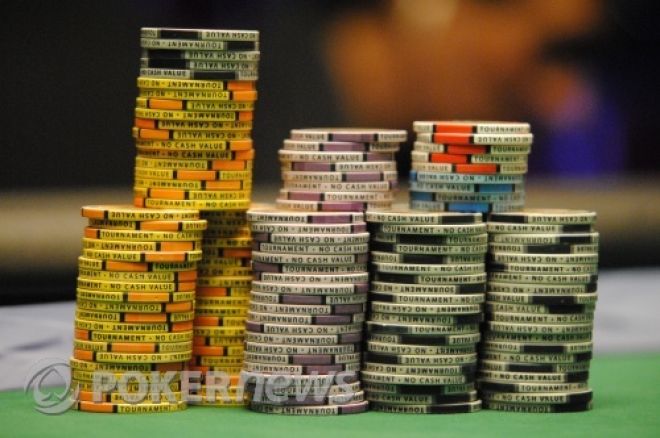 The World Series of Poker will no doubt collect the most poker foot traffic, but players might be surprised to learn that this summer in Las Vegas they'll have an entire menu full of tournament series choices.
The Orleans Open, which began this week will run through May 30 and feature nine events ranging from $200 + $25 to a $500 + $40 final event this coming weekend. Starting stacks will vary from 15,000 to 25,000 depending on the buy-in, and the tournament will have 45-minute levels for the no-limit events and 30 minutes for the limit events.
Check out OrleansCasino.com for the full schedule.
The Caesars Palace Mega Stack Series begins May 26 and runs through July 15. The 46 events range in buy-ins from $200 + $25 to $500 + $50 with the Main Event coming in at $900 + $160. All events have 40-minute blind levels except for the Main Event, which features 60-minute levels. Starting stacks range from 15,000 for the $225 buy-in to 25,000 for the $550 and 50,000 for the $1,060 Main Event. These starting stacks include the optional $10 staff bonus. If you're planning on "shipping" one of these events, you'll have to be at the Caesars poker room by noon when the cards go in the air.
Looking for the entire schedule? CaesarsPalace.com has all the info.
The Venetian Deep Stack Series returns this weekend, as well, and will run from May 28-July 12 with a whopping 51 events in all. The week will consist of $340 and $540 tournaments; the weekends will mix in some larger $1,070 to $2,100 events. The series is almost all no-limit hold'em with a few Omaha and H.O.R.S.E. events thrown into the mix. The series is capped off with a $5,000 buy-in main event, which starts on July 12.
You can check out the full schedule at Venetian.com
The Binion's Poker Classic kicks off May 26 at Binion's in downtown Las Vegas. The 46-event series will run through July 11. Buy-ins range from $150 to $500 for most events; the Main Event will have a $1,000 buy-in. Starting chip stacks will vary according to the event but expect 10,000, 12,000, or 20,000, and if you're playing the Main Event, you'll get 30,000. For most events, you can get an additional 2,000 or 3,000 in chips for an additional $10. Most of the events are no-limit hold'em with some Omaha and H.O.R.S.E. mixed in. Expect 30-minute blind levels unless you're playing H.O.R.S.E which will feature 40-minute levels and the Main Event which will have 60-minute levels. All tournaments start at 2 p.m. unless otherwise noted in the schedule.
Check out the entire list of events at Binions.com.
The Grand Poker Series at the Golden Nugget begins June 5 and runs through July 4. There are 50 events on the docket with no-limit hold'em, Omaha, stud, H.O.R.S.E., and a Guys 'n' Dolls Tag Team event all being played. Buy-ins range from $125 to $550 and a $1,080 Main Event. The blind levels are 40 minutes long and your starting chip stack will be 12,000 and you have the option of an extra 2,000 for $10 more. Play begins at noon everyday and there are usually two featured events per day. On top of that, there will be a charity event hosted by Suzie and Howard Lederer on July 2 with a $330 buy-in and $200 rebuys that will benefit The Boys and Girls Club. You won't want to miss this. If you're looking for your big break on TV, the winner will receive a seat on NBC's Poker After Dark.
Find out more at GoldenNugget.com.
If you can't find a tournament to scratch your poker itch this summer, you're clearly just not looking. Good luck at the tables! Follow us on Twitter for up-to-the-mintue news.