2010 World Series of Poker: Phil Ivey Wins 8th WSOP Bracelet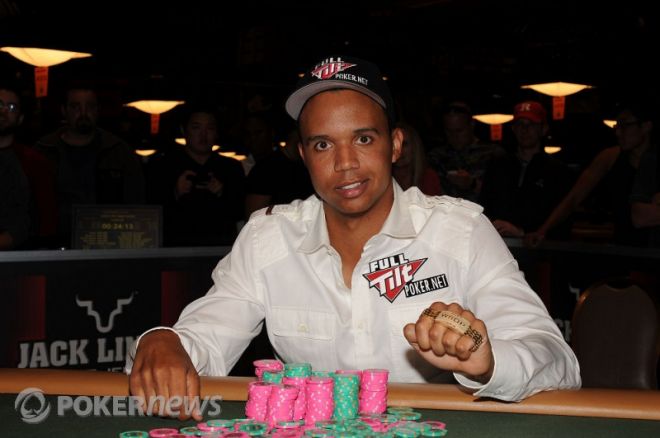 When Day 3 of the $3,000 H.O.R.S.E. event began, 25 players were still in contention for this World Series of Poker bracelet, many of them with multiple bracelets of their own, but when the final card was dealt early Tuesday morning, it was the most feared man in poker, Phil Ivey, who stood alone with his eighth World Series of Poker bracelet.
Throughout the marathon Day 3, most people watching obviously saw Ivey making a run, but it never seemed like a lock. At one point, as the players were nearing a final table, Ivey bounced around the 100,000 mark and was the shortest stack, desperately needing to go on a serious rush to get back into contention. Not only did Ivey get a surge to put him back in contention, the surge shot him to the top of the chip counts as the players reached the final table. It was the stud games that set him up, and in the span of one seven-card stud round, and one Razz round, Ivey went from about 100,000 to over a million in chips.
At the final table, Ivey never built a massive chip lead, but he did play the role of executioner. First he and Jeffrey Lisandro bumped Albert Hahn out of the tournament when they both split the pot. Then Ivey busted David "Not Bakes" Baker in sixth place, Ken Aldridge in fourth, and fellow Team Full Tilt member John Juanda in third.
Once play got heads-up, even though Bill Chen played valiantly, it seemed certain that the bracelet was going to be Ivey's eighth. The two traded blows for a short while before Ivey finally began to gain some serious momentum. With less than a million chips, and the two battling it out in a Razz hand, the tournament saw its conclusion. There was a preflop raising war, and by the time fifth street was dealt, Ivey had Chen all-in and in need of help. Ivey had a 3-4-A-6-2 for a made 6-5 while Chen had a A-5-2-7-6 for a made 7-6. Each player drew a 7 on sixth street, and Chen drew an unfortunate 10 on seventh street, no help to him, while Ivey pulled a 4 to improve his hand even more.
The win was Ivey's first bracelet this year and eighth overall. For his efforts, he collected $329,840, although like last year, it's likely to be a lot more than that because of many WSOP bracelet bets.
Lynn Gilmartin caught up with Ivey at the table to discuss his monumental accomplishment.
Follow us on Twitter for up-to-the-minute news, and also become our fan on Facebook.