As the World Series Turns: Baker, Baker, Brits, and Broads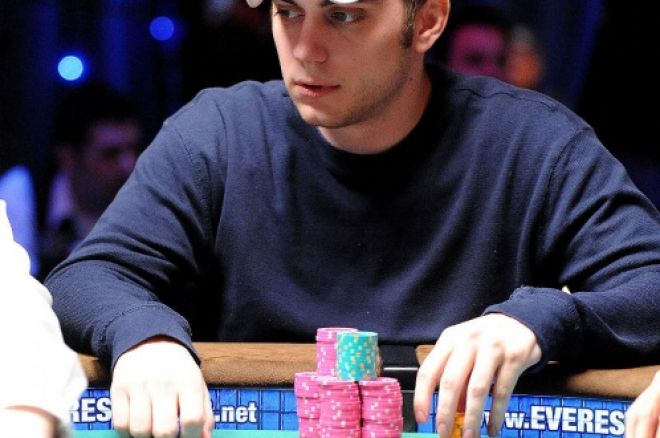 We've reached the halfway point at the World Series of Poker but don't worry. Rather than taking a mid-series break, this TV show is just kicking into high gear. Here are a few of the plot lines from the past week.
The Year of David Baker: David Baker has been all over the place at this year's World Series. It's almost like there are two of them. Well, actually, David Baker the elder and completely unrelated David "Bakes" Baker have been pulling double duty this summer. Bakes kicked things off by final-tabling the $50k Players' Championship extravaganza, earning $272k for sixth place. Then Baker took over with an 11th place finish in the $2,500 2-7 Triple Draw. Things got really confusing for the Baker boys when both went deep in the same $1,000 no-limit hold'em event. Bakes went busto in 59th, clearing the way for Baker to make it all the way to third place for $206k. Baker picked up another cash somewhere in there and put the pressure back on the insanely talented younger Bakes, and boy did he deliver. This week, Bakes won his first bracelet, $294,314, and the title of 2-7 draw lowball Champion. And if that weren't enough, he celebrated by finishing 15th in the $10k Omaha Hi-Lo Championship. Together, David Baker and David Baker have cashed for over $820k so far this summer and are certainly doing a good job of making a name for each other.
Send in the Ladies: The Ladies Event hit a new level of controversy this year as a group of men played in the event, some more flamboyantly than others. While a few of the players and a couple of tournament staff battled it out for the drama-queen award, there was actually some impressive poker being played around the edges. French player Vanessa Hellebuyck scooped the Ladies Event while one day earlier, ladies' night came early to the $1,500 Seven-Card Stud final table. Richard Ashby prevailed in the end, but Christine Pietsch came closer to winning an open event than any woman has since Vanessa Selbst won a PLO bracelet two years ago. That ought to get a little more attention.
Ageism: Forget sexism. Poker's real issue is age discrimination. Half of the final tables look like they're frat parties rather than prestigious poker tournaments, but all of the players at the $1,500 no-limit hold'em six-handed final table put together could barely qualify for the early bird special at Denny's. Winner Carter Phillips and two other players were 21 years old, and the elder statesman of the table was a wizened 26. Phillips, who picked up more than $482,000 for his win, was also the youngest to win an EPT this season (with the exception of the PCA.)
One If by Land, Two If by Sea: But what's number three? It's a little late to announce that the British are coming. They're already here, and they've made sure everyone knows it. While England might have gotten a slap in the face when its team tied the U.S. in their first World Cup match, Richard Ashby proved some Brits can close the deal when he won the $1,500 Seven-Card Stud event the night after the footy tie. Ashby earned England's third bracelet of the series, and you'd think his countrymen would have been hoarse by the time James Dempsey took a stab at his second piece of hardware this summer. Instead, they seem to get louder and more creative every time a Brit makes a final table. Dempsey finished second, losing heads up to Sammy Farha. But if the English rail gets any more cheering practice, we're going to have to start bringing earplugs to the Rio.
Long Ago and Farha Away: It seems like ages ago Sammy Farha was heads up with Chris Moneymaker for all the glory. We all know how that turned out. Farha avenged his loss and earned a bracelet in 2006, but it's always entertaining to watch him try again. This time, it took him until 7 a.m. to defeat Dempsey heads up and win the $10k Omaha Hi-Lo Championship. He got half as much for first as he did for second in 2003, but at least his new hardware goes really well with the cigarette that's been hanging out of his mouth since pre-Moneymaker days. We're mostly impressed he didn't order a hit (as far as we know) on the Dempsey fans chanting "Couldn't beat Moneymaker" over and over again in the stands.
Double Trouble: Speaking of the never-ending Farha v. Dempsey heads-up match, Dempsey wasn't the only one at that final table trying to win his second bracelet of 2010. Michael Chow won the $1,500 version of the Omaha Hi-Lo tournament during the first week of the Series. He made it all the way to the final table of the $10k event but fell in sixth place. Since Dempsey finished as runner-up, we're still looking for the first double-bracelet winner of the summer.
November Niner Redemption: So they didn't get the title of World Champion, millions of dollars in cash, the sponsorship money, and their faces on a giant banner at the Rio. Nevertheless, many of the 16 nonvictorious members of the elite November Nine club try day in and day out to at least win themselves some WSOP gold jewelry. Ylon Schwartz came close at the beginning of the series, finishing third in the $1,500 Omaha Hi-Low. He also finished third in a hold'em event last year. Chino Rheem won a WPT the year after his final table, and Phil Ivey had plenty of bracelets before he joined the November Nine, but none of these players has won a World Series bracelet since being eliminated from the Main Event. None, that is, until Eric Buchman stood up for all the eliminated November Niners and took down the $2,000 Limit Hold'em event. He may only have earned $203,000, less than a tenth of what he took in for finishing fourth in the Main Event, but he can finally call himself a WSOP champ.
Be sure to follow us on Twitter for up-to-the-minute news.