The Nightly Turbo: Collusion Scandal, Another Reality Poker Show in the Works, and More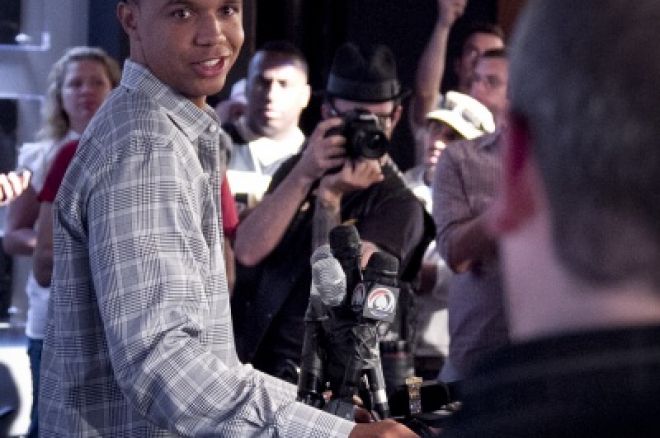 It's Friday. It's Day 2a of the 2010 World Series of Poker Main Event. We're just as ready as you are to start the weekend, so we're going to tell you about a collusion scandal that is under investigation on a well-known online poker site, and a reality poker show that may be in the works. We'll also show you the latest installment of The Life of Ivey — because let's be honest, who doesn't want to see that.
In Case You Missed It
All the Day 1s of the 2010 World Series of Poker Main Event are in the books. How did the Day 1d players fare? Check out the recap to find out.
We caught up with Jonathan "xMONSTERxDONGx" Karamalikis during his Day 1 of the 2010 WSOP Main Event. Find out why he likes Vegas, what he thinks of his roommates, and his WSOP predictions in On the Rail.
If you missed last week's run of the PokerStars Big Game, there's no need to worry. Read the recap here and it'll be like you were sitting there watching it - almost.
Collusion Scandal
It seems that from the summer of 2009 until February 2010, a large-scale Chinese cheating ring has been running on PokerStars. This was occurring in the $52 through $108 Double or Nothing sit-n-go tables.
It all started when Two Plus Two member, Jane0123 posted a thread about his PokerStars account being frozen with $10,000 in it. Another user responded saying he sent around 25 emails to PokerStars complaining about Jane0123. After checking the Sharkscope graphs and DoN leaderboard on PokerStars it became apparent that something was up.
Several dozen players were involved and most of them are from the Chinese town of Hangzhou. Most of the time, at least half of the field in any of the games were comprised of members of this collusion ring. The suspected cheaters have "won" an estimated $750,000.
PokerStars has agreed to pay out $587,000 to those players that were affected by this incident. The site has seized about $85,000 in cash and FPPs from the cheaters.
This is disheartening to some players, user Simplicity8 wrote, "I've played about 7000 $52-$108 dons in the first 6 weeks of 2010. I kind of felt like something was up, but I assumed I was a losing player and just gave up. If true, this makes me pretty sick as they have not only just stolen money from me, but they have taken away future earning power from me. I was on a pretty nice pace to hit SNE (Supernova Elite)."
The investigation is still on going and if you'd like to read more about the collusion scandal, you can do so on CoinFlip.com.
Followed by Cameras
There may be another reality poker show in the works. We've heard rumors at PokerStars European Poker Tour double doozie, San Remo and the Grand Final, that Jason Mercier, Dan O'Brien, and Allen Bari were working with television producers to film a reality show.
According to the PokerStars Blog, this is actually the case. A TV production company wants to document the three of them at this year's World Series of Poker.
To find out more about Mercier and his East Coast Entourage, check out the PokerStars Blog.
The Life of Ivey
In the latest Life of Ivey on PokerRoad, Barry Greenstein points out that the only time Phil Ivey did well was when Tina Tran was in town. Ivey then pointed out to Greenstein that he was the "unluckiest man" he has ever met in his entire life. "I don't remember the last time I won with you at a craps table. Even if you walk behind me and I'm playing a hand of poker, I'm 100 percent going to lose. It's unbelievable," Ivey said.
The two toss jabs around throughout the video, Ivey telling us that Greenstein once slowrolled him, and then Greenstein commenting on Ivey's style. Check it out below.
If You Build It, They Will Come
OK, so there really wasn't a lot of building going on, but recession or not, poker players came out in droves for this year's World Series of Poker. The 2010 WSOP Main Event drew the second largest field in the 41-year history of the WSOP. The Main Event field drew a crowd of 7,319, generating a prize pool of $68,798,600. First place this year will win $8,944,138.
"It's certainly the high water mark for the poker industry, but it's become more of a pop culture happening," WSOP Vice President Ty Stewart said. "I've heard it said that it's like a bucket list item (things to do before I die). It's a bucket list badge of honor. People say they want to run with the bulls in Pamplona and swim with the poker sharks in Vegas."
USAToday.com has more.
Jason Alexander: Shortstacked
Gloria Balding caught up with Jason Alexander during the 2010 World Series of Poker Main Event. They talked poker (of course), and why we don't see him on the poker circuit that much.
Follow us on Twitter for up-to-the-minute news and be sure to add us on Facebook.