2010 World Series of Poker: On the Rail with Jonathan "xMONSTERxDONGx" Karamalikis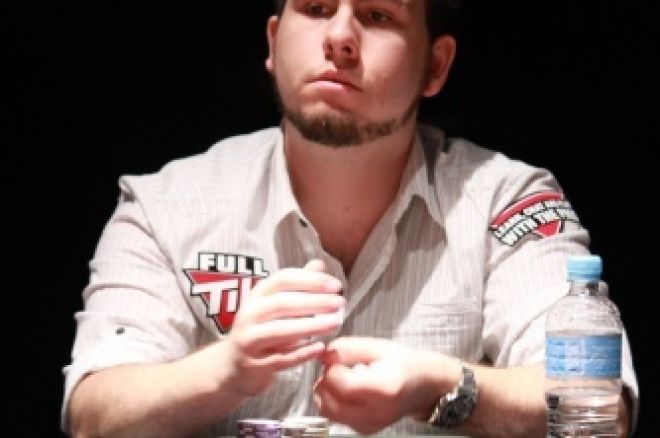 We caught up with Jonathan "xMONSTERxDONGx" Karamalikis on the dinner break of Day 1c of the 2010 World Series of Poker Main Event. The Aussie player loves partying in Vegas, already has a plan for winning the Main Event, and made it a point not watch Phil Hellmuth's entrance.
Would you rather be stuck in the Las Vegas heat or the Australian Outback?
Oh, Vegas…oh I don't like either. I hate the outback and I hate the heat, so I'm just going to go with Vegas heat.
What's it like living with Daniel [Neilson] and Kristian [Lunardi]? Are there any crazy stories you want to tell us about?
There are plenty of crazy stories, but none are PG rated.
You have a summer birthday and we know you celebrated your 21st birthday in Las Vegas last year. Would you rather have your birthday in Las Vegas or in Australia?
Definitely here. Actually, I just have it in Australia, as well. Last year I had like three 21st birthday parties, which was pretty awesome. The clubs are better in Vegas and we get a big booth at XS or Surrender and it's awesome.
Did you see Phil Hellmuth's entrance? What do you think of them?
No I didn't. We were having dinner with Lara Miller [Hellmuth's publicist] and she told us all about it, so I went out of my way not to see it. I guess it's alright. I don't really care. I guess it's good for show.
After your win at Aussie Millions and final table in the $100,000 Challenge there, we were expecting to see you in the $25,000 six max event. What kept you from playing?
Tax. 30 percent with 200 runners is not profitable. And it's a hard field too.
How did you prepare for your day one of the 2010 World Series of Poker Main Event?
I rolled out of bed after pressing snooze about five times and dragged myself here. Been sleepy all day.
Was your doomswitch activated when you signed with Full Tilt?
[snap calls] Yes. I haven't won on Full Tilt in like - well since I signed as a Red Pro, so I'm just going to win the Main Event. Nine million dollars will make up for a $100k downswing on Full Tilt.
Favorite place to party in Las Vegas. Why?
XS. I love the venue. Every time I go there I have a really loose night. It's awesome.
What is your favorite WSOP event so far?
I guess the Main Event, or any six-max. Oh no, the heads-up is really good.
Do you have any predictions regarding the field size of the Main Event? Give us your predictions for the entire Main Event as well.
How many did they get last year? [6,494] I'm going to guess 6,800. I reckon it will be bigger than last year. There have been better advertisements and more satellites. As for predictions for the Main Event, I'm going to come in first place, we've organized this already. Kristian is going to come in second and Daniel can final table but probably not third because that's just collusion and we'll get in trouble.
Is it better to play against Aussies or Americans?
Um, it doesn't really matter. They really aren't that different.
Would you rather have eight WSOP final tables or would you rather win a bracelet (Main Event excluded)?
Wow. Am I coming like second and third in the final tables? I guess, probably the win. I can't stand not winning.
Good luck at the tables Jono! Follow all the WSOP Main Event action over on our live reporting pages.