The Nightly Turbo: PokerStars Sponsors Basketball Team, William Thorson Wins Baltic Festival, and More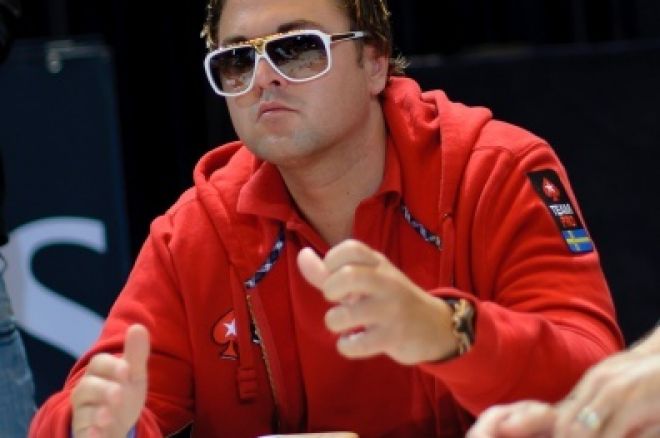 PokerStars and the Spanish Basketball Federation have entered into a 12-month sponsorship agreement, Tallinn, Estonia was good to William Thorson over the weekend, and Phil Ivey cracks his ice-cold stare with a little chuckle in the latest Life of Ivey. It's all below so get to reading.
In Case You Missed It
This Sunday was a little different on the virtual felt as PokerStars and Full Tilt Poker ran their WSOP Main Event satellites. Check out the Sunday Briefing for all the results.
Miss the Aussie Millions on GSN? As always, we didn't. Check out the recap here.
Day 24 of the 2010 World Series of Poker saw the record-breaking seniors event crown a champion, the Heads-Up Championship roll over into a fourth day, and more. Check out all that happened here.
He Shoots! He Scores!
PokerStars has signed a 12-month sponsorship agreement with the Spanish Basketball Federation. This comes just a few months before the 2010 FIBA World Championship that will take place in Turkey in August.
PokerStars branding will be seen throughout Spain's preparation for the world championships and also during the competition. This sponsorship will give PokerStars' players the opportunity to win tickets to warm-up games and the championship tournament through various tournaments on the online poker site.
"Our client PokerStars is very proud to become sponsor of the Federación Española de Baloncesto. Being a global brand, this is a significant opportunity to join a leading sport. PokerStars sponsors numerous teams and sportsmen of international standing and being able to co-operate with the World and European champion is an exciting project by which to convey values like excellence, competition and fair play," Juanjo Marquez, CEO of the agency representing PokerStars in Spain said.
Want to win your way to one of the games? Sign up for a PokerStars account today.
Winning in Tallinn
Team PokerStars Pro William Thorson beat out a field of 222 players to take home about €310,857 at the PokerStars Baltic Festival 2010.
Although Thorson has six European Poker Tour cashes and four final tables under his belt, this title was Thorson's first major no-limit hold'em title. According to a PokerStars press release, Thorson said: "I've been waiting for this so long. I'm so happy you just can't imagine it. This means so much to me. it's unbelievable. I really wanted this title."
The €1,400 main event held at the Swissôtel in Tallinn, Estonia, was the richest poker tournament ever held in the Baltic states.
The PokerStars EPT will be making a stop in Tallinn also, and you can win your seat by signing up for a PokerStars account right here.
Life of Ivey
What would the 2010 World Series of Poker without a PokerRoad Flip cam trying to bring us the inside scoop on Phil Ivey? Tina Tran is back, trying to catch Ivey on break. Sometimes he doesn't like to be caught. Like in this video. But Tran isn't one to give up. She caught Ivey on his way out of the Rio on the way to Bobby's Room.
Business and Poker
First it was Zappos CEO Tony Hsieh who compared poker and business, and now Greg Go has taken his shot. Go is the founder of Wise Bread, a blog that helps readers live large on a small budget. He has published 16 business lessons he learned from poker.
Number one on the list? A Game of Incomplete Information: "poker is a game of incomplete information. The one who fills in the blanks faster and more accurately wins," and translating to business, "if you consistently make good guesses, your business will be profitable, if you consistently make bad bets, your business goes broke."
Be tight aggressive comes in at number four, bluff strategically to maintain your image is number six, and in the tenth spot, don't tap the glass.
Find out all 16 lessons at USNews.com.
Bling Bling
Have a bracelet on one wrist and now your other one is looking lonely? Or maybe you don't want to leave Vegas empty handed. There's nothing like a little bling for your wrist. Lynn Gilmartin shows you how to blow you roll ― Vegas style.
Your Facebook page can use another friend, so add us, and follow us on Twitter for up-to-the-minute news.