The Online Railbird Report: Ivey Crushes, Hansen Slides, and Dwan Readies for Round Two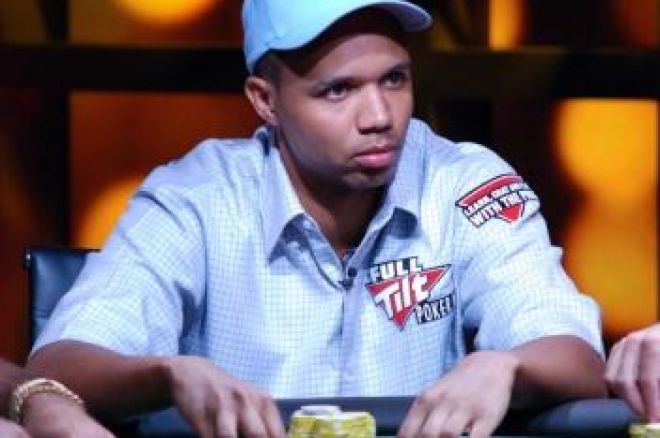 As the dog days of summer approach, the action on Full Tilt Poker is heating back up, with fan favorites Phil Ivey, Tom "durrrr" Dwan, and Gus Hansen providing railbirds around the world with plenty of entertainment this week in the nosebleed-stakes games. Ivey continued on his profitable August run while Hansen continued his downward spiral, bleeding off another half a million dollars this week.
Dwan's August heater cools down
August had been kind to Tom Dwan. In the first nine days of August, he racked up close to $1.7 million in earnings, most of it coming from the pot-limit Omaha tables. This Sunday, however, was quite the opposite of the $400,000 day he enjoyed only a week ago. Dwan logged more than 2,000 hands of short-handed $200/$400 NLHE and PLO, shedding $470,000 in the process. His Sunday grind also included a 764-hand PLO match with Scott "URnotINdanger2" Palmer in which Dwan lost $236,000.
Dwan was on the losing end of one of the night's largest pots, which came in at nearly $149,000. Playing six-handed, Dwan opened for $1,200 from under-the-gun, "Esvedra" and Palmer flat-calling before David Benefield put in a squeeze raise to $6,620. All three players called, $27,100 already in the pot as the flop came down
. Benefield moved all-in for his remaining $9,287, Dwan called, Esvedra folded and Palmer called. When the
hit the turn, Dwan shoved for his last $46,995 and Palmer looked him up.
Dwan
(wheel, re-draw to six-high straight)
Palmer
(trip fives, eight-high flush draw)
Benefield
(jack-high flush draw)
Palmer out-drew Dwan on the river, the
falling to make him fives full of sevens.
In escrow: "durrrr" vs "jungleman12"
Speaking of Dwan, it looks like we can expect the second installment of the "durrrr" Challenge to start within the next few days. According to this chat-box conversation, Daniel "jungleman12" Cates put $500,000 in escrow with Phil Ivey, officially accepting the 50,000-hand match with Dwan. Check out their conversation:
durrrr: did u send ivey $$ yet?

jungleman12: not yet

jungleman12: ill send now

jungleman12: how soon is soon?

durrrr: read ur phone...

jungleman12: ah i see

durrrr: few days at most

durrrr: did u send yet?

jungleman12: yeah

jungleman12: sent

durrrr: then i can start talking &&%%

durrrr: since we're booked

jungleman12: ?

durrrr: and say that its cute u think u'll ever have an edge =)

jungleman12: lol

jungleman12: you never seemed like the type

durrrr: never wanna scare off the fish =)

durrrr: but if they escrow....

durrrr: haha ok

durrrr: lmk if u wanna play if not we'll start in a few days

durrrr: gl n stuff

jungleman12: u2
Ivey tops the leaderboard
Whether it was limit hold'em, pot-limit Omaha, 7-Game or even cap no-limit hold'em, Phil Ivey crushed the competition this week, booking $765,000 in earnings. His largest single-session win came at the $2,000/$4,000 limit hold'em tables, where he played a 334-hand heads-up match against "deprimiert," finishing nearly $373,000 to the good. Tuesday afternoon he hit up the $300/$600 PLO tables, taking $257,000 from Cole South in 239 hands. Much of that win came from this $146,000 monsterpotten, where South got his money in drawing rather thin.
Playing heads-up, Ivey opened for $2,000 holding
and South three-bet to $6,200 with
. Ivey called and they saw a
flop, both players hitting top pair. South led out for $8,700 and Ivey called. The turn came the
, Ivey making top two pair while South picked up a gutshot straight draw. South again led into Ivey, making a pot-sized bet of $30,000. Ivey min-raised to $60,000 and South called all-in for $23,386. The
on the river sealed the hand for Ivey, who raked in the $146,571 pot.
Hansen on a steep downswing
While Ivey and Dwan have been enjoying stellar results in August, their wins have often come at Gus Hansen's expense. As of press time, the Great Dane is stuck more than $1.35 million in August, much of it coming in the $1,500/$3,000 7-Game and $500/$1,000 cap PLO game. Prior to this downswing, Hansen was actually in the black for 2010, but is now close to an $800,000 loser for the year.
Who's up? Who's down?
This week's biggest winners (8/9-8/15): Phil Ivey (+$765,000), Scott "URnotINdanger2" Palmer (+$459,000), Cole South (+$344,000)
In the red: NEKOTYAN (-$965,000), Gus Hansen (-$480,000), Tom "durrrr" Dwan (-$312,000)
Top earners, 2010 to date: Tom "durrrr" Dwan (+$4.37 million), Phil Ivey (+$3.24 million), Daniel "jungleman12" Cates (+$2.54 million)
The highest-stakes action on the Internet all unfolds on Full Tilt Poker. Open up an account today and see for yourself.