The Online Railbird Report: Dwan, Antonius, and Ivey Score at 7-Game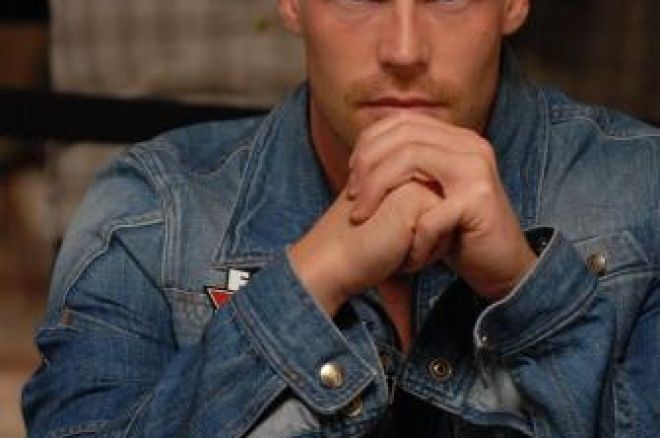 Wednesday night saw the $2,000/4,000 7-Game action roar back to life on Full Tilt Poker as Gus Hansen, Patrik Antonius, Tom "durrrr" Dwan, Phil Ivey, Cole South, Brian Townsend, Ted "profbackwards" Forrest, Chau "La Key U" Giang, and Ilari "Ziigmund Sahamies all gathered around the virtual felt.
Up to four tables were running simultaneously, Dwan and Antonius grinding it out the longest with over 2,000 hands logged apiece. The two were also the night's biggest winners, Antonius banking over $844,000 while Dwan earned just over half a million.
Also faring well in the 7-Game mix was Ivey, who picked up a $358,000 win within 464 hands. Brian Hastings hauled in $352,000, and Forrest finished $195,000 to the good. The honor of the night's biggest donor went to Townsend, who dumped off $608,000, and close behind him was Hansen, who lost back most of the profits he made this week, shedding $550,000.
While playing with the big boys at $2k/4k, Dwan continued to grind his bankroll back at $100/200 no-limit hold'em. He sat for over 1,000 hands of heads-up play with "URnotINdanger2" and picked up $33,000 — a bit more than one and a half buy-ins at that level. After roaring back from his extraordinary losses to "Isildur1" with a $2.7 million December, Dwan has been a bit less prolific in January but is nevertheless in the black for 2010 thus far with nearly $132,000 in earnings.
Wednesday night also marked the return of the $200k+ pot, Hansen and South tangling in this $246,000 monster. Playing heads-up $500/1,000 no-limit hold'em, Hansen opened for $3,000 on the button and was met with a three-bet to $10,400 from South. Hansen called and they saw a
flop. South led out for $14,600, Hansen raised to $42,000 and South moved all-in for $213,187. Hansen found it within himself to call off the $112,594 he had behind only to find his top pair with
in serious trouble against South's
. The turn was the
, the river was the
and South raked in $245,987.
While South claimed the largest pot of the session, Antonius took down the second-largest, a multi-way hand that unfolded during the pot-limit Omaha round. Playing six-handed, Sahamies limped from under-the-gun, Giang raised to $4,500, Antonius called on the button, and Forrest called from the big blind. With the action back on Sahamies, he made it $23,000 to go. Giang called off the $15,500 he had behind, Antonius flat-called, and Forrest called all in for his remaining $8,826, creating a four-way, $79,826 pot. The flop came down
and Sahamies moved all-in for $46,074, Antonius making the call. The cards went on their backs.
Sahamies
Antonius
Forrest
Giang
Already all-in, Forrest and Giang completely missed. Sahamies surely loved that flop for his aces, but unluckily for him, Antonius hit the nut straight. The turn was the
, the river fell the
and Antonius dragged the $171,974 pot.
For even more up-to-the minute news follow us on Twitter and become our fan on Facebook.