PokerNews Top 10: In the Octagon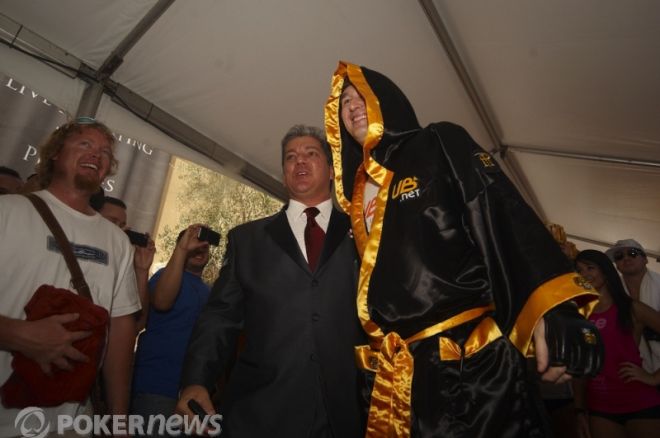 With UFC 119 coming up this weekend, all of us at PokerNews HQ began picking who we thought would walk away victorious, and then of course we couldn't help but randomly discuss which poker players we would like to see beating the crap out of others. And thus we have created our latest Top 10 list.
10. Eugene Todd Bro: He's scrappy, he's from Brooklyn, and he'd be the greatest trash-talker ever, bro. Besides we'd all love to see his specialty move "The Moose C**k".
9. Prahlad Friedman: Should his "opponent practice avoidance?"
8. Lex Veldhuis: Lex has been training pretty hardcore for his kickboxing bet with Bertand "ElkY" Grospellier. It'd be interesting to see him in the ring, although we think he may be a slight dog against "ElkY" because ElkY's sure-to-be blinged out trunks will blind Veldhuis.
7. Erik Cajelais: Have you seen this guy lately, like seriously have you seen him? Put him in the octagon with just about any poker player, or fighter for that matter, and there may be murder charges by the time the final bell is rung.
6. Tony G: "Can you feel my power?!?!?! Yea, we've heard it literally thousands of times. We'd love to see him put his money where his mouth is and actually LET someone feel his power.
5. Liv Boeree: One of the only players with actual ring experience. Seriously, did you see her in the PokerNews boxing match? She's tough, ruthless, and pretty friggin hot, too.
4. Teddy "The Iceman" Monroe: Honestly, we highly doubt The Iceman has any legitimate fighting skills whatsoever, but that doesn't mean we don't wanna see him in the cage. Just imagine the hilarity of his prefight entrance. That alone would be worth the price of admission.
3. Daniel Negreanu: Sure he'd be in one of the super lightweight divisions, but the combination of his trash-talking skills and his P90X training seem to be a great formula for success, well at least if you consider the prefight hype. As for the fight itself? We'll take Liv Boeree all day.
2. Patrik Antonius: The guys are shirtless in these fights, right? Women of the world rejoice.
1. Phil Hellmuth: He already has a custom-made robe from his ostentatious WSOP Main Event entrance, so we can't let that go to waste. "Honey! I can't dodge fists, honey!" Let the bloodbath ensue.
We know you have an opinion about this, so why don't you sound off in our forums and let us know what you think.
How about a heavy hitting freeroll series from Absolute Poker worth $10,500?