PokerNews Top 10: If You Were Stranded on a Deserted Island...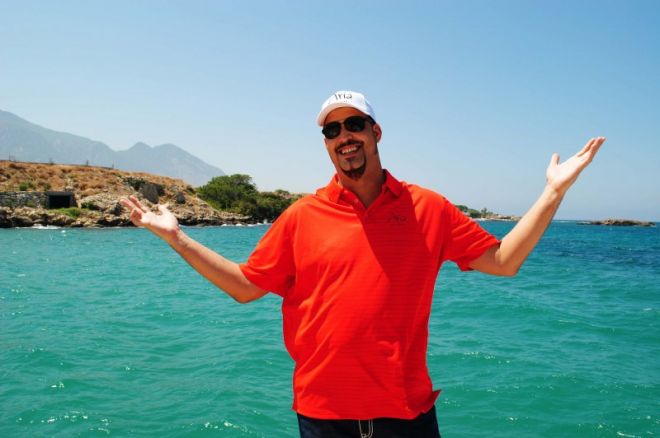 This question is asked all the time, well not really, but you get where we're going with this. If you were stranded on a deserted island, who would you want to be stranded with? Have you ever thought about it? Well get your mind out of the gutter, and try to imagine yourself on an island with only poker pros as your island buddies? We don't have a lot of time on our hands here at PokerNews HQ, but we got together, discussed it for a moment, and came up with our top ten list.
10. Huck Seed: We imagine Huck is quite handy. He'd be quite an asset when it comes to hunting and gathering or fighting off the natives. Additionally, if we all got bored on the island, we could bet on his ability to perform various physical feats.
9. Sara Jean Underwood: We are still debating whether she counts as a poker pro, or a model. For the sake of making sure she was on the island we went poker player. The end.
8. Carlos Mortensen: Function on island - Shelter architect. His ability to construct stable edifices from nothing more than a handful of poker chips could be seriously handy on a deserted island. The Matador seems like the guy to have around if you need a shelter.
7. Darvin Moon: The man cuts down trees and chops them up for a living. Between he and Mortensen, we'd have the dream team of hut building. Plus he runs reallllly good, so we're likely to get rescued faster.
6. Phil Ivey: We're pretty confident a jet will come to pick us up. Casinos around the world would organize the greatest search party known to man. Stranded Island craps tour anyone?
5. Daniel Negreanu: I think we meat eaters can all appreciate the benefits of being stuck on an island with a vegetarian. He'll be able to scavenge and gather plenty of edible greenery. Plus, you know you'll never be at a loss for conversation, and he's also likely to pinpoint your range while playing "go-fish" to pass the time.
4. Bertrand "ElkY" Grospellier: If in fact you want to get off the island, then it's beneficial to be stranded with ElkY. His blinged-out T-shirts are sure to make great reflectors for flagging down planes and also conducting electricity for that shortwave radio you'll be trying to build.
3. Phil Laak: Entertaining, mischievous, has the ability to stay awake for days on end. All excellent qualities in an island-mate. If he comes with Jennifer Tilly, that's a double win.
2. Patrik Antonius: He's hot. And also, isn't he, like, God or something? That could be very useful on a deserted island.
1. Jean-Robert Bellande: Really no reason to go back and watch episodes of "Survivor," but he must have learned how to catch fish and actually, you know, survive. Right? He also has a sizable bankroll for paying off possible rescue parties, and/or "others." Oh wait, maybe not.
Who would you like to be stranded with? Sound off in our forums.