History in Spades: Revisiting the 1996 World Series of Poker Final Table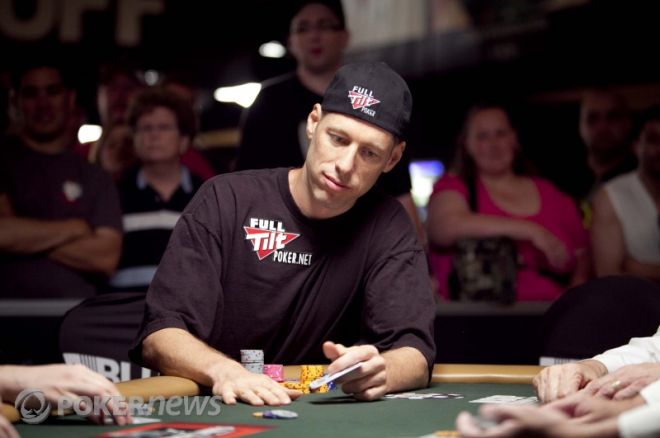 Over the past four decades, the World Series of Poker has produced a plethora of historic moments, many of which have been caught on film. In the beginning, Binion's Horseshoe hired camera crews to film events, which they would later use either to leverage a television deal or promote poker's biggest tournament in the media. More recently, ESPN has taken the initiative by entering in a long-term television deal to film and broadcast the WSOP annually.
If you've ever stayed up late tuned in to ESPN, you've likely seen some reruns of the WSOP such as Jim Bechtel's win in 1993 and Dan Harrington's defeat of Howard Goldfarb in 1995. Likewise, Stu Ungar's performance at the 1997 final table, where he earned the moniker, "The Comeback Kid," and Scotty Nguyen's famous words, "You call its gonna be all over, baby," rank among the WSOP's most iconic footage. In fact, cameras have captured scenes from the WSOP in the 1970s, many of which have made their way to YouTube.
Have you ever wanted to watch Bobby Baldwin take down the world championship at the 1978 World Series of Poker? Now you can. Maybe you'd like to see Hal Fowler become the first amateur to win the title in 1979. It doesn't stop there. You can watch Tom McEvoy become the first satellite entrant to become World Champion, or see Phil Hellmuth defeat Johnny Chan in a moment that forever changed the poker world.
While television and the Internet provide fans with WSOP footage at their fingertips, there is one glaring omission in the WSOP archives. When it comes to footage on Huck Seed's victory in the 1996 WSOP Main Event, you'd be hard pressed to find any. There was no television deal in place for that particular WSOP, and as such, there is no footage to be found.
Even though the 1996 WSOP wasn't captured on film, it has become no less historic. In the preliminary events, Gregory Grivas took down the Chinese Poker event, a short-lived and now defunct bracelet event; David Chui won the $2,000 Limit Hold'em; "Miami" John Cernuto emerged victorious in the $1,500 Seven Card Stud High-Low tournament; and Freddie Deeb became the $5,000 No Limit Deuce-to-Seven Draw champion. Other bracelet winners that year included Al Krux, Men "The Master" Nguyen, Hans "Tuna" Lund, Barbara Enright, Henry Orenstein, and Sammy Farha. However, arguably the biggest star to emerge from the 1996 WSOP was a young man by the name of Huckleberry Seed.
Although there is no footage to view, the details of Seed's improbable Main Event victory have not been lost. On May 13, 1996, Seed became the last of 295 entrants — a record field at the time — to enter the WSOP Main Event. This was Seed's seventh shot at the world title, and he went in with a strategy. As he said about the tournament: "The main thing was trying not to get too anxious. In past years, I would get up to 50,000 or 100,000 in chips, then get knocked out. I was determined not to play too aggressively. If I managed to get a lot of chips, I planned to try to hold on to them."
Seed managed to double his stack and make it through Day 1. The next day, Seed built his stack from 20,000 to 160,000 before running into trouble. In the hand, Seed held ace-king suited but ran into Andre Boyer's flopped set of sevens, costing him more than 100,000. Nonetheless, Seed recovered and ended Day 2 with 248,000.
By the end of the third day, Seed had amasses 632,000 and made it all the way to the six-handed final table. The only man with more chips than seed was John Bonetti, who entered as the chip leader with 784,000. Behind Seed, four other players remained in contention: An Tran (596,000), Dr. Bruce Van Horn (524,000), Men "The Master" Nguyen (252,000), and Andre Boyer (153,000).
Seed entered the final table as the aggressor, constantly raising and stealing blinds. Soon Boyer was eliminated, followed by Tran and Nguyen. Three handed, Seed was dealt
in the big blind and checked his option. Seed flopped two pair and checked to Bonetti who threw out a bet. Seed check-raised and Bonetti called for his tournament life with his
. Although Seed was in great shape to eliminate a tough opponent, an
on the river changed all that. Suddenly Seed was in trouble.
Ironically, a little later Seed once again held
and made two pair against Bonetti's suited king-four, netting him a decent pot. Before too long, Seed made jacks full on the river to beat Bonetti's two pair to take down a pot worth 1.1 million. Bonetti was left severely short-stacked and moved all-in a few hands later with
and was called by Seed's
. Bonetti could not improve and, for the second time in four years, he finished in third place.
Seed entered heads-up play at a 2-1 chip disadvantage against Van Horn. That all changed when Van Horn raised preflop with
, Seed moved all-in with pocket queens, and Van Horn called. The board ran out
and Seed doubled to take the lead. Soon thereafter Van Horn raised with
and Seed called with his
. The flop came down
and Seed bet, Van Horn raised, and Seed reraised enough to put his opponent's tournament at risk. Van Horn made the call and picked up a flush draw when the
hit the turn. The dealer burned and revealed the
on the river! Seed took down the 2,328,000 pot, the largest in WSOP history at that time, and became the 1996 WSOP World Champion of Poker.
At 27, Seed took down the $1 million first-place prize and became the third youngest player to win the title (behind only Stu Ungar and Phil Hellmuth). Quiet and modest, Seed wasn't immediately struck by the victory. "I know I can play really well," Seed said after the tournament. "I was pretty confident, I stayed on top of things, and I had a strong feeling I was going to win. But it's not too often you win something like this no matter how good you are."
Even though he didn't immediately celebrate, Seed's accomplishment did give him a sense of overwhelming joy. "Ever watch the Super Bowl, it's like that," Seed said about his win. "Look at the guys who win. They go crazy, they're so happy. I think of poker as a sport. Sometimes it's hard work, and sometimes it's not so much fun. But when you win something like this, everything is worth it. It's the same as winning the biggest event in any other sport. You can't accomplish much more than that."
Final Table Results
1. Huck Seed ($1,000,000)
2. Dr. Bruce Van Horn ($585,000)
3. John Bonetti ($341,250)
4. Men Nguyen ($195,000)
5. An Tran ($128,700)
6. Andre Boyer ($97,500)
Notable Finishes
10. David Chiu ($31,200)
13. Chau Giang ($27,300)
16. Berry Johnston ($23,400)
17. Dan Harrington ($23,400)
If you want all the latest from PokerNews, be sure to follow us on Twitter and like us on Facebook.