2010 PokerStars.net APPT Cebu Day 1a: Hinrichsen Tops the Board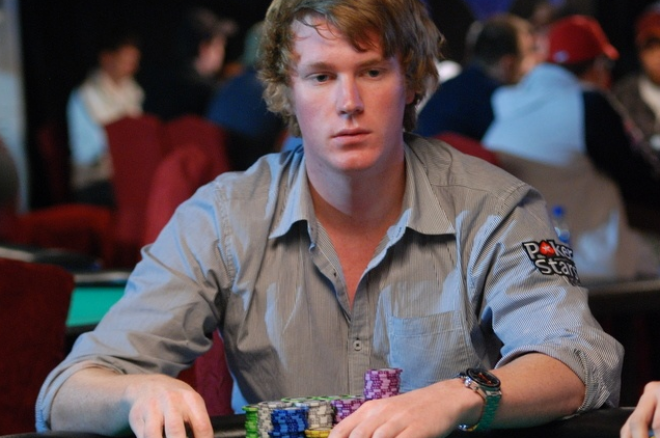 Today saw the fourth season of the PokerStars.net Asia Pacific Poker Tour make its way to Cebu, Philippines and the Shangri-La Mactan Resort & Spa for the penultimate stop of an already successful 2010!
The white sandy beaches, abundance of water sports and delicious cocktails in Cebu would deter anyone wanting to tackle a poker tournament, but seventy-five players opted for a day indoors as part of the Day 1a field.
Although the field was smaller than expected, many great players still took to the felt including PokerStars.net APPT Macau Champion Victorino Torres, Filipino favorites Neil Arce, Sunshine Samson and Wally Sombrero, as well as Australian tournament regulars Andrew Hinrichsen, Tom Grigg and Jarred Graham.
With Arce kicking off the day with the customary shuffle up and deal, things would only go down hill from there as he lost more than a quarter of his stack to Hinrichsen's rivered flush. Unable to gather to much momentum from there onwards, Arce would four-bet all in holding
, but find a committed call against
. The flopped two-pair would be enough to end the APT Macau Champion's day earlier then he, or any of his railbirds, would have expected.
Samson however would see her day shoot skywards from one of the very first hands after eliminating Kelly Flynn in a full house-over-straight scenario. A quiet middle part of the day, followed by a late rush would see Samson sit just shy of the top ten chip counts.
David Ewing showed us that the only way to play
was to five-bet all in before eventually losing a race to find himself on the rail. However it would be fellow Aussie, and recent APPT Auckland runner-up Grigg that would fare much better throughout the day. Losing half his stack early, Grigg remained composed as he slowly built his stack back up before forcing
to fold on a
board to his
. However, it would be the lifeline he was thrown late in the day when he found himself all in with two-pair against a flopped straight. The board paired on both the turn and river, and Grigg rocketed up the leaderboard before ending the day extremely well-placed.
Today however would belong to Hinrichsen who steadily built his stack before a two-way elimination saw him end the day of two Australians when his pocket kings held true. From there, Hinrichsen managed to continue to accumulate more chips before bagging 124,900 – nearly 35,000 more than his nearest rival.
Top Ten Chip Counts:
| | |
| --- | --- |
| Andrew Hinrichsen (AUS) | 124,900 |
| Kevin Park (CAN) | 90,000 |
| Jukka Juvonen (FIN) | 85,425 |
| James Honeybone (NZ) | 73,850 |
| Mitchell Carle (AUS) | 73,850 |
| William Potts (NZ) | 67,600 |
| Tom Grigg (AUS) | 65,525 |
| Shin Sugiura (JPN) | 56,000 |
| Roger Spets (SWD) | 54,225 |
| Jose Drillon (PHP) | 52,450 |
With Hinrichsen sitting atop the thirty-seven players that managed to happily enjoy a cocktail following a hard day of work, it would be a mix of nationality's snapping at his heels with Canadian Kevin Park (90,000), Finlandian Jukka Juvonen (85,425), New Zealander James Honeybone (73,850) and Australian Mitchell Carle (73,850) his closest rivals. Torres (39,850) and Graham (35,075) are still in contention, while a mix of players a bunched just below the average stack mark.
The PokerNews Live Reporting Team will again be on the floor tomorrow from 12:15 p.m. local time providing continuous live updates of all the Day 1b action as players such as Team PokerStars Pros Joe and Tony Hachem, Celina Lin, Bryan Huang and Raymond Wu, along with high-stakes cash player Van Marcus and many others all take to the felt in the 2010 PokerStars.net APPT Cebu Main Event!
Don't forget to follow us on Twitter become our fan Facebook, that way you'll be able to feats on all the latest, up-to-the-minute poker news you can handle!