The Online Railbird Report: Hansen Stays Hot, Marigliano Takes Biggest Pot of Weekend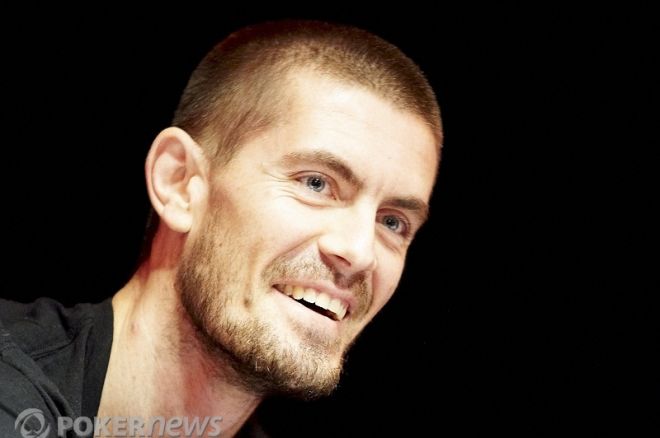 Another weekend, another winning few days for Gus Hansen at the Full Tilt Poker high-stakes tables. Down about $3.3 million for the year at one point in October, Hansen has lowered that number to under $2 million. He was the big winner the last few days while Ilari "Ziigmund" Sahamies was on the other end of it. Also in action was Marcello "luckexpress10" Marigliano, taking in a few six-figure pots.
Hansen Keeps Up His Winning Ways
Playing $500/$1,000 capped pot-limit Omaha, Hansen took a pretty penny off of Ilari "Ziigmund" Sahamies. In one hand between the two, the Fin had the button and raised to $3,000. Hansen popped it to $9,000 from the big blind and Sahamies called, leading to a
flop. Hansen fired $8,000 and Samahies raised to $31,000, reaching the cap. A quick call from Hansen revealed
for middle set while Sahamies showed
for top pair and an inside-straight draw. They ran it twice Sahamies failed to improve on both, surrendering the $80,000 pot to Hansen.
Much like Hansen, "DrugsOrMe" has been doing great in the big games the last two weeks. These two also tangled at $500/$1,000 capped pot-limit Omaha, and while both enjoyed weekends in the black, Hansen won this particular hand. He opened the pot on the button with a raise to $3,000 and DrugsOrMe made it $9,000 to play from the big blind. Hansen called and the flop came down
. DrugsOrMe fired a pot-sized bet of $18,000 and Hansen raised to the cap, getting a quick call. It was Hansen's top set,
, against DrugsOrMe's
, an overpair and straight draw. They ran it twice and on the first draw, DrugsOrMe picked up a flush draw when the
turn card hit. However, the
river card locked up the first half for Hansen. On the second run, DrugsOrMe turned a straight with the
; however, Hansen filled up when the
fell on the river to scoop the entire pot.
Pots of the Weekend
The weekend's biggest pots came compliments of Marcello "luckexpress10" Marigliano and Sauce1234. Marigliano came out as the winner, at $200/$400 pot-limit Omaha. Sauce1234 opened on the button to $1,200 and Marigliano made it $2,400 to go from the big blind. A reraise to $7,200 by Sauce1234 led to a five-bet by Marigliano to $21,600. Sauce1234 called and the flop ran out
. Marigliano went all in for just shy of $34,000 and Sauce1234 called with
for middle set, having Marigliano's
crushed. The
on fourth street gave Marigliano a wheel draw, and sure enough, it got there when the
landed on fifth street, sending the near $111,000 pot Marigliano's way.
That was not the only six-figure pot in which Marigliano defeated Sauce1234. In another hand, Sauce1234 again opened to $1,200 on the button. Marigliano reraised to $2,400 from the big blind and Sauce1234 called, landing a flop of
. A check-call of $3,600 followed from Marigliano and the turn delivered the
. Marigliano checked again and Sauce1234 bet $9,200. What ensued was a raise to $39,600 from Marigliano and Sauce1234 quickly went all-in for another $6,800 roughly, receiving a call. The hands were:
Sauce1234:
(top set and flush draw)
Marcelo "luckexpress10" Marigliano:
(straight and inferior flush draw)
Sauce1234 had plenty of outs, but the
river cars was not one of them. The $104,000 pot went to Marigliano.
Who's up? Who's down?
This week's biggest winners (10/29-11/1): Gus Hansen (+$279,000), David Benefield (+$161,000), DIN_FRU (+$155,000)
In the red: Ilari "Ziigmund" Sahamies (-$243,000), Van Marcus (-$185,000), URnotINdanger2 (-$133,000)
Year to Date: Daniel "jungleman12" Cates (+$4.27 million), Tom "durrrr" Dwan (+$3.95 million), Phil Ivey (+$3.08 million)
If you want to rail some of the biggest cash games in the world, look no further than Full Tilt Poker where you can sweat the biggest names on the planet. So sign up for an account today and bag a $600 sign up bonus and remember, follow us on Twitter for up-to-the-minute news.