The Online Railbird Report: Hansen Profits During Quiet Weekend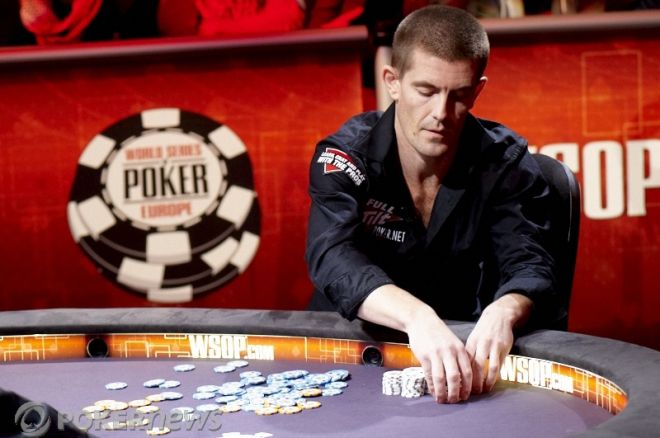 The action was relatively light at Full Tilt Poker's high-stakes tables this weekend, but a few players still managed to have a profitable go at it. Gus Hansen, still down plenty since the beginning of October, has recovered somewhat from his early struggles. Meanwhile, "DrugsOrMe" is headed in the opposite direction following a blazing start to October. Also duking it out were Patrik Antonius and Daniel "jungleman12" Cates.
Hansen Gets the Better of DrugsOrMe
"DrugsOrMe" enjoyed a nice week earlier in the month, but the cards have taken a turn for the worse lately. The biggest loser of the last few days, DrugsOrMe faced off with Gus Hansen and came out in the red at their $500/$1,000 capped pot-limit Omaha battles.
DrugsOrMe opened with a raise to $2,000. Hansen popped it to $6,000 from the big blind, and DrugsOrMe promptly made it $18,000 to play. Hansen called and the flop came down
. A check-call for $22,000 to reach the cap from Hansen revealed
for top two, while DrugsOrMe tabled
for just a pair of aces. Running it twice did not bring any miracles for DrugsOrMe, losing $40,000 to Hansen.
The same result occurred on another hand between the two. Hansen called on the button and DrugsOrMe raised to $3,000 out of the big blind. Hansen repotted and DrugsOrMe called, bringing out a flop of
. DrugsOrMe put in a check-raise to the $40,000 cap and Hansen called with
for top pair and a flush draw. DrugsOrMe showed
for an overpair and a straight draw, but was on the losing end of both turns when the hand was run twice. The
and
swiftly ended any suspense on the runs and Hansen collected another $40,000 from his opponent.
Dwan's Challengers Battle
Even though the "durrrr" Challenge has not seen action in a few weeks, that did not stop Tom Dwan's opponents from mixing it up with each other recently. Patrik Antonius and Daniel "jungleman12" Cates played a short session over the weekend with Antonius netting a profit. Winning a $198,000 pot at $500/$1,000 no-limit hold'em certainly helped.
Antonius raised to $3,000 on the button and Cates reraised to $10,000 from the big blind. A four-bet to $24,000 followed from Antonius and Cates called, leading to a
flop. Cates checked and Antonius kept up the pressure, firing $19,000. The response from Cates? A shove for roughly $110,000. Antonius called all-in for just over $56,000 and revealed
, holding a significant lead against Cates'
. They ran it twice and no help came for Cates, sending the pot to Antonius.
Who's up? Who's down?
This week's biggest winners (10/15-10/18): MagicNinja (+$130,000), Gus Hansen (+$123,000), Rafi "howisitfeellike" Amit (+$117,000)
In the red: DrugsOrMe (-$316,000), harrington25 (-$156,000), DIN_FRU (-$103,000)
Year to Date: Daniel "jungleman12" Cates (+$4.13 million), Tom "durrrr" Dwan (+$4.01 million), Phil Ivey (+$3.08 million)
If you want to rail some of the biggest cash games in the world, look no further than Full Tilt Poker. Not only can you sweat the biggest names on the planet so sign up for an account today and bag a $600 sign up bonus and remember, follow us on Twitter for up-to-the-minute news.