PokerNews Op-Ed: Online Poker - Legalize It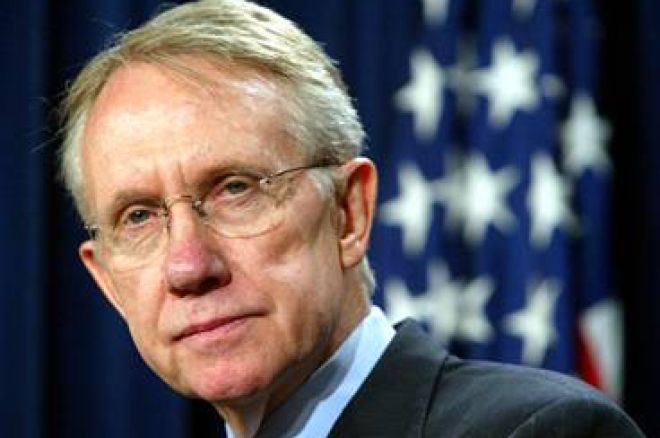 Unless you've been living under a rock for the past few days, you already know that Senate Majority Leader Harry Reid has been trying to pass a bill that would legalize, regulate and tax online poker. Before you form opinions, you should make sure you understand the facts, and our good friend Dave "F-Train" Behr has done a fantastic job of digesting, dissecting and analyzing the literature on his blog.
The biggest issue that players have with Senator Reid's bill is the proposed 15-month blackout followed by another two-year restricted period, wherein only established casinos who have manufactured and operated 500 or more gaming devices (slot machines, video poker etc.) for five or more years would be able to operate online poker sites.
That means potentially no PokerStars, no Full Tilt Poker, no Ultimate Bet, no Bodog, no nothing for up to three years.
That is unless a casino operator chose to buy one of these sites and the latter agreed to be purchased. Then, rumor has it, that site would be grandfathered into protection under the legislation after the initial 15 months and would allowed to accept American players. It is unclear, however, whether or not companies such as Caesars (formerly Harrah's) or MGM would be willing to buy such a site or that large sites such as PokerStars or Full Tilt Poker would be willing to sell.
PokerStars, for one, has a very strong non-American clientele and, like Party Poker, which banned American players after the original Unlawful Internet Gambling Enforcement Act (UIGEA) of 2006 passed, could survive without the U.S. – especially if it was for only three years.
In fact, couldn't we all survive this transition if it was only three years?
Legislation, much like anything else, is a give-and-take process during which compromise is vital, and, let's be honest, the long-term benefits of Senator Reid's bill outweigh the temporary harm of a blackout. Once legalized, online poker would have a chance to grow rather than float in limbo as it has since the passage of the UIGEA. True, during this period Americans have been able to at least play, but behind the scenes the government has been cracking down on money transfers making depositing and withdrawing funds from these sites harder and harder.
American poker players need federal government protection. Evidence of this can be found by looking at what recently happened in the state of Washington where online poker was banned because of its "threat to health, welfare, safety and morals." Without federal precedent, then, state governments have the right to act on their own accord, even if that means limiting what appear to be basic rights. Likewise, federal regulation would protect players from the sites themselves, so we wouldn't have to worry about another UB-like scandal affecting American players. When UB representatives cheated by looking at their players' hole cards, they didn't have to worry about the U.S. Department of Justice overseeing their actions. With regulations they would, which would make playing online safer.
Additionally, there is an untapped market of players who are 40 and older who grind live regularly but rarely, if ever, play on the Internet. These are the same type of people who won't buy anything on eBay for fear of credit card fraud, but if they are convinced that the government is overseeing and protecting players then maybe they will cave in and donate to the poker economy.
In terms of satellites, again this would be but a temporary problem with potentially fantastic long-term effects. With all the new American poker tour stops popping up, imagine if they all had proper satellites online – the fields would only continue to grow. Even the World Series of Poker, whose desperately tried to maintain its numbers by adding lower buy-in, stimulus tournaments, would benefit because Caesars would be able to run satellites online.
It would be irresponsible to blatantly ignore the negative effects a blackout would have, however, especially on low- to mid-stakes grinders. During a time when unemployment is ravaging the U.S., this potential "firing," if you will, of online players will not go unnoticed. Plenty of posters on both TwoPlusTwo and PocketFives are outraged about this bill and would prefer that poker go unregulated either because of a need for immediate profit or simply mistrust in the government. Still, there are plenty of ordinary players who see this bill for what it is: a temporary sacrifice for prolonged welfare.
There has never been a piece of legislation that was a quick, unquestioned, be-all, end-all solution to anything. Bills must be drafted, redrafted, debated, voted upon and then implemented correctly for them to have any impact on the issue they are addressing. Right now, we're somewhere between stages three and four, and the only way we'll ever live in a U.S. with legalized online poker is if we're patient and trust the lawmakers who are on our side of the argument. This is not to say we should follow blindly – just look at the original UIGEA – rather we should try and understand the issue at hand and just how difficult it is to jump through legislative rings of fire.
If we refuse to back this bill and take a necessary step toward legality, regulation and taxation, then online poker will only delay its legitimacy even further. Legislation is paramount, and the sooner we realize that the sooner we can move on and improve the future poker economy of America.
For up-to-the-minute updates on Senator Reid's prosed bill or anything else poker, follow us on Twitter.