The Nightly Turbo: Breaking Down Reid's Internet Poker Bill, John Racener's Movie Trailer, and More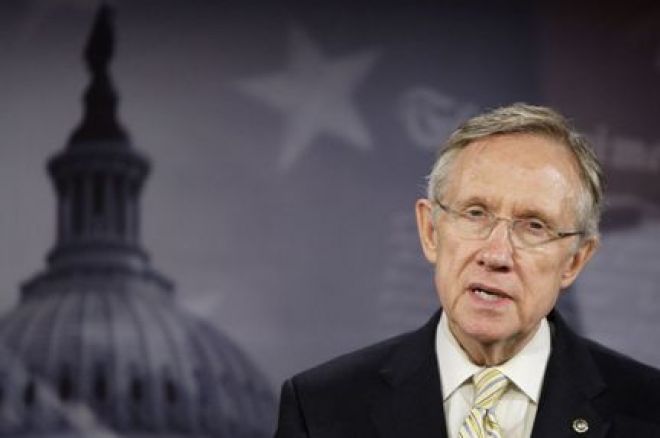 With Isildur1 on everyone's mind, we're sure you were looking for the rest of the top poker news stories of the day. Lucky for you, we've got them readily available. Dave Behr (aka F-Train) has broken down the Harry Reid Internet poker bill in his blog, so we'll tell you about that, hoping to clear things up for you. Also, we've got the trailer for 2010 World Series of Poker runner-up John Racener's movie. Want to see it? You'll have to keep reading to find out.
In Case You Missed It
The final stop of the 2010 PokerStars.net Asia Pacific Poker Tour kicked off Tuesday at Star City Casino in Sydney. The field was small for Day 1a. Find out which of your favorite Aussie players made their way to Day 2 in the APPT recap.
Day 4 of the World Poker Tour Doyle Brunson Five Diamond World Poker Classic (So, no one granted our request for a shorter name yet?) saw the 54-player field shrink to 15. Antonio Esfandiari led the pack into Day 4 and didn't let up. Find out who's left in the WPT recap.
We know many of you are focused on the Harry Reid Internet poker bill and may have overlooked some of the other news in the poker industry. Inside Gaming will fix that.
The high-stakes online poker tables have been heating up again on Full Tilt Poker. Check out the Online Railbird Report to find out who's profiting from Patrik Antonius.
The mystery that is Isildur1 might be solved soon. The online poker phenom has signed with PokerStars to be a part of Team PokerStars Pro, meaning that we're sure to know exactly who he is in the near future.
Breaking It Down
If you've gotten hold of Harry Reid's Internet poker bill, the Prohibition of Internet Gambling, Internet Poker Regulation, and Strengthening UIGEA Act of 2010 (clearly they've taken a page out of the World Poker Tour's handbook on how to give something a very long name), then you might be a little confused as to what this all means for online poker. We sympathize; all the legal talk makes our heads spin too. Fortunately, PokerNews blogger Dave Behr (or F-Train as some of you may know him) has done the dirty work for us. He took a look at the bill, and dissected it for us in his blog.
He did this with both versions of the bill, but we're going to focus on the second one. Since we're not fans of bad news here, we're getting it out of the way first — the second version of the bill includes the two-year exclusion for operators who have not owned or controlled a casino or race track for a minimum of five years prior to their application. What does that mean? Full Tilt, PokerStars, and online poker sites alike would be excluded from the U.S. market for two years after the first license is issued.
Other things in the bill that are of note:
There is a 15-month blackout period on issuing any license.
The U.S. player pool will be segregated from the rest of the world at least three years after the first license is issued.
There is a five-year prison term in addition to the $1 million per-day penalty for operating without a license.
States can opt-in or opt-out of allowing online poker.
This is just some of the blog post from Behr's blog. If you want to learn more, check out Ftrain.blogspot.com.
RCNR
If you happened to be at the 2010 World Series of Poker Main Event Final Table, you no doubt saw the throngs of people wearing black t-shirts with a RCNR logo across the front. You probably also noticed that everywhere John Racener went, a camera crew followed. That's because a documentary was being filmed. The film will give viewers a behind-the-scenes look into the world of John Racener — his ups and downs from the beginning of his quest in trying to become the 2010 WSOP Main Event champ and beyond.
Check out the trailer below.
Changes Coming
There's a new update coming for you PokerStars players. You can expect font changes, including colors, for those of you who might be color-blind, making the games more distinguishable. The "Find Seat" button is now available to all real-money players, a volume slider has been added for PokerStars sounds, brackets have been developed for heads up tournaments, and much more.
You should probably download PokerStars and take a look at the new changes, but if you want to read about them, you can always check out the PokerStars Blog.
All in for CP
The third annual All In for CP charity poker tournament will be taking place December 11 at the Venetian Hotel and Casino. The $550 buy-in/$200 rebuy tournament benefits the One Step Closer Foundation, which aims to ease the lives of those affected by cerebral palsy.
Expected to attend are Cheryl Hines, Jason Alexander, Mekhi Phifer, Sam Simon, Montel Williams, and Donnie Wahlberg, among many other players.
If you want to find out more on the event or register, visit AllInForCP.com.
Welcome to Sydney!
Team PokerNews is in Sydney, Australia, for the final stop of the 2010 PokerStars.net Asia Pacific Poker Tour. As always, they like to show us what we're missing, and Lynn Gilmartin's tour of Sydney makes us want to hop on a plane right now.
Like us on Facebook, and follow us on Twitter for up-to-the-minute news.