The Nightly Turbo: Harry Reid Pushing to Legalize Online Poker, LA Poker Classic Schedule Released, and More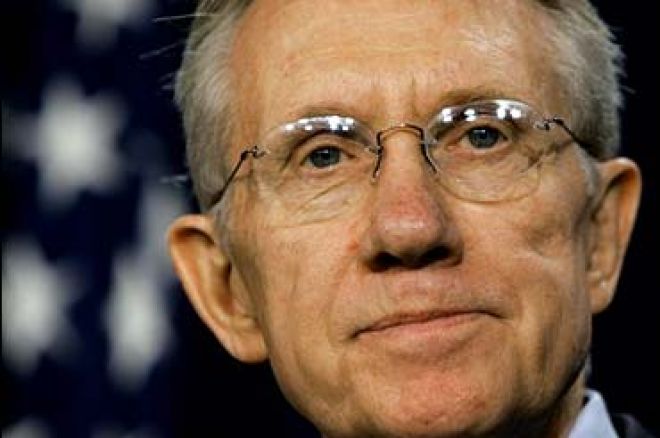 We've finally made it to the weekend! Good thing you came across the Nightly Turbo today, how else were you planning on getting your fill of the top poker news stories of the day? First up, Harry Reid is pushing to legalize online poker, so we'll tell you about that, help you plan your January by giving you the details on the LAPC, and give you the scoop on all the poker tournaments that are getting under way this weekend - including one in the Bayou.
In Case You Missed It
Looking to do a little football betting this weekend? Read the Pigskin Diaries before making your picks.
If you have been looking for a little mixed-game action in Las Vegas, we've got the place for you. In the latest edition of the Sin City Series, Kristy Arnett talks to the Venetian Poker Room manager about the mixed games that run regularly and how to get in on them.
There were some huge pots being played at the Full Tilt Poker high-stakes tables this week. Find out who was involved in the most in the Online Railbird Report.
Reid Pushes Online Poker Legislation
It has recently been reported that Senate Majority Leader Harry Reid is seeking to legalize online poker by attempting to pass legislation in Congress' lame-duck session. His staffers are said to be circulating a bill that is backed by large casino interests. The casinos were among Reid's biggest donors in his re-election campaign and are arguing that the bill would "provide consumer protection for poker players and would provide some tax revenue for federal and state governments."
Three Republican lawmakers have sent a letter to Reid and Minority Leader Mitch McConnell, in opposition of trying to pass the bill. "Congress should not take advantage of the young, the weak and the vulnerable in the name of new revenues to cover more government spending," Rep. Spencer Bachus said.
According to a draft of the bill, language is being considered that would allow only existing casinos, horse tracks, and slot-machine makers would be allowed to operate online poker websites in the first two years that the bill passes. As the bill is drafted currently, taxes on wagers would be sent to both federal and state governments.
Read the entire Wall Street Journal article for more.
LA Poker Classic
The 2011 LA Poker Classic is just around the corner. The schedule for the 2011 LAPC has just been released and there are 54 events on this year's 44-day line up. It all kicks off January 19 with a $335 no-limit-hold'em five-day event with a $1 million guarantee. There are four starting days for Event 1 and players are allowed to re-enter on the next starting day if they bust.
With 54 events, you know there will be a plethora of different variations to be played. Knockout bounties, heads-up, shootouts, six-max, a tag team event on Valentine's Day, and a $2,100 Iron Man event are on the schedule. The invitation-only WPT Celebrity Invitational is set for February 19 and as always, that event is full of actors, musicians, and of course your favorite poker pros.
If you're looking for the big one, that gets under way on February 25. The World Poker Tour $10,000 championship is a six-day event and has an anticipated prize pool of more than $6 million.
Plan your LA trip around your favorite events by checking out the LAPC schedule at CommerceCasino.com.
Five Diamond World Poker Classic
Speaking of World Poker Tour events, the Doyle Brunson Five Diamond World Poker Classic began today. Last year, 329 players took their seats in the $15,000 buy-in event. Daniel Alaei came out victorious last year, defeating the stacked final table that included Scotty Nguyen, Josh Arieh, Faraz Jaka, Steve O'Dwyer, and Shawn Buchanan.
The buy-in this year was lowered to $10,000 and Jason Mercier, Lauren Kling, Jonathan Little, Joe Sebok, Vanessa Selbst, and Scotty Nguyen, have already taken their seats in the Bellagio's Fontana Lounge.
Registration is open through the first eight levels of play, roughly 5 p.m. Saturday, so if you're looking for some poker action, you have plenty of time to sign up.
If you aren't playing and want to follow along, check out WPT.com for updates.
In the Bayou
If you can't make it out to the desert for the World Poker Tour Doyle Brunson Five Diamond World Poker Classic, then maybe the Bayou is closer. The World Series of Poker is hosting the Bayou Poker Classic at Harrah's New Orleans. It all got under way December 2 and is running through December 12.
The Bayou Poker Challenge is categorized as a WSOP Satellite, not a Circuit event. The winner of the Main Event gets a seat in next year's WSOP Main Event plus expenses. There are 15 events on the schedule ranging from $300 buy-ins to $2,500 for the Main Event. Final tablists from Events 1 through 10 will qualify for the Tournament of Champions Freeroll were the prize pool is ten seats into the BPC Main Event.
Sound like it's right up your alley? Find out more at WSOP.com.
Follow us on Twitter and like us on Facebook for up-to-the-minute news.
Right now not only can you get a free $50 bankroll from PartyPoker and PokerNews, you will also get a free month at PokerNews Strategy. Hurry as this is a limited offer, but the great thing is you do not even need to make a deposit at any stage, just go to our PartyPoker Free $50 Page and follow the walk through.