The Pigskin Diaries Vol. 15: Prime Time Divisional Battles Headline Week 13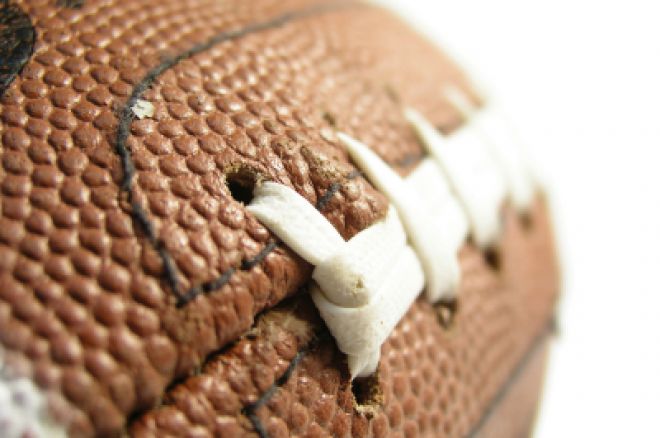 We're 13 weeks into the 2010-11 NFL season, and some of the premier matchups of the year are on tap for the couch dwellers this weekend. There's finally a bit of separation developing between the real contenders and the rest of the league, and the playoff picture will come into much clearer focus by this time next week. There are serious fantasy implications brewing, too, as the elimination rounds of the playoffs are set to roll into an office pool near you. If throwing a few bets at the window of your local sports book is the way you prepare for football Sunday, then you might find some profitable action this weekend, as well. We've got the skinny on some of the fat lines this week with a dash of that fantasy goodness in this week's Pigskin Diaries.
Buffalo +6 @ Minnesota: Buffalo's rush defense is the worst in the league, yielding a hefty 167 yards per game. They might have caught a break this week. Vikings workhorse Adrian Petersen is day-to-day with an ankle injury, and he's been limited during the midweek practices. It looks like a game-time decision; one you'll want to pay close attention to if your fantasy playoff life rides on AP's legs. Toby Gerhart gets the starter's jersey if Petersen is sidelined, and his half-game of work last week seems to indicate he's up to the task. Then there are the Bills of Buffalo. That offense has shown some real promise over the past few weeks (like putting up 49 points in Cincinnati, for example), and a mere dropped pass kept them from beating the Steelers last week and picking up their third win in a row. Ryan Fitzpatrick has about twice as many touchdowns and half as many interceptions as Brett Favre this season. Read that again. Fitzpatrick has 19 and 10 to Favre's 10 and 17. A key injury to Vikings defensive lineman Ray Edwards should help both Fitzpatrick and running back Fred Jackson find some room to operate. The Vikings last three wins have come by a combined 10 points, and we just don't see them destroying the Bills without a healthy Adrian Petersen.
Cleveland @ Miami -4.5: It's musical quarterbacks for the Browns who may once again be without Colt McCoy for the road trip to Miami. That puts the ball in Jake Delhomme's hands, which is a scary prospect for Browns fans. In the three games he's played this season, Delhomme has thrown one touchdown and six interceptions with a quarterback rating just a tick above 50. The Dolphins, meanwhile, are in a fight for their playoff lives in the thick of an up-and-down season. Either the Jets or the Patriots will drop to 9-3 after they face-off on Monday night, and a Miami win would place them two games out of a potential Wild Card with games against both teams still left on their docket. Long story short, it's a must-win for the home team, and they should be able to coast to just their second home win of the season in preparation for a big game on the road next week.
Denver +9 @ Kansas City: First and last place in the AFC West meet up in Kansas City on Sunday. It's the largest favorite the Chiefs have been this season, and it comes on the heels of two consecutive victories in which they were the underdog. The week before that, however, they were blown out by these very same Broncos in an embarrassing loss that spilled over into some post-game chippiness between the coaches. The Chiefs are out for revenge this week as the host team, a place where they have yet to lose this season. This line opened at 6.5 points, and you'd have been lucky to get your money in then. Nine points is an awful lot, however, and the pass-happy Denver attack figures to keep pace with the Chiefs' ground game on the scoreboard. It's a scary proposition to bet on the Broncos in any facet, but those points are tasty in this matchup, especially factoring in the Week 10 debacle.
Washington @ New York Giants -7: There should be no quarter given to the Redskins anemic passing game in this contest as they take their floundering squad into New York for an afternoon game. The Redskins have failed to crest 20 points in six of the last nine games, and hanging a number like 13 on the scoreboard isn't going to get it done this week. The Giants rank first in the league against the pass, and they boast a top-ten rushing defense as well. They're in the top ten in both offensive categories, too, despite a plethora of injuries, and they're probably a much better team than their 7-4 record would indicate. From everything we can see, this one's going to be a lopsided affair, but it comes with a disclaimer. The Giants have lost their last two divisional games against the Eagles and the Cowboys, and that is a notoriously difficult division in which to find a "safe money" bet.
Chicago -3.5 @ Detroit: It's taken three-quarters of the season to figure out for sure, but it looks like the Bears may be serious contenders after all. Last week, they finally stuck a loss to Michael Vick and the Eagles, though, and a conceding Green Bay loss has moved the Bears into sole possession of the division lead. They even managed to pick off Vick for the first time in more than 230 passes. This game is a rematch of a Week 1 contest in which the Bears needed help from the rule book to squeak out a narrow win by TKO. Jay Cutler had a huge game, though, and he and his team are taking better care of the football as the season has progressed. Match Cutler's numbers up against the Lions' starter this week, third stringer Drew Stanton. Just to make it even more lopsided, Jahvid Best's status is still uncertain as he continues to battle with turf toe. It's a big favor for the Bears, and they should easily cover the spread provided they're not looking ahead to the tough four-game swing they have to maneuver to close out the season.
San Francisco @ Green Bay -10: Frank Gore's season was cut short last week by the Arizona Cardinals and with it has likely come the end of San Francisco's playoff aspirations. Despite their 4-7 record, they're still just one game out of the division lead in a race in which all four teams sport a losing record. Quarterback Alex Smith has been replaced by Troy Smith since the teams last met in 2009, a six-point win for the Packers. Now Green Bay is one game back of a streaking Chicago team that will travel to Lambeau for what could end up being the NFC North championship game in the final week. San Fran can put up big numbers on a given week, but the Pack's defense has been less than generous, surrendering a total of 10 points over three consecutive games against the Jets, Cowboys, and Vikings. They and a few flakes of Wisconson snow should keep the Niners' offense at bay.
New Orleans -7 @ Cincinnati: This one looks like pretty safe money as long as the second-half Saints are the real Saints. They've put up 98 points in their last three games, and they'll figure to continue that rush when they travel to Cincinnati this weekend. The Bengals need a streak to end; they've dropped eight straight to let another season slip away. The Saints are riding high and finally looking like the Super Bowl contenders everyone expected, and they'll be getting some of their key pieces back over the coming weeks. Pierre Thomas, Jeremy Shockey, and Darren Sharper are all candidates for a return to the field this week to round out a matchup that should heavily favor the road team who could easily be a double-digit point favorite.
Oakland +13 @ San Diego: A check of the watch. Yep, it's the second half of the season. San Diego is winning games. In a trend that continues to present itself, the late-breaking Chargers are finding their stride as they ride a four consecutive wins into a three-game home stand. The Chargers' 18-game December winning streak is the longest in league history for any month. A roller-coaster Oakland team comes to town this week, and San Diego has a huge historical edge in this in-state pseudo rivalry. They've lost just one of the last 14 battles, the only blemish coming in Oakland in Week 5 this season. It's a better second-half Charger team this time around, though, and they should have no problem handling the Raiders. Still, we're not sure we like them giving up 13 points against a division foe that is still only one game behind them. Oakland will have Jason Campbell back under center this week, and he's been responsible for all five Raider wins this season. He might not get number six this weekend, but we like Oakland if they're getting that many points.
Atlanta -3 @ Tampa Bay: The Falcons could deal a big blow to Tampa Bay's playoff hopes this week while cementing their spot atop the NFC South. The Bucs are still in the mix — for now — but they've still yet to beat a team with a winning record this season. They're near the bottom of the league in rush defense, and Michael Turner put up a buck o'seven and two scores when last these teams met in Week 9. That one was a six-point home win for the Falcons, and they don't exactly blow teams out. Still, three points seems like easy work for a team chasing home field advantage throughout the playoffs, and the Falcons definitely need this one to start their three-game road trip right.
Carolina @ Seattle -6: Even at a slumpy 5-6, the Seahawks are still tied for the division lead in the NFC West. This week is a good week for them to rebound from two straight losses (and four of five) as they host a Carolina team desperately in search of their second win. The Panthers have the league's worst passing defense while the Seahawks are dead last in rushing defense. They'll have things a bit easier this week because their opponents are without injured running back DeAngelo Williams once again, leaving the workload to Jonathan Stewart and Mike Goodson. The Seahawks have been hemorrhaging yards in their last four losses, but they should have to worry about Jimmy Clausen and company going off for 450+. The Panthers throw for less than 160 yards per game.
Dallas @ Indianapolis -5.5: Peyton Manning has lost back-to-back games for the first time in as far back as we'd care to check, and he's been picked off an unheard-of seven times in those two weeks. "I didn't do a real good job… I need to play better," Manning said after his four picks helped his team fall to San Diego last week. That sounds like the kind of talk Dallas should be awfully worried about this week because Peyton has a history of righting his wrongs quickly. To make a long story short, look for a big home win from the Colts this weekend to keep thmselves firmly in the playoff picture.
St. Louis -3.5 @ Arizona: The Cardinals are at or near the bottom in every major category on both offense and defense, making them essentially the Rams of 2010. St. Louis, which had only a single win last season, finds themselves on the verge of clawing their way back to .500 and possibly taking sole possession of the NFC West lead with another win. Rookie quarterback Sam Bradford has his offense running as smoothly as it has in several years, and he's coming off a career week last week and a massive performance against the Broncos. On the other side of the ball, Derek Anderson is barely completing half his passes for the Cards and has been frustrated and snippy with the media after a bad loss to San Francisco last Monday night. The Rams have a lot to play for and should come into Glendale ready to add another blemish to Arizona's record book.
Pittsburgh +3 @ Baltimore: Talk about a marquee Sunday Night matchup. The AFC North's co-leaders face off in prime time, each with a chance to take control of the division and their own home-field destiny. Key stat: Five of the last six games between these teams have been decided by four points or less. You'll notice the line is three points. That's the margin by which the Ravens beat the Steelers (sans Ben Roethlisberger) in early October. Speaking of Big Ben, he was walking around in a boot earlier this week, putting his status in question for this game, but he says his sprained foot won't keep him off the field for a chance to beat the Ravens for his sixth straight time. This is the Game of the Week, and it should be a close one to favor the dogs on the road.
New York Jets @ New England -3.5: This is the Game of the Week. Oh, wait. All right, well, it's co-GOTW. Monday night has another battle of co-division leaders as the Pats host the Jets with AFC supremacy on the line. Speaking of lines, this thing started at a spread of three points, and that half point slide is a big one in what sets up to be a hard-fought game. The Jets might be a favorite if this game were at home, and indeed they beat the Pats by two touchdowns when they hosted them in Week 2. But having the game in Foxborough is a whole 'nother matter, and Tom Brady is tied for an NFL-record 25 straight home wins. We're not foolish enough to bet against him on his home turf, and we're going to lock it up before that line slides any further. It's going to be a sweat, though.
Betting lines provided by www.bodog.com, accurate as of noon PST Thursday. Sign up for an account on Bodog to start playing poker and laying sports bets today and remember to follow us on Twitter for up-to-the-minute news.