Around the World with Lynn Gilmartin: Sydney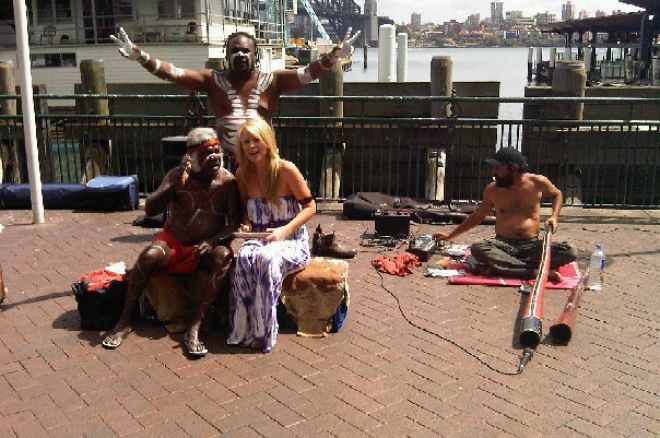 Sydney, Australia's unofficial capital, is the oldest, largest and most extravagant city in my home country. I've been all around the world, yet up until last December, I had freakishly never been to Sydney. I finally had the opportunity for the PokerStars.net Asia Pacific Poker Tour Grand Final, and with the days flying by so fast, I cannot believe that time has come around once again.
Sydney is a city that draws you outside, whether it be for surfing at Bondi Beach, sailing under the Harbor Bridge, jogging (or even horse riding) through Centennial Park, shopping in Paddington, or simply having a drink while overlooking the Sydney Opera House. It would be a waste to spend too long indoors, except for going deep in the APPT Main Event!
I have to say that Melbourne definitely wins for the people and atmosphere of Australian cities (call me biased), but Sydney offers some serious eye-candy along the Harbor and at Bondi Beach, and I'm not just talking about the Aussie chicks. There's a free ferry that takes you along the Sydney Harbor from the dock just outside the Star City Casino over to the Sydney Opera House. The views are stunning.
Unfortunately, in typical southeastern Australia summer fashion, my experience last year of Bondi was attacked by some unexpected torrential rain, so I am excited to revisit for another attempt at checking out one of Australia's most popular beaches, and you definitely should, too.
The Essentials
Weather: averages at a perfect 25°C (77°F)
Currency: Australian Dollars are almost equal to USD right now
Language: I feel the need to include this because a couple of Americans had been surprised at how good my English was when they found out I was Australian — I'm not kidding. We're pretty much all English, folks.
The Star City Hotel & Casino
The Star City Hotel & Casino is once again the host venue of the PokerStars.net APPT Grand Final, tucked within the heart of Sydney with the Darling Harbor at its doorstep. This is the only place in the state where you'll find gaming tables, but with over 200 of them woven through this complex of six restaurants, eight bars, a 2,000-seat theatre and 480 hotel rooms, you won't be short of options.
One of my biggest peeves is when you have a 10-minute break and nowhere to go for a cheap, easy, on-the-go meal. You won't have that problem here with the Trophies Foodcourt or even the Garden Buffet where you can load your plate with as many prawns as you can eat.
The AUD $6,300 APPT Sydney Main Event attracted almost 400 locals, well-known pros and international qualifiers, forming a juicy prize pool of AUD $2.37 million, and with the Australian dollar so strong at the moment, there are really too many reasons not to miss it this year. To add to that, I hear that Daniel Negreanu will be making a trip down under for this event.
A Taste of Australia?
One of the most common first questions I receive when I meet non-Australians is something about kangaroos. If you're heading to Australia for the first time, let me tell you that you certainly will not see any hopping around the city streets. Unless you have the time to head out to the countryside to spot some wild roos, then I would suggest an afternoon at Wildlife World where you can see roos, wombats, and you can even pet a koala (please don't ever attempt this if you see one in the wild. Although they look as friendly as your little sister's teddy bears, they're not). If you love this wildlife kind of activity, you can even back up Wildlife World with a visit underwater in the Sydney Aquarium right across the harbor from Star City Casino. And don't forget the zoo, which you can reach by ferry.
For a traditional Aussie lunch or dinner, head to Centennial Parklands and fire up one of the public barbeques. All it will cost you is the price of the snags (sausages) and the Esky (cooler) of beers you'll sneakily drink while in the park.
A Video Tour
Had enough reading? Here's a glimpse of the city that we crammed into one minute and thirty-eight seconds during last year's APPT Grand Final
Follow us on Twitter for up-to-the-minute news.