Pigskin Diaries Vol. 13: Bet on This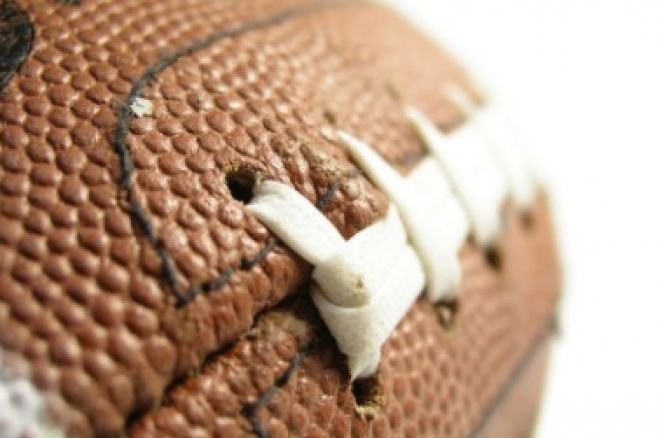 We'll confess, spending time in Las Vegas this week has us in a gamblin' mood. Poker and sports are a match made in casino heaven, and the Week 9 games were brimming with must-see stuff. Even John Racener and Jonathan Duhamel took the holy day off to watch the games before their duel for the 2010 World Series of Poker Main Event bracelet.
That probably (definitely) wasn't the reason for the November Nine lag time, but don't think we didn't notice that the cards went into the air just about the time Monday Night Football wrapped up. In any event, we've got ourselves a fine lineup of games for Week 10, too. There's a lot of playoff chatter brewing in the locker rooms, and the fantasy football playoffs are coming up with a quickness as well. Hopefully you're well on the road to division dominance, but if you're fumbling around the bottom half of your league like us, there's an alternative medicine for the football blues. A little healthy wagering makes any game a nail biter, and it's our favorite method of recouping fantasy football losses.
The Thursday games have mercifully kicked in this week, and Atlanta started things off right with an exciting fourth-quarter comeback to cover the spread. There are another 13 games on tap for this weekend, though, so let's see who we got right now:
Cincinnati @ Indianapolis -7: There are certain teams that Peyton Manning just annihilates, and the Bengals are one of them. He's never lost to them in his 11-year career. The Colts' banged-up defense means Carson Palmer and company should be able to put up some points, but not enough to cover the spread.
Houston @ Jacksonville -1: Cue one of the most sneaky-important games of the season. The Colts and Texans both lost last week to share the division lead at 5-3. The other two teams in that division, Houston and Jacksonville, are tied at 4-4. Houston would have been a ten-point favorite if this game happened four weeks ago, but the tides are turning in the AFC South. David Garrard is back, and he has that Jags offense clicking. He went all Peyton Manning on the Texans in their two meetings last year, and they should defend their home turf well provided they still have some momentum coming off the bye week.
Tennessee +1 @ Miami: Randy Moss, meet Tennessee. Tennessee, Randy Moss. Okay, now that the introductions are out of the way, expect Moss and his new team to get better acquainted with each other quickly. He walks into what is already the highest-scoring offense in the league, and his presence on the flank is going to create some immediate problems for the opposing defense. And that problem is named Chris Johnson. Miami and their stout rush defense are going to have to pick their poison and either stack the box with run stoppers or sit back and play safety against Randy Moss. If our hunch is correct, Moss will have a big impact both with and away from the ball in his first week as a Titan.
Minnesota @ Chicago +1.5: Huh? Just when we were ready to shut the book on Brett Favre and the Vikings, they essentially dominate the Cardinals in an overtime game that really wasn't as close as the scoreboard said. Renewed confidence? Maybe, but there are a lot of question marks. Like Percy Harvin, whose status is still questionable at the end of another week full of migraines. And recent history, which tells us that it's been eight road games since the Vikings have gone home with a win. Chicago should (and will) extend that streak to nine, and with it will come a share of the division lead.
Detroit @ Buffalo -3: Last year, it was the Lions who were 0-8 this time of year. This time around, it's the Bills looking for their first W of the season, but both teams come into the game with serious questions. For the Lions, it's back to Shaun Hill after they once again lost Matthew Stafford's shoulder. The Bills are minus WR Roscoe Parrish, and they have some defense shakeups as well, including injuries to Andra Davis and Shawn Merriman. This one's a real coin flip with the current line, but we're going on a hunch that says Buffalo by four.
New York Jets -3 @ Cleveland: Jets fans have been the grumpy ones at the office for the last couple weeks as their team struggles from behind. The Jets laid an egg last week and had to rally from ten points down to beat the Lions in overtime. Meanwhile, the Browns – this is the Cleveland Browns we're talking about – have been busy beating up on the Saints and the Patriots in two consecutive weeks. They've got all the confidence in the world, but they'll need more than that if they hope to scratch off their fourth win. The Jets have the fourth-ranked rushing offense that the Browns haven't had to beat yet, and Shonn Greene likely has a score to settle after his worst performance of the season last week. The points are quite tempting, but we think the Jets are going to rebound to win this one with some measure of comfort.
Carolina @ Tampa Bay -7: Tampa's rush defense is the worst in the conference, and they've found themselves a good matchup. Both of Carolina's starting running backs are unlikely to play this week, and the workload will likely fall on unknown quantity Mike Goodson. Add a shaky Jimmy Clausen into the mix at quarterback, and the Panthers are going to have trouble this time against a team they historically dominate. On the flip side, Josh Freeman seems to be turning his Buccaneers around, and their 5-3 start is four games better than the first half of 2009. If they had even one healthy back, we'd like Carolina and the points, but this week just isn't a good one to bet on that.
Kansas City -1 @ Denver: Jamaal Charles and Thomas Jones have to be licking their chops as they suit up against one of the worst run defenses in the league. The Chiefs missed a chance to open up some breathing room in the division when they fell to the Raiders in overtime last week. Still, they're a lot better off than the Denver offense, whose struggles are mighty. Despite their corps of talented, pass-happy offenders, they have just one 1st-quarter score all year and zero in the past six games. The Chiefs stumbled last week, but it looked like a mere stumble, and we figure they'll land back on their feet here in Week 10.
St. Louis +6 @ San Francisco: The Rams haven't won a division game on the road in, like, forever. They've won the last four at home, however, and they were just one late score away from beating the Cardinals in the season opener, too. Sam Bradford hasn't been picked off in three games, finding the end zone five times in that period. Despite having a good game for the 'Niners last week, backup QB Troy Smith is still not battle tested, and the Rams' stout rushing defense will be ready for Frank Gore. History isn't on their side, but we like the visitors with the points in this one.
Seattle @ Arizona -3: The Seahawks have been demolished by the Raiders and the Giants in consecutive weeks, and they've had no offensive rhythm at all. It looks like they'll have their starting QB Matt Hasselbeck back in the lineup this weekend, but he's been a mixed back this year (read: his entire career). The quarterback shuffle isn't help that offensive rhythm, and they're going to struggle to find the end zone. The only good news for the Seahawks is that they're playing an Arizona team that has, at times, looked like the worst team in the league. Still, Derek Anderson seems to be doing a passable job, and it looks like Beanie Wells will be fine after a weird allergic reaction this week. We're holding our bets on this one, but if we had to pick, we'll take the favorite to cover a close one.
Dallas @ New York Giants -14: Oof, that line is no fun, but the favorites might even be a little cheap right now. The Giants have scored less than 28 points just once this season. So the question is whether or not the Cowboys can score more than two touchdowns to keep it close. We don't think John Kitna can, although we're anxious to see what another week of first-team practice will do for his look.
New England +4.5 @ Pittsburgh: Fool Tom Brady once, shame on you. Fool Tom Brady twice – well, only two teams have managed to do that. Since Brady has been a Patriot, he's lost back-to-back games just twice. Last week's drubbing by the Browns would rattle some, but Brady seems to know how to handle these wake-up calls. We'd like the Patriots straight up if this were a home game, but we'll take a bit of a gamble and take the points as they head into Pittsburgh for one we'll be glued to.
Philadelphia -3 @ Washington: We wanted to bet on Washington in this one. We really did. Donovan McNabb's benching leaves a lot of questions in that huddle, and McNabb's aching hammys won't help his cause against a quick Eagles' defense. The good news for the Redskins is that their quarterback is all too familiar with the defensive scheme he'll be facing. Still, Michael Vick might be an MVP candidate after taking the reins from McNabb (and Kevin Kolb), and there is some early Super Bowl chatter in Philly as the NFC searches for its best team. The Eagles have won 8 of their last 10 games in the District.
Betting lines provided by Bodog.com, accurate as of 3:00 a.m. PST. Follow us on Twitter for up-to-the-minute news.