The Pigskin Diaries Vol. 14: Betting on the Dogs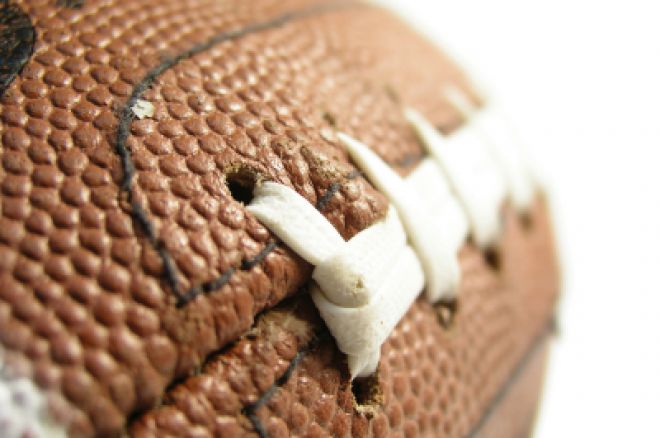 There's money to be made this week in the NFL, and we sure do love betting on the dogs. This week's matchups feature some real coin flip, but we've found a few underdog picks we like for Week 11.
Oakland +7 @ Pittsburgh: The Raiders were responsible for spiraling the Steelers into a midseason collapse in 2009, and Pittsburgh comes into this home game one week after a bad loss to the Patriots on the same field. Last year's loss to Oakland was a huge upset, but things are a little different this time around. Oakland marches into Heinz Field on a three-game winning streak during which they're allowing just 236 yards of opposing offense. The Steelers' stingy run defense has been suspect of late, and they're allowing about 70 more passing yards per game than they're earning this year, too. The Raiders have been underdogs six times this season, and they're 4-2 against the spread. Admittedly, we think the Steelers are going to win this one easily, but the numbers have us taking the points and betting Oakland.
Houston @ New York Jets -7: It's been a nail-biting season for Jets fans, and they've won their last two games in overtime. Those two were against bottom-feeding teams, though, and there are still a lot of questions as to whether or not the Green Machine can compete for the Super Bowl. They figure to attack that 32nd-ranked pass defense of the Texans, a team that allows more than 400 yards per game. The Jets struggle mightily at home, and this week will be a big test to see whether their record thus far has been an aberration. Deciding factor: The Texans are a miserable 2-6 against the spread, and when you compare that to the 6-3 record for the Jets ATS, this one's an easy pick.
Baltimore -11 @ Carolina: This line continues to slide toward two touchdowns as the week goes on, so lock it up at -10 or -10.5 if you still can. The Ravens are going to Carolina to face their old quarterback, Brian St. Pierre, this week. Wait, who? St. Pierre has served stints on the bench with Baltimore, Pittsburgh, and Arizona, throwing a grand total of five passes over the course of his eight seasons. Still, with the injuries to Jimmy Clausen and Matt Moore, St. Pierre is all the Panthers have. The quarterback woes are just part of Carolina's problem this week as all three of their starting running backs — (DeAngelo Williams, Jonathan Stewart and Tyrell Sutton) — look to be riding the pine. Carolina is going to have a tough time finding the end zone or even the field goal posts once this game, and it's a great week for the Ravens to bounce back from last week's loss. Ravens by a truckload.
Washington @ Tennessee -7: Well, Michael Vick carved up the Redskins last week, and they have to be a little saddle sore coming into this week's matchup against another spry quarterback. There's a lot stacked against them. They give up almost 130 rushing yards per game (including an average of more than 180 over the last two weeks), and Chris Johnson comes into the game third in the league with 838 yards under his belt. The 'Skins offensive front has allowed 25 sacks this year, and the Titans are third in the league in that category, too, sacking their opponents' quarterbacks 27 times already. Washington may have Clinton Portis back this week (listed as questionable), but it likely won't be enough to get them over the hump against the Titans.
Detroit +7 @ Dallas: Ah, a battle of two 2-7 teams, only one of which was a preseason contender for the NFC crown. The Lions are the 30th-ranked rushing offense in the league, and that's one spot better than the Cowboys can claim. Both teams, however, have a top-ten passing attack, so we should see plenty of air under the ball this weekend. The Cowboys are still without a win in their brand new zillion-dollar stadium. The last time these two teams met (2006), Jon Kitna threw four touchdown passes for the Lions to get his team a win. This time around, he's playing for the other team, and Kitna has looked (surprisingly) decent. We wish this line were a little tighter, but at 7-2 against the spread, we have to go Lions this week.
Green Bay -3 @ Minnesota: There's an outside chance the Vikings will have Sidney Rice back for the first time this season when Brett Favre and company host their division rivals. They could sure use Rice; both Bernard Berrian and Percy Harvin have been sitting out practices this week. It might be Brett Favre's final game against the team that loved him for 16 years, a team that he's 2-1 against as a Viking. That one loss came earlier this season, a game in which the Packers perpetually hassled and eventually re-injured Favre. The Pack won that game by four, and there's a division lead on the line this time. It might be a close game, but it shouldn't be any closer than a field goal. Somehow, it's the first time this season that the Vikings have been an underdog for a home game, but they're 0-5 as a dog overall.
Buffalo @ Cincinnati -6: The Bengals haven't beaten the Bills in more than 20 years, but then again, they've never been able to take T.O. into that matchup. The Bengals have been putting up some pretty solid offensive numbers, apart from that number in the turnover column. Carson Palmer has been picked off 11 times already, but he's luckily facing a Bills team that just doesn't take the ball away. The six-point spread has us a bit worried, but we'll take the favorites to stop this three-game losing streak and win by a touchdown.
Cleveland @ Jacksonville -1.5: This line has been trickling closer to the Browns as the week moves on, and it has us a bit perplexed. We'll note that the Browns have won the last three games in Jacksonville while also mentioning that no team has ever won four in a row there. Cleveland's rush defense has been strengthening of late, but Maurice Jones-Drew comes back home on the heels of back-to-back 100-yard games. The Browns are without their second-leading tackler Scott Fujita, and that secondary is banged up as well. The Jags give up a league-worst 8.8 yards per pass attempt, but Cleveland will have to sweat the status of Josh Cribbs' dislocated toes as game time approaches. Jacksonville is nearly impossible to figure out from week-to-week, but they're only a game back in a stacked division, and they seem to keep finding a way to stay in playoff contention. There's a lot of people picking the Browns this week, but we've been burned picking against Jacksonville before.
Arizona @ Kansas City -8: The Cardinals yield about 120 yards and 10 points more than they put up themselves, and they're struggling mightily at 3-6. Formerly the offensive coordinator for the enemy, Chiefs' head coach Todd Haley has brought offensive production to his new team, and quarterback Matt Cassel is a top-ten performer this year. On the other sideline, Derek Anderson and Max Hall have combined for just seven touchdowns and 13 interceptions after taking the reins from the retired Kurt Warner and the released Matt Leinart. If they had a rushing attack to speak of, they might have a chance, but they've not even managed 60 yards in four of the last six games. It worries us that the Chiefs have dropped two straight, and the week before they needed overtime to squeak out a win against the winless Bills. Still, the Cards' only road win came in Week 1 with a four-point victory over the Rams, and this matchup is not a good one for them.
Seattle @ New Orleans -11.5: Pierre Thomas might not make it back from injury in time for this game, but you may well see Reggie Bush return to the field as the 6-3 Saints host the 5-4 Seahawks. The Saints' rushing attack is not, however, the biggest concern for the road team. Their defense is allowing a hefty 272 yards of passing offense per game, just five yards less than the Saints' defense allows in opponents' total offense. Drew Brees has been steadily sharpening up as the weeks tick by, and he has his team on a three-game winning streak and just one game out of first place in the division. The Saints should win this one easily.
Atlanta @ St. Louis +3: The Rams have a chance to earn a five-game home winning streak for the first time in seven years when they host the 7-2 Falcons (who've lost five in a row in St. Louis) this week. Apart from their blowout at Detroit, the Rams' other four losses have come by a combined seven points. This one should be a close game, and the Falcons may well win, but we'll bank on the Rams (who are 7-2 against the spread) this week.
Tampa Bay +3 @ San Francisco: The Bucs haven't won in San Francisco since October 1980, tallying nine consecutive road losses in that span. Newly installed as the 'Niners quarterback and former Ohio State phenom Troy Smith has begun to turn his team around with two consecutive wins to move his team to 3-6. There are still a lot of questions for the home team, however, and visiting QB Josh Freeman is starting to look like the franchise signal caller that Tampa hoped he would be. The 49ers are just 1-5 ATS as a favorite this year, and we'll take the visitors to spoil their hopes again. We have Tampa winning this one straight up, despite the history working against them.
Indianapolis +4 @ New England: Brady and Manning, how we love this matchup! One big stat comes up first every time the Patriots play in Foxboro; they just do not lose there. In fact, Tom Brady has a chance to tie Brett Favre's record this week with his 25th consecutive regular-season home win. That being said, the Colts have won the last two road games at New England, and they're 5-1 in the last 6 meetings. Four of those games have been decided by four points or less, and this rivalry game is traditionally kept close. The injury-plagued Colts will have their work cut out this week, but Peyton Manning will likely be licking his chops as he matches up against the third-worst passing defense in the league. Both of these teams have played close games all season, so we'll take the Colts to cover the spread and keep this thing to a field goal either way.
New York Giants +3.5 @ Philadelphia: The top two offenses in the NFC face off in Philly on Sunday night, a matchup that has been dominated by the Eagles the last two seasons. The two teams are strikingly similar on the stat sheet. Both are about +5 in point differential this season, and both put up about 400 yards of offense per game. The disparity comes in the defensive categories where the Eagles have been giving up about 55 more yards per game than the G-Men. That's good news for Eli Manning (who leads the league with 19 TDs) and Hakim Nicks (who leads the league with 9 TD catches, too). Picking against Michael Vick might make us look silly, but we'll take the Giants to cover the spread on the road.
Denver @ San Diego -10: The league's top two passers meet in Prime Time on Monday, both Philip Rivers and Kyle Orton on pace to break Dan Marino's single-season record of 5,084 yards. "Bombs away," said one of the Denver defenders when asked what he expected this week. We're a bit surprised to see a line this heavy for this matchup, and we really don't like giving action on it. Still, the Chargers have a lot to prove and a whole season to lose if they make another divisional stumble, so they should come out guns a'blazin'. They like to cover the spread at home, too, going 3-1 in those efforts this season. The last time they were a double-digit favorite, they blew out Arizona 41-10. As much as we hate betting the Over we really like it for this game if you can still get it at around 49 points. It's moving fast, though.
Betting lines provided by Bodog.com, accurate as of 11:00 a.m. PST. Follow us on Twitter for up-to-the-minute news.