The Nightly Turbo: Vanessa Rousso's Lamborghini For Sale, Lock Poker Integrates SharkScope, and More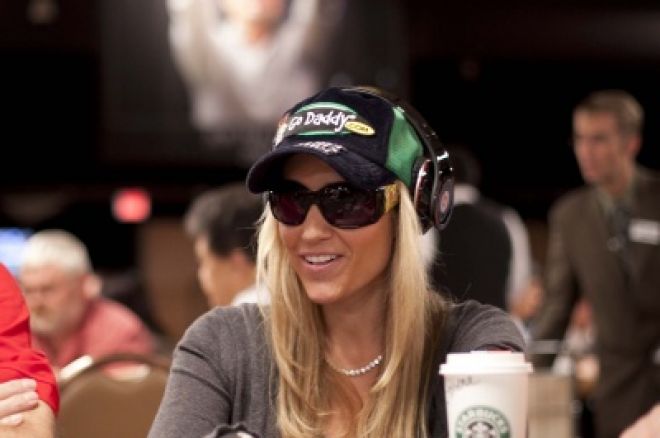 It seems poker players have been bitten with the eBay bug as of late. First, bracelets were for sale; now cars. Vanessa Rousso's Lamborghini is for sale and we'll tell you for how much, along with Lock Poker's latest innovation, and much more in this edition of the Nightly Turbo.
In Case You Missed It
The World Poker Tour Marrakech wrapped up Tuesday night after the final nine players returned to the unofficial final table for the third day of play. Who walked away a winner? You'll need to read the WPT Marrakech recap to find out.
The Main Event of the PokerStars USA Championship of Online Poker ended Tuesday morning, completing the 11-event series. We've got all the results from each event in our PokerStars USA COOP wrap-up.
We're all about helping you work on your game, and that's why we talk to poker players and get their thoughts on various strategy topics. This week, Matthias Habernig discusses picking on weak players.
First it was the New Jersey Senate that passed online gambling legislation. Now another state is looking to follow the N.J. lead. Read California Following New Jersey's Online Gambling Legislation Footsteps to find out more.
Want a New Ride?
Did you miss your chance to bid over a hundred thousand dollars on Peter Eastgate's bracelet on eBay? If that extra cash is lying around and you're looking to join a bidding war, how about bidding on Vanessa Rousso's 2007 yellow Lamborghini Gallardo? The Team PokerStars Pro has but the car up on eBay with a "Buy it Now" of $126,500.
According to the listing, there are only 5,000 cars like it in the world. The car has 12,875 miles on it and comes with a computer, iPod and USB connections, heated mirrors, and hand-knitted seats.
There are currently no bids on the vehicle, but if you're looking to gift it to yourself as an early Christmas present, you have until December 17 to make an offer.
Check out the listing on eBay.
Teaming Up
Lock Poker has teamed up with SharkScope to integrate advanced player stats into its software. Lock is launching a new player dashboard, and players will be able to view their own stats, search their opponents' stats, and much more.
"One of our mandates as a company is to provide a superior online poker experience" CEO if Lock Poker Jennifer Larson said. " We are determined to take this industry by storm and innovate in every possible way we can. The player comes first at Lock and that will always drive our business development."
This dashboard will be the first of its kind for any poker room.
"SharkScope is delighted to be working with Lock Poker in a groundbreaking partnership that brings our years of expertise in the display and analysis of poker statistics directly to Lock Poker players," SharkScope's CEO said. "Players will be able to track their tournaments results, examine their statistics in great detail and so find new ways of increasing their profits, all directly on the Lock Poker site"
Sign up for a Lock Poker account today and not only will you be able to test drive the new software, but we'll match 200% of your first deposit up to $1,000!
Snow Day!
Remember when you were a kid and there was a threat of snow and they cancelled school? Well, this is kind of like that, except instead of sleeping in, there's a €10,000 freeroll on the line.
Much of the United Kingdom has been frozen, literally and figuratively. Snow and freezing temperatures are wreaking havoc across England and Scotland. No, we haven't turned into the weather channel, we just want you to know why the PokerStars United Kingdom and Ireland Poker Tour Galway Main Event has been pushed to Friday.
The event, which was supposed to get under way Thursday at 4 p.m. local time, has been pushed back to allow players who have been stranded at closed airports to reach the venue.
"We are very sorry to have to postpone the event by one day, but it is the most sensible and fair option given that so many of our players would have had great difficulty getting here on time for tomorrow's scheduled start," Kirsty Thompson of the UKIPT said.
For those of you who are already at the venue and already registered for the Main Event, PokerStars is putting on a €10,000 freeroll as a gesture of goodwill.
The PokerStars Blog has more.
Betfair on TV
We've all seen the commercials of web-enabled TVs complete with apps like Twitter and Facebook. Some of you may even own one. Wouldn't it be nice to be able to make a bet on a football game from the comfort of your couch with your TV remote? Well, now you can.
Betfair's new app allows customers with web-enabled Sony and Samsung televisions to make bets in-play. You can download the app from your television and get started right away. "...the system is responsive and does not distract from watching the match, it just adds to the experience," said a review of the app in The Sun.
Want to find out more? Head on over to Betfair.com.
All in for CP
The third annual All In for CP charity poker tournament will take place December 11 at the Venetian Hotel and Casino. The $550 buy-in/$200 rebuy tournament benefits the One Step Closer Foundation, which aims to ease the lives of those affected by cerebral palsy.
Expected to attend are Cheryl Hines, Jason Alexander, Mekhi Phifer, Sam Simon, Montel Williams, and Donnie Wahlberg, among many other players.
If you want to find out more on the event or register, visit AllInForCP.com.
Like us on Facebook, and follow us on Twitter for up-to-the-minute news.
There is still time to qualify for this weekend's $1500 freeroll from UB and Absolute Poker, only a deposit is needed!