The Pigskin Diaries Vol. 16: Underdogs and Road Warriors Charge into Week 14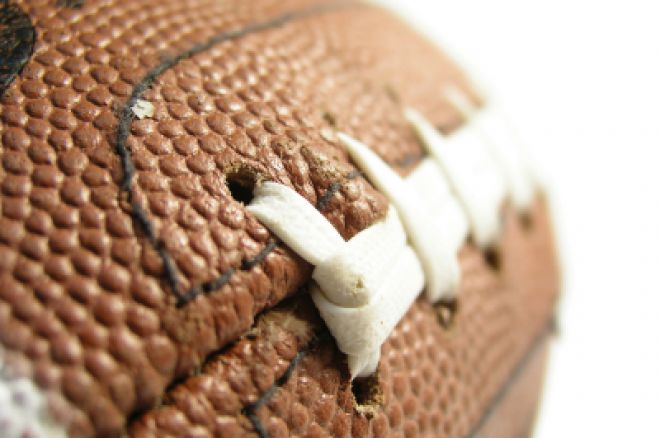 We're here a little early this week. Thursday night football is in full stride and tonight's game is going to make or break someone's season. There is some profitable action to be found at the sports book again this week, and we've got the scoop on the lines and the roster updates heading into the games. We managed a 10-4 record picking against the spread last week, and that sets us up nicely for a huge, embarrassing failure this week. We're pulling out all the stops this week, too, taking the road team in 12 of 13 games and taking the points for the underdog in five of those. There are a few head scratchers on the board, but a little digging can reveal some hidden tidbits of tide-turning goodness. Here's what's going on during Week 14 in the NFL.
Indianapolis -3.5 @ Tennessee: The Colts haven't lost four games in a row in nine years, a streak that is in jeopardy as they travel to Nashville for an important division game against the Titans. Important, in fact, is an understatement. It is a crucial contest for the Colts who, at 6-6, are still in contention to lock up the AFC South and a playoff berth if they can win out their last four games. "Winning out" has to start on the heels of an untimely three-game slide that has Peyton Manning setting the kinds of records he would prefer not to set. He's given away 11 interceptions in those last three games (four of them have been returned for touchdowns), and he has back-to-back games with four picks for the first time in his career. We called for a Manning resurgence last weekend against the Cowboys but it never came. Instead, the Cowboys dominated the game, intercepting four more of Manning's errant passes and holding their last-ranked rushing attack to a paltry 40 yards. The Colts also rank 29th in rushing defense, and that's going to be a problem when Chris Johnson lines up across from them on Thursday night. He's been shut down in two consecutive games, however, and his offense hasn't scored a touchdown in more than three games. They do get the benefit of Kenny Britt who will return to the lineup for the first time in what seems like ages. Still, we'd be aghast if Manning doesn't snap out of this funk and his offense doesn't put up enough points to outscore the Titans Thursday night.
Oakland +4.5 @ Jacksonville: It's been more than ten years since the Jaguars have been leading the division heading into the last four weeks, but that's just exactly where they find themselves in 2010. They were 7-5 at this time last year, too, interestingly, but an 0-4 finish ended their season with barely a fizzle. This one will be a war in the trenches as the #2 and #3 ranked ground attacks square off against each other. The Jags' Maurice Jones-Drew is possibly the hottest back in the league right now, riding five straight 100-yard performances into this battle. Oakland's tandem of power backs have them positioned at 6-6, two games back of the division-leading Chiefs and badly in need of a win to keep their playoff hopes alive. This one sure is hard to figure, but we're betting on a tight game to narrowly favor the road dogs.
Cincinnati +9 @ Pittsburgh: Cincy has lost nine in a row, and Pittsburgh, well, they haven't. There have been a couple of close calls (and a Ben Roethlisberger broken nose) in the mix, but the Steelers are 9-3 with the division securely in their grasp after last week's tough win in Baltimore. Speaking of close calls, these two teams met in Cincinnati in Week 8, as well. Pittsburgh opened up a 27-7 lead in the fourth quarter before getting sloppy and allowing the Bengals to rally late. Cincy was within one play of a go-ahead touchdown on the last play of the game, in fact. Pittsburgh handled it though, and they're a safe bet to win this rematch as well. Roethlisberger's rearranged nasal area has him missing some practice time this week, but that should serve to benefit his ailing foot, and the team expects him to be ready to go come game time. Still, they've only won three games by double digits all year, and the previous Bengals game wasn't one of them. It has some of the makings of a trap game for the home team, too, and it figures to be another close game from what we can see.
Cleveland +1 @ Buffalo: It looks like Colt McCoy is going to be sidelined for one more week, so Jake Delhomme will start another one for the Browns when they head to Buffalo for a snowy encounter. The Browns' game plan will likely rely on Peyton Hillis attacking that awful Buffalo running defense long, hard, and often. He's closing in on 1,000 yards for the season fast, and the Bills have allowed more than 200 yards on the ground in each of the last two weeks. Boom. On the other side of the ball, Ryan Fitzpatrick has been held in check for two weeks running, and his job will be made harder this week after losing two of his starting offensive linemen to injury last week. If the weather keeps this game on the ground, give the edge to the Browns.
Green Bay -7 @ Detroit: The Lions have lost a double-take-worthy 19 straight conference games. They've dropped 10 straight to the Packers, too, and the visiting team comes into this matchup one game out of the lead in the NFC North. Green Bay is in a precarious spot, though, listed third in the wild-card standings and in danger of being left out of the postseason. All they can do is keep winning games now, and they've managed to put five of the last six in the win column. Detroit's opponents have been hanging big numbers on the scoreboard lately — a trend Green Bay would love to continue — and the Packers have enough defensive fortitude to keep third-string QB Drew Stanton and his Lions' offense in check. The Pack are allowing just over 180 passing yards per game during the last five games. This one is heavily stacked in the Packers' favor.
Atlanta -7.5 @ Carolina: The Falcons are soaring high on their longest winning streak in more than a decade, six games. The Panthers would be happy with a winning streak of one at this point. Young Jimmy Clausen will continue to take the snaps this weekend despite ranking last in virtually all league quarterbacking categories. The Panthers' 154 points scored is also dead last in the league, and they've scored more than seven points in just a third of their home games so far. They're also dealing with serious injury issues, and backup-backup running back Mike Goodson is the victim of a shoulder issue that threatens his status for this game. The Falcons, on the other hand, have been consistently consistent in working their record to the league's best 10-2, and there is some serious Super Bowl chatter stirring in the ATL. A stumble on the road in Carolina would be unthinkable, and this is a relatively cozy line for now. Tony Gonzalez is listed as questionable but likely to play through a twisted ankle.
Tampa Bay -3 @ Washington: The Redskins will have to go forward without the services of their $100-million man, Albert Haynesworth, after they recently suspended him without pay for the remainder of the season. His (former) team is sputtering at 5-7 and everyone is on the hot seat in Washington right now. Tampa Bay has dropped two in a row, but they were two close losses to two good teams. They're sitting at 7-5 and 11 wins could potentially get them into the postseason if they can win out. Tampa hasn't lost a game to a bad team yet this year, and Washington would most certainly qualify as a bad team right now. Ryan Torain's likely return to the lineup will need to be factored into your fantasy considerations this week, as well.
St. Louis +9.5 @ New Orleans: New Orleans has been winning games in spite of themselves lately, and they're seeking a six-game winning streak as they head into the difficult conclusion of their 2010 season. Their defensive line has been porous of late, and Steven Jackson will be licking his chops as he moves past 1,000 yards on the season. This one looks like an easy game for New Orleans, but it's not so one-sided. St. Louis has a top-ten scoring defense, they're reasonably good at stopping the run, and the Saints have needed scores in the last couple minutes to win the last two games. It's a tall task, but we're going on a hunch that this one's going to be another close one and a bit of a struggle for the Saints. Drew Brees has a way of making that sort of logic look foolish, though. It should also be noted that Pierre Thomas is slated to return to the Saints backfield this week, but Chris Ivory is most certainly still the number one back, and Thomas will likely be eased back into work.
Seattle +5.5 @ San Francisco: San Fran would be out of playoff contention with another loss while the Seahawks are once again tied for the NFC West lead after posting a come-from-behind win versus Carolina last week. They'd dropped four of the previous five leading up to that, however, and they've certainly stumbled through the stretches of the season. The Niners lost to the Seahawks 31-6 in the season opener, and they've been transformed several times since then. Foremost, they're without Frank Gore this time around. They're switching Smiths again this week too, returning to Alex in favor of Troy who's gone 3-2 in the starter's stead. Either man will be at a disadvantage against Matt Hasselbeck who is 10-4 against San Francisco with 25 touchdowns, the most against any opponent. It surprises us to see the Seahawks as significant dogs in this one, and we're big fans of them and the points this weekend on the road. You'll want to keep an eye on the status of wide receiver Mike Smith and his sprained ankle throughout the week.
New England -3 @ Chicago: It's another tough one for the Patriots this week — though last week's much-anticipated clash with the Jets turned out to be not such a tough game after all. This week they'll travel to Soldier Field to take on the Bears' top-ten defense and an offense that has been putting up big points during five straight wins. The Patriots have four consecutive wins under their own belts, and they are playing some remarkable football right now. They've put up at least 31 points in each of those four games, and they've managed to go without a single turnover during that span, as well. Tom Brady has thrown 17 touchdowns since his last interception. Seventeen. It's forecasted to be 23 degrees and snowy in Chicago on Sunday afternoon, something that might be a bigger factor if two lesser-acclimated teams were involved. Chicago is a formidable opponent, and that spotty New England pass defense might have enough room for Jay Cutler to do some damage. Still, given the way they're playing the game right now, we don't dare lay down our money against Tom Brady and his Patriots.
Miami @ New York Jets -6: At least the Jets are moving on from that embarrassing 45-3 collapse in New England during prime time on Monday. Coach Rex Ryan buried a game ball in the dirt at the team's practice facility, and he and the team have been singing the "it's just one game" tune in unison this week. Miami had a chance to move to within two games of the Jets last week, but the offensively frustrating loss to the Browns has all but ended their playoff hopes. The Jets have everything to play for now, and you'd think they'd be on quite the mission to go 4-0 to finish out the season. Six points is a big spread in the AFC East, but we'll give the points and expect a big rebound from the home team this week. Miami lost to New York 31-23 when they played in Florida in Week 3.
Philadelphia -3.5 @ Dallas: Yuck, we hate picking these NFC East games, especially given some of the recent trends with both teams. The Eagles are officially Michael Vick's team nowadays, and he has (partially) taken them to an 8-4 record and into first place in the division. He also frequently makes statues out of his opponents, running for nearly 500 yards and six touchdowns in addition to his very pleasing passing statistics. Dallas eked out a win at Indianapolis last weekend, and Jon Kitna has them on a bit of a roll in his new stint as old starter. His Cowboys are somehow fifth in the league in passing offense, and they'll need to put up some points to keep pace with Philly. The Eagles have scored at least 26 points in all eight of their wins this year, and they've been held under 20 just twice. Dallas is playing some surprisingly good football right now, but Philly has the Super Bowl in their sights, and this figures to be another stepping stone toward that goal.
Baltimore -3 @ Houston: A frustrating loss to the Steelers last weekend pushed Baltimore out of the division lead, and they have a much easier task on the road this weekend. They're headed to Houston and a date with the Texans on Monday night, a team that has lost lots of close games to see their playoff hopes all but extinguished. If Baltimore can get that offense going, they'll put the final loop in the Texans' noose and win this one. The Texans' offense has been blasting through some tough defenses, but this is a hungry Ravens team with a statement to make. It's just hard to see this one going in favor of Houston, barring a catastrophic lack of game from the Ravens. Or a lack of players; tight end Todd Heap appears to be a no-go after injuring his hammy in last week's night game.
Betting lines provided by www.bodog.com, accurate as of noon PST Thursday. Sign up for an account on Bodog to start playing poker and laying sports bets today and remember to follow us on Twitter for up-to-the-minute news.