The PokerStars.net Big Game: 2010 Big Game Loose Cannon Champion Crowned!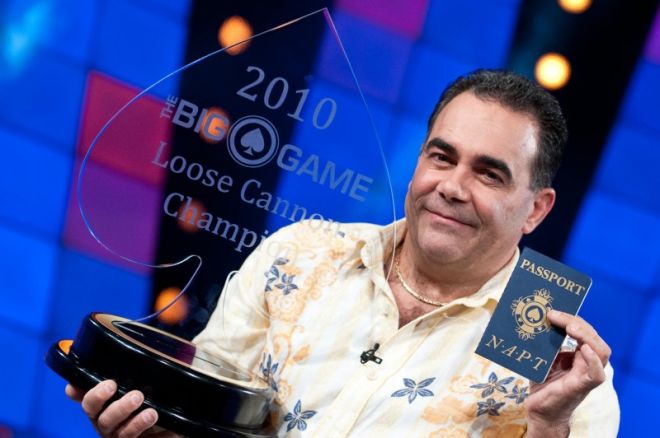 Week 12 of the PokerStars.net Big Game welcomed Phil Hellmuth, Bertrand "ElkY" Grospellier, Abe Mosseri, Vanessa Rousso and Amit Makhija to the state-of-the-art stage. In addition, this week's Loose Cannon was 51-year old Bob Ferdinand. The last qualifier of the season, Ferdinand was a former Boston bus driver nicknamed "Bobby the Bus" who was doing it all for his children. "I have two children that are just excited for me being here and I need to do well for them," he said. When asked if he was confident, Ferdinand responded, "You know I am confident. I've been around this game for awhile. However, this is a huge challenge with these players."
Format Refresher Course: The Big Game, which is played with $200/$400 blinds and a $100 ante paid by the player on the button, is a cash game played for 150 hands. The contestant of the week, called the "Loose Cannon," is given $100,000 by PokerStars to play in the game and any profit earned over the initial stake is his or hers to keep. Trying to stop the Loose Cannon, and turn a profit of their own, are five pros who can rebuy at any time for up to $500,000. At the end of the season, the most profitable Loose Cannon will be awarded a $50,000 North American Poker Tour Passport, in addition to any winnings he or she may have amassed.
Quick Start for the Loose Cannon: During a discussion on Boston sports, action folded to Hellmuth in the cutoff, and he threw in a raise to $2,000 with
. Ferdinand called from the big blind with
and it was heads up to the flop, which came down
. Talk about an action flop! Ferdinand had hit his ace but Hellmuth had flopped trip queens.
Ferdinand was first to act and checked to Hellmuth, who bet $4,000. After a call, the dealer burned and turned the
. Once again Ferdinand checked and Hellmuth threw out a pot-sized bet, this time of $12,000. Ferdinand opted to call and suddenly vaulted into the lead when the
peeled off on the river. This time the Loose Cannon led out with a bet of $18,500, which instantly resulted in Hellmuth throwing his hands up in the air.
"Is this even possible?" wondered Hellmuth aloud, much to the amusement of his fellow pros. The Poker Brat seemed to know that he was beat but made the call nonetheless. Ferdinand showed his ace and took down the pot, bringing his $100,000 stack up to $140,300 after just seven hands!
Hellmuth Strikes Back with Two Outer: On Hand #21, Hellmuth ($91,000) raised to $2,000 under the gun with
only to have Ferdinand ($134,700) reraised to $7,000 with
. The other players got out of the way and Hellmuth made the call. He then bet $7,000 on the
flop and "Bob the Bus" called.
Hellmuth had the second-best hand as he bet $15,000 on the
turn. Ferdinand called as the
was put out on the river. Did the Poker Brat actually two-out his opponent on the river? He did — and promptly bet $27,000. The Loose Cannon called, only to see the bad news. After then hand, Ferdinand was down to $78,700 while Hellmuth cheerfully raked in the $113,200 pot.
Rousso Out After 22 Hands: On the very next hand, Rousso ($43,300) was under the gun and raised to $1,000 with
only to have Makhija, who was next to act, make it $3,500 with
. Action folded around to Rousso, who made the call. The flop fell
, giving both players a little something. Rousso check-called a bet of $4,000 as the
hit the turn, giving her two pair. She checked, Makhija bet $10,000, Rousso moved all-in for $25,800 more and Makhija called. They ran the river four times but Rousso couldn't catch a queen. She made her exit from the Big Game and was replaced by Peter Jetten.
Loose Cannon Gets It Done: There was a lot of action early on during the Big Game, and it continued throughout the week. Hellmuth left late in the game with a $93,500 profit firmly in hand and was replaced by Lex Veldhuis. Meanwhile, the Loose Cannon managed to make a nice comeback and became the week's biggest winner, profiting $181,500!
Most of that came with just seven hands remaining in the match. On Hand, #144 Jetten ($157,500) raised to $2,800 with
only to have Ferdinand ($140,800) make it $10,400. Jetten responded by reraising to $27,800, Ferdinand made it $85,400, and Jetten moved all-in. Ferdinand called off his entire stack and flipped
!
The pot stood at $283,600 as the flop came down
. Ferdinand hit a set and had a stranglehold on the hand. The
on the turn left Jetten drawing dead and the
was put out on the river for good measure.
2010 Big Game Loose Cannon Champion: Coming into the match, only three previous Loose Cannons had booked a win. Ernest Wiggins was first to do it by taking home $50,300, but was soon surpassed by Nadia Magnus, who booked $63,600 and held the lead for a long time. That changed when David Fishman came along in Week 10 and profited $129,600.
Ferdinand certainly had his work cut out for him but managed to book a hefty win and became the 2010 Big Game Loose Cannon Champion! Tears were in his eyes as the match came to a close. Not only did he receive a nice pay day, but he also won the $50,000 North American Poker Tour Passport.
Stats: Here are some statistics that have been compiled throughout the match. Note the following abbreviations: VPIP (Voluntary $ Put In Pot), Raise (Preflop Raise), BR (Button Raise), and FTSA (Fold To Steal Attempt).
| Player | VPIP | Raise | BR | FTSA |
| --- | --- | --- | --- | --- |
| Ferdinand | 33.3% | 16.7% | 0% | 62.5% |
| Grospellier | 47.3% | 30% | 100% | 66.7% |
| Mosseri | 37.3% | 21.3% | 66.7% | 71.4% |
| Hellmuth | 55% | 20% | 75% | 28.6% |
| Veldhuis | 56.7% | 30% | 100% | 75% |
| Rousso | 40.9% | 18.2% | 0% | 100% |
| Jetten | 36.6% | 15.4% | 100% | 46.2% |
| Makhija | 24.7% | 12.7% | 66.7% | 88.9% |
For a complete list of stats, visit the Big Game's official site.
Final profit/loss: Bob Ferdinand (+$181,500), Phil Hellmuth (+$93,500), Abe Mosseri (+$2,400), Bertrand Grospellier (-$8,700), Amit Makhija (-$11,300), Peter Jetten (-$74,400), Lex Velduis (-$83,000), Vanessa Rousso (-$100,000)
You still have time to play in our final $15,000 Sunday Million Freeroll in the current series, but hurry because you have to qualify this month.