WSOP-C Eastern Regional Championship Day 4: Bell Gets a Ring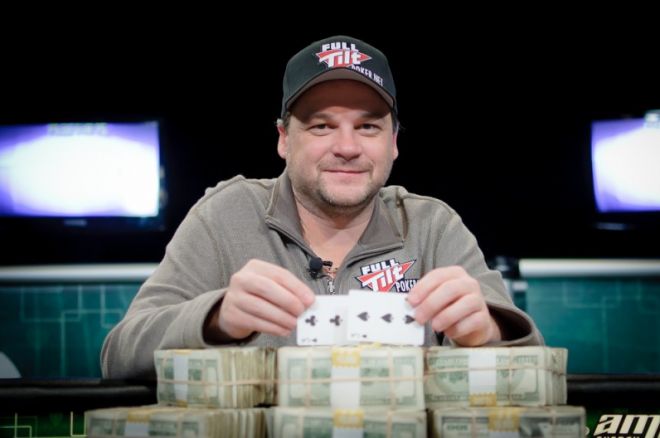 The calendar goes all the way to December 31st, but Wednesday was the final day on the poker calendar for 2010. Harrah's Atlantic City welcomed nine players back to the felt at the World Series of Poker Circuit Eastern Regional Championship to play it out for a major title under the bright lights of the television set. From a field of 136 players, Chris Klodnicki had risen to the top of the pack to lead the finalists into the decisive day as he looked to add to his résumé that already boasts a 2009 WSOP-C Main Event championship in the very same building. After 12 hours of card playing, he was drawing live for the chance to close it out, but Chris Bell won the final hand of the day to snatch the gold ring and his second WSOP title of 2010.
With the average stack sitting at a hefty 75.5 big blinds to start the day, it was no surprise to see all nine players still seated when the first full break hit. They were all still there at the second break, and the third break also came and went without an elimination. The fourth break was for dinner, and Klodnicki was still leading as the nine-man table exited together for their evening meal.
The chip average finally dipped under 30 big blinds as the next level kicked in, and the eliminations began to come at a quickening pace. Seth Fischer three-bet shoved his
into Jason Burt's
just a few hands into the after-dinner session to exit in ninth place and cue the processional to the payout desk. Nick Mitchell doubled his short stack a moment later, but he was next to fall in eighth place. Micah Raskin had been the aggressor on the flop and turn of a
board, but he checked the
river. When he did, Mitchell shoved his ten remaining big blinds into the pot with
, and Raskin's
(two pair) sent "agriffrod" to the exit.
Burt (seventh place) couldn't last much longer either, shoving his
into Chris Bell's
, and the dead-man's hand struck another player down as the
sealed the day's third elimination. Just a few hands later, Andy Frankenberger and Klodnicki got it all in on a
flop, and Klodnicki's
had Frankenberger and his
drawing slim. The
turn put him in an even bigger hole, and the blank
river cued his exit in sixth place just prior to the end of a brutal level.
The fifth break of the day saw five players return with the chip stacks becoming polarized. Todd Terry was on the bad end of that disparity. He had just over 6 big blinds when he shoved with
against Klodnicki's
. This time, the dead-man's hand pulled through. The
was "not a good flop" as Terry astutely noted, and the turn and river
and
sent him off in fifth place.
Raskin was the shortest stack down under 100,000 at one point today, but he rallied back over 800,000 within a few orbits to put himself back in contention. That stack was eventually whittled back down to half of its former self, and the last 396,000 of his chips went into the middle on a three-bet with
. It was Klodnicki doing the deed again as his
held up on the
board to eliminate Raskin in fourth place.
Klodnicki was soon over 2 million chips (of 4.08 million in play), and his lead was safe from there on out. Well, almost. It was Bell who took care of Ketan Pandya in third place when the two men each found a pocket pair in the hole. Klodnicki claimed he folded a pair as well, but Pandya and his
fell to Bell's
to pull the match nearly square as heads-up play began.
The exchanges were mostly small during the course of the duel apart from one large split pot in which both men made jacks full of aces. Chip stacks were nearly even when a 4-million-chip pot erupted on an innocuous-looking flop. Bell had opened the pot to 75,000, and Klodnicki three-bet to 225,000. Bell called and checked the
flop, and Klodnicki continued out with 260,000 chips. Bell paused for a bit before announcing an all in check-raise, and Klodnicki double-checked his cards and called to put one of the two men at risk. The chips were close enough that nobody was certain which of them was, in fact, all in. Bell was definitely ahead in the hand, however, tabling
for the set. Klodnicki showed up
, likely needing to fill his straight to win the pot. The
turn and
river sent the chips to Bell, though, and when the stacks were counted down, it was all over.
So then, it's Chris Bell of Raleigh, North Carolina who wins the Eastern Regional Championship. Along with it comes some serious bragging rights and $358,295 in cash. Bell also snagged his first gold bracelet at the WSOP this summer by taking down the $5,000 Pot-Limit Omaha Hi-Lo event. This $10,000 Regional Championship is worth just a tad more money, and it boosts him up over $1 million in earnings on the year. Even better, it comes with a diamond-laden gold ring to add to his 2010 WSOP trophy case.
Here are the full payouts for the final table:
| Place | Player | Payout |
| --- | --- | --- |
| 1 | Chris Bell | $358,295 |
| 2 | Chris Klodnicki | $221,452 |
| 3 | Ketan Pandya | $159,851 |
| 4 | Micah Raskin | $117,457 |
| 5 | Todd Terry | $87,808 |
| 6 | Andy Frankenberger | $66,758 |
| 7 | Jason Burt | $51,607 |
| 8 | Nick Mitchell | $40,538 |
| 9 | Seth Fischer | $32,362 |
We've closed out our Live Reporting for 2010, and we want to take a moment to thank you all for joining us and following along with our coverage throughout the year. Our next stop is a big one — the PokerStars Caribbean Adventure that runs from January 6-16. We'll see you back on the Live Reporting page in 2011, and don't forget to follow us on Twitter and Facebook to keep up with all the goings on in the poker world in between now and then!