Around the World with Lynn Gilmartin: Bahamas Baby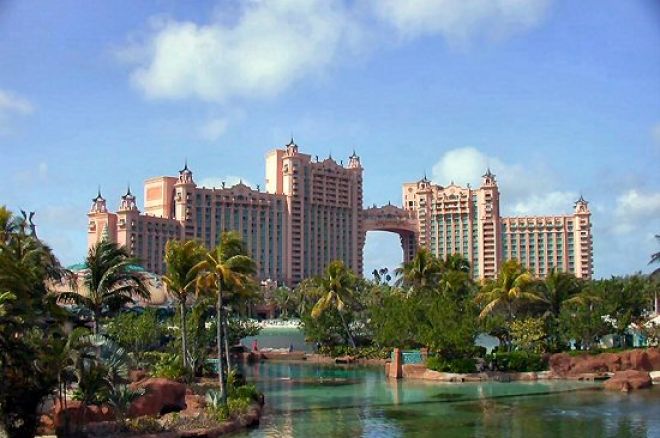 The most extravagant resort I've ever stepped foot in is Atlantis Resort and Casino in the Bahamas, spread across its very own Paradise Island. There is no way you could get bored at Atlantis, but you could most certainly go broke. I was lucky enough to make my first trip to the Caribbean with PokerNews in January 2010 for the PCA, and in just a few days, PokerStars' key series returns to Atlantis with PokerNews there to bring you every notable flop, turn and river in between sipping cocktails while soaking up the reggae tunes and beach-side sunshine. Jealous? Well you could have qualified online to join us!
Just 60 miles off the coast of South Florida and stretching as far as Cuba, the Bahamas comprises more than 700 islands, one of which is Paradise Island, home to the Atlantis Resort and Casino, boasting the Caribbean's largest casino and a $15 million marina, you simply cannot miss an opportunity to visit.
The Vitals
Language: English
Currency: USD is widely accepted with the local currency, Bahamian Dollar, fixed to the USD for an equivalent exchange rate. B$1 = USD$1
Tipping: Similar to in the U.S. where gratuity is automatically added to bills; if not then 15-20 percent is expected.
Weather: This may be the coldest time of year but don't let that deter you – the daily average temperature is a perfect 75°F.
Legal Age: Hello to all 18-year-old American's – you're legal in the Bahamas!
Getting There and Around
Nassau International Airport (NAS) is a 30-minute taxi ride from the Atlantis Resort & Casino. The ride will cost about $30. Atlantis is on Paradise Island, which is reachable via bridge from the central Bahamian island of New Providence where the capital Nassau is located. Metered taxis are located outside all hotels and can also be hired (cheaply) by the hour if you want a personal tour guide. Water taxis operate frequently between Nassau and Paradise Island; buses run from the hotels to downtown Nassau several times a day. Hiring a car or moped is another option if you're feeling adventurous, although if you do hire, please remember that Bahamians drive on the left (correct) side of the road.
Atlantis Resort and Casino
If this is your first time at Atlantis, then be prepared to be blown away by everything about this place. Once you've comprehended the sheer size of the resort, just wait until you see the yachts in the Marina.
There is a huge choice when it comes time to eat with over 40 restaurants (yes, 40) from quick and easy snacks to the most exclusive fine dining in the world. Just keep in mind that wherever you choose to dine within the resort will have you up for a hefty chunk out of your wallet, including a casual pizza on the Marina, but I was never let down by the food or cocktails – Bahama Mama's are a must! For my fellow caffeine lovers, there's even a Starbucks.
If you've got some money to spend on accommodation, then the high-rise Royal Towers is where you want to stay. Another step up is The Cove for the most modern and luxurious suites in the Caribbean, including one of the most stunning day spa's I've ever seen and a funky private adults-only pool to escape the family-life around the rest of the resort. The Coral Towers and Beach Tower rooms are more basic and affordable but certainly still nice, located in the heart of the fun and activities and, most importantly, close to the Imperial Ballroom, which will be converted into the PCA Tournament Area for the next two weeks.
January is high season, so expect long lines at restaurants, although that's not so reflected at the pool and beach areas – they're so expansive you'll be sure to find a secluded spot just for you. With expansive comes lots of walking, so, ladies, leave the high heels at home.
As for activities, there is so much to do, especially if you love water. You can swim with the dolphins or sea lions like Team PokerStars Pro Vanessa Rousso did last year with some lucky qualifiers, ride on a water slide through shark-infested waters or have a nice easy day of golf in one of the world's most prestigious courses as Team PokerStars Pro Daniel Negreanu did with more qualifiers.
Besides building the (rare) courage to sit myself on an inner tube and ride The Falls in the Water Park, my biggest highlight of PCA last year was the AmFAR Charity Event where I had the honor of interviewing Nelly, Kelly Roland, and of course Slash from one of the best (former) bands in the entire world, and seeing first-hand the sparkle in Jayde Nicole's eye whenever Team PokerStars Pro Joe Cada's name was mentioned (no, nothing happened, but you can't blame the girl for having a crush on the guy). I have to admit I was like a star-struck kid spotting Mickey Mouse at Disneyland. You can catch Gloria Balding also rubbing shoulders with the stars for PokerNews in this video.
Unfortunately, I will not be attending the PCA this time around because I am now at home in the land Down Under getting prepared for the one and only Aussie Millions! So until then, please enjoy our coverage of the PokerStars.net Caribbean Adventure and I will catch you all here on PokerNews.com from the 13th January direct from Crown Poker Room!