European Poker Tour Deauville Day 1a: Guillaume De La Gorce Withstands The Assault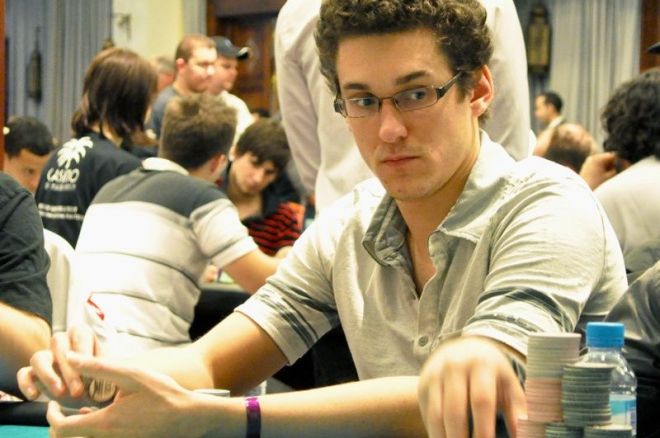 The beaches of Normandy witnessed the world's largest amphibious assault when the Allied Forces invaded in World War II. This week, the occupants of this part of Normandy will once again witness another assault, only this time the forces will not be allies and the assault will not be amphibious. Instead poker players from all over the world will descend onto these famous shores by train, plane, ferry and automobile; no amphibians but maybe the odd fish?
That assault started Monday, in the vast annex of the Casino Barriere in Deauville, and it will be forever remembered as European Poker Tour Deauville Day 1a. Cards and chips replaced machine guns and hand grenades, but it was still war nonetheless, as 419 players battled it out with just one thought on their minds; surviving to Day 2.
One person in a good position to have a shot at the title when he returns on day 2 will be Guillaume De La Gorce. The Frenchman withstood the assault from all corners of the globe and takes a lead of 196,800 chips into Day 2.
Amongst those fighting in the trenches was last year's winner Jake "neverbluff67" Cody. The 22-year-old from the United Kingdom had arrived with dreams of retaining his title; a feat that nobody has ever accomplished. Cody was not the only person who had made the short trip over the channel. Team Pokerstars Pro's Victoria Coren and John Duthie, Jack Ellwood, Matt Perrins and Praz Bansi just a few of the notable names.
A few famous sporting heroes had also decided to join the assault. Team Pokerstars SportStar Fatima Moreira de Melo, was here and also former French National Soccer Coach Raymond Domenech.
Other notable Day 1a players who had joined the fray included Team Pokerstars Twins Christophe and Matthias De Meulder, EPT Player of the Year front-runner Fernando Brito, Joao Barbosa, Rob Hollink, Team Pokerstars Pro Thomas Bichon and Mihai Manole.
War is a brutal place and there has to be casualties. One of the first notable casualties was Team Pokerstars Pro Victoria Coren. Holding the nut flush is normally a pretty dependable weapon. Unfortunately, for Coren, the nut flush is not much good against somebody holding a straight flush and it was an early demise for the previous EPT London winner.
Not long after Coren did an Elvis, so did Team Pokerstars Pro John Duthie. Duthie succumbing to that well known weapon of war the set mine! You could not go near Alexia Portals table without someone hitting the cunningly disguised set mines! On a board of
Portal held
for bottom set and one of her opponents held
for top set. Then out of nowhere the third player blew them both up when his pair of aces turned into a set on the river.
The person currently leading the EPT Player of the Year race, Fernando Brito, suffered a near fatal wound early on in the tournament. All of the money went into the middle on a board of
with Brito holding trips - kings versus his opponents trip deuces when a fourth deuce nailed the river and Brito was on life support.
The battle of Day 1a was nearing the end and the survivors started to lock away their weapons and begin to think of Day 2. But there was one person left that everyone wanted one final shot at – the champion Jake Cody. And so it was that with minutes left Cody found himself all-in with three other people. We now know we will have a brand new champion after Cody's pocket nines couldn't improve enough to defeat the pocket jacks and pocket kings of his opponents.
PokerNews will be back every day of EPT Deauville with live coverage and photos.
You have to check out the all new Home Games Online from PokerStars- play your regular home game with friends from all over the world.