European Poker Tour Deauville Day 3: We're in The Money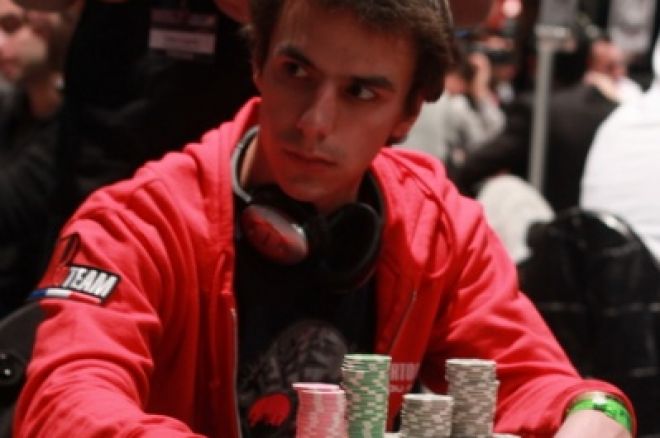 In 1933, Ginger Rogers, sung we're in the money in the opening sequence of the film Gold Diggers. Today was Day Three of the PokerStars European Poker Tour Deauville and 205 people were all hoping that at some point in the day they would also be able to sing that famous song. Unfortunately, the prize payouts in the magnificent Casino Barriere only stretched as far as 128th place. That meant that there would be 77 people who would not be full of song and would end up joining the rest of the railbirds.
One of the first players to be eliminated was Team Pokerstars Pro Salvatore Bonavena. The former 2008 EPT Prague winner was unable to follow up his impressive 17th place finish at the same Prague event back in December, after his
lost out to Vincent Dalet's
, when an ace appeared on the board.
Team Pokerstars Pro Bertrand "ElkY" Grospellier started the day in a much better condition than Bonavena. The former EPT and WPT champion started the day with 143,700 but he had doubled that in the first level after a pocket pair of three's transformed into a full house - much to the disgust of his opponent Igal Botbol. Elky was later moved on to the same table as young British players Praz Bansi and Mathew Frankland and some of the poker we witnessed was quite brilliant. Let's just say Bansi has played in a lot of EPT main events and disregard his estimate of 500! Either way the professional from London has never managed to cash in an EPT main event – until now. Bansi will return for day four flushed with a little extra cash in his pocket and a monkey of his back.
Some of the main contenders throughout the day qualified for this event online at Pokerstars.net proving that the Moneymaker fairytale is still alive and well. In fact the day started with one of them, David Sonelin, leading the pack and although he didn't retain his lead he will be returning as one of the contenders going into day four. Other notable qualifiers throughout the day were Martin Jacobsen, Fabian Holling, Alex Wice and Shander de Vries.
As the day progressed we lost Team Pokerstars Pros Matthias de Meulder and Juan Manuel Pastor and in fact it is Team France who have led the way for the Pokerstars Pros with only Thomas Bichon and ElkY making it through to day four.
Then as we moved into Level 17 the bubble approached and 129 players were getting ready to sing that famous song. There were at least three "all-in and call" moments where the short stacks doubled up before we eventually had two decisive "all-ins and calls" simultaneously. The bubble boy award eventually went to Bernard Guigon. The phrase "a chip and a chair" is legendary in poker circles. Well today Guigon created a new saying when he was forced to ante up his final pink 500 chip leaving him with "fresh air and a chair." His three opponents checked the hand down from flop to river, and Guigon received a standing ovation, when a pair of deuces beat his jack high. Then no sooner had Tournament Director Thomas Kremser finished commentating the final Guigon hand he moved over to the other "all-in and call" where EPT 2010 Barcelona winner Kent Lundmark was eliminated after his pocket queens were beaten by his opponent, who was holding king jack, when the man with the crown showed up right at the death.
Around 90 players will be returning to battle it out on day four and leading the pack will be Raphael Kroll. Kroll started the day with 339,200 chips and finished with an impressive 829,000.
What will happen next? Join the PokerNews Live Reporting Team for all the details and follow us on Twitter for up-to-the-minute news.