2011 PokerStars.net LAPT Sao Paulo Day 4: Manzano Denies Brazil Its First LAPT Title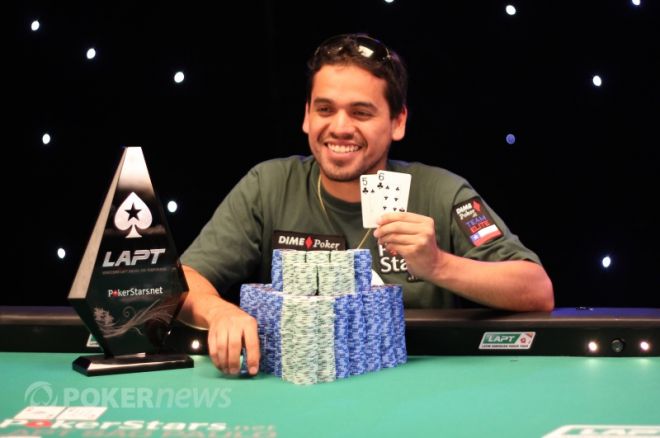 It's safe to say that most of the gallery was rooting against Chilean Alex Manzano at the 2011 PokerStars.net Latin American Poker Tour São Paulo Main Event final table. It wasn't that they had anything against Manzano; they were just a partisan Brazilian crowd hoping to see one of the five Brazilians at the table crowned as the first Brazilian champion in LAPT history. But Manzano, the chip leader of the tournament after Day 2, won the tournament and denied them their joy.
To hoist the trophy, Manzano had to deal with a tough seat draw. He began the day sandwiched between Brazilian João "joao bauer" Neto (3rd in chips) and Argentina's Leandro Csome (1st in chips).
At the start, Manzano let Neto and Csome do the heavy lifting. He chose his spots carefully with strong starting cards. He sent short-stack Bruno Politano to the chopping block when Politano's pocket tens couldn't out-run Manzano's
. Henrique Bernardes followed Politano about an hour later when he was forced to move a short stack into the middle with
. Manzano picked up big slick again and sent Bernardes to the rail by flopping a king.
In between those two eliminations, Neto had to survive his own all-in. He opened the button to 115,000 with
, then shoved against chip leader Csome who three-bet the big blind to 330,000. Csome took Neto on with
but was forced to pay off more than one million in chips when Neto turned a jack to the extreme delight of the heavily Brazilian crowd.
Neto, with a doubled stack, was able to apply more pressure to Manzano, Csome and the rest of the table. He tagged Csome again later by check-raising the river of a
board after Csome bet 315,000 into a pot of more than half a million. Csome snap-mucked, prompting a pumped-up Neto to flash total air —
.
Mexico's Santiago Nadal was the next player eliminated after escalating blinds briefly turned the final table into a game of pre-flop chicken. He moved against Csome with
; Csome's pocket kings gave his stack a measure of health as they held up to finish off Nadal in sixth place.
Neto found another level after Nadal's elimination. It seemed as though every pot went his way. He notched the next two eliminations, first by taking out Csome with pocket 9s against
and then by out-racing Marcio Motta with pocket sixes against
.
By the time three-handed play began, Neto had 6.6 million of the 10.7 million chips in play. It seemed as though Manzano and the remaining Brazilian, Marcelo Fonseca, were battling for the privilege of taking on Neto heads-up. Manzano's stack took a beating as the blinds went around the table quickly and he failed to keep up.
With blinds at 50,000 and 100,000, two quick hands changed the tide for Manzano. First, Manzano put his last 1.5 million in pre-flop with
and out-ran Neto's
. A short time later, Neto put Manzano to the test by betting and three-bet-shoving a
flop. Manzano tanked for two or three minutes before calling and putting his whole stack of 3 million on the line with
, top pair. Neto was on the draw with
and never improved.
Just like that, Neto found himself the shortest of the three remaining players. Fonseca just barely covered him for a pre-flop flip — Fonseca's
against Neto's pocket treys. His treys held up, and a few hands later, Fonseca was eliminated.
At the start of heads-up play, Manzano had 6.8 million chips. Neto had 3.9 million — and the hopes of the entire gallery. But unlike his fictional counterpart Jack Bauer, Neto was unable to save the world. He stayed at par against Manzano until one last river call that didn't work out.
For his victory in São Paulo, Manzano will bring R$615,840 back to Chile.
Final Table Results
| Place | Player | Prize (BRL) |
| --- | --- | --- |
| 1 | Alex Manzano | $615,840 |
| 2 | Joao Bauer | $352,760 |
| 3 | Marcelo Fonseca | $224,800 |
| 4 | Marcio Motta | $165,000 |
| 5 | Leandro Csome | $117,190 |
| 6 | Santiago Nadal | $93,270 |
| 7 | Henrique Bernardes | $69,350 |
| 8 | Bruno Politano | $45,440 |
Although PokerNews' coverage of the LAPT São Paulo has come to an end, you can find lots more live reporting coverage from our team all over the globe! Be sure to check our Live Reporting Page regularly for all the events where you can find us.
Be sure to follow us on Twitter and become our fan on Facebook for the best up-to-the-minute news.