2011 PokerStars.net LAPT Sao Paulo Day 3: Csome Back On Top Leading the Final Table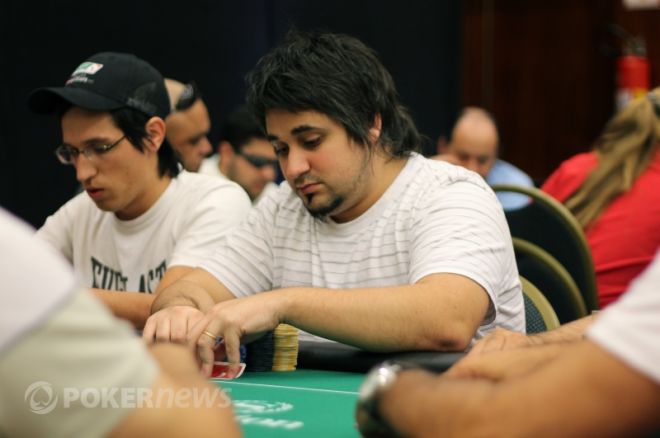 The third day of action came to a close Saturday night for the 2011 PokerStars.net Latin American Poker Tour São Paulo Main Event. Coming in Day 3 with only 24 players remaining from the record-breaking field of 536, Alex Manzano of Chile headed the pack. He wasn't able to ride that big stack to the chip lead heading into the final table, but will enter second in chips with 1.73 million. Leading the way is Day 1 chip leader Leandro Csome from Argentina. Csome bagged up 2.875 million in chips at day's end.
The action didn't start off slow, as a few doubles up and eliminations came in the first level of the day. It wasn't until the second level of the day though that the last woman standing Daniela Zapiello was eliminated from action in 22nd place. On the feature table, Zapiello got her money in with the
. Henrique Bernardes held the
and off to the races they went. The board ran out
to end the tournament for Zapiello and leave her with a payday worth R$14,350. In February 2010, Zapiello placed fifth in the LAPT Punta del Este Main Event for USD $52,110.
Manzano began the day as the largest stack and kept his aggression up all day long, using the big stack just like a big stack should be used: like a club bashing on shorter stacks. He constantly opened pots preflop if the action got to him unopened. If that didn't happen and someone else raised in front of him, Manzano would often three-bet, especially against smaller stacks where he would effectively raise enough to force them to a decision for their tournament life.
In one hand that exhibits just how aggressive Manzano was playing, he took a big pot from Fabio Colonese. Sitting in the cutoff, Manzano opened a pot preflop with a standard raise. On the button, Colonese reraised, clearing out the blinds. With action back to Manzano, he four-bet an additional 80,000. Colonese took two to three minutes before five-betting an additional 120,000 on top of Manzano's four-bet. The seconds ticked quietly off the clock while Manzano pondered. With about a million left behind (against Colonese's 500,000), Manzano six-bet shoved. Colonese put his head down on the table, seemingly pained by his decision to call or fold. Several more minutes went by before he finally folded. Manzano casually flipped up
! Colonese tapped the table "good hand" and showed one card, the
.
The biggest name to move onto Day 3 was none other than Team PokerStars Pro Humberto Brenes. The two-time World Series of Poker gold bracelet and holder of more than $5.85 million in live tournament winnings went on to finish in 15th place. Brenes was all in and dominated against Marcelo Fonseca. He failed to get the come-from-behind victory, which made the water a little bit safer minus this shark. His finish earned him another R$16,740 for his career.
With even more chips than ever, the Chilean Manzano started picking off Brazilian players left and right. First, he eliminated Caio Brites in 13th place. Then, he knocked off Walter Oaquim in 12th place. Following that, Manzano clipped Eduardo Costa in 11th place. After all of this, Manzano had well over two million in chips.
Amos Ben Haim was the last player to go before the remaining nine players all settled in around the main feature table. Ben Haim open-shoved his button for 482,000 holding the
. Unfortunately for him, Marcio Motta was waiting in the small blind with the
. No help came on the
board and Ben Haim finished in 10th place.
With the tournament down to its final nine, Manzano still had the lead with over 2.4 million in chips. He was the only player over two million at the time, but Day 1 chip leader Leandro Csome wasn't too far off the mark with 1.9 million.
About an hour into nine-handed play, Joao Bauer was all in preflop for roughly 650,000 holding the
. Chip leader Manzano was his opponent and he held the
to make the end of Day 3 look just a flop, turn and river away. The deck had other things in mind though, or maybe it was just a bit partial to Bauer. Either way, the board ran out
to keep Bauer alive in stellar runner-runner fashion.
From there, Manzano lost more chips. He missed out on some value against Colonese when he failed to bet a straight on the river against Colonese's top pair. A few hands after that, Manzano check-raised to nearly half a million in chips, but was forced to fold to Csome's reraise on the flop of
. That pot gave Csome the chip lead and from there he continued to rise. Csome finished off Colonese in ninth place to end the day and padded his stack a little bit more.
Final Table Seating Assignments and Chip Stacks:
| Seat | Player | Chips |
| --- | --- | --- |
| 1 | Santiago Nadal | 555,000 |
| 2 | Marcio Motta | 1,205,000 |
| 3 | Marcelo Fonseca | 1,245,000 |
| 4 | Joao Bauer | 1,395,000 |
| 5 | Alex Manzano | 1,730,000 |
| 6 | Leandro Csome | 2,875,000 |
| 7 | Bruno Politano | 1,030,000 |
| 8 | Henrique Bernardes | 440,000 |
Everyone left has locked up a minimum of R$45,440, but they'll all have their eyes set on the R$615,840 first-place prize. The button will start with chip leader Csome in Seat 6, making Politano and Bernardes the small blind and big blind, respectively. Play resumes on Sunday at 1:00 PM local time and you can be sure to follow all of the action live on PokerNews.
Be sure to follow us on Twitter and become our fan on Facebook for the best up-to-the-minute news.