2011 PokerStars.net LAPT Sao Paulo Day 1: Csome Says Come Get Some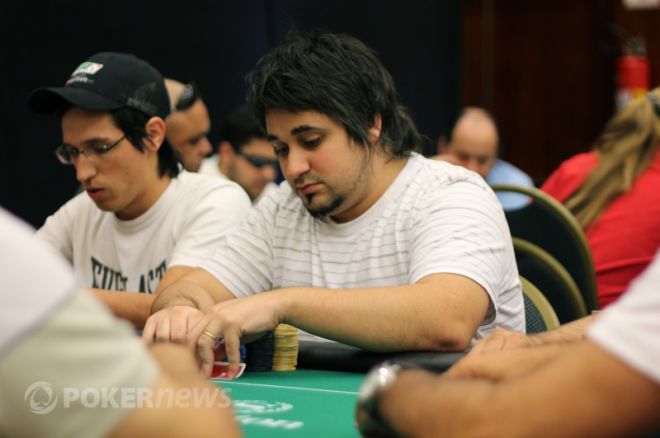 Day 1 of the 2011 PokerStars.net Latin American Poker Tour Sao Paulo Main Event concluded on Thursday night in Brazil. A record-shattering field of 536 players came out to kick things off and created a prize pool worth R$2,391,630. First place is worth a whopping R$615,840, and at the end of the day, 167 players were still in the running.
Topping the pack was Leandro Csome who bagged up 271,100 in chips and looks to have a very healthy margin between himself and second place. Every time our live reporting team checked on Csome, he had more chips than before. That's easy to do when you're playing well, making hands and getting people to pay you off. And that's the way Csome steadily built his stack throughout Day 1.
A few other players who ended the day with big stacks included Emerson Baroni with 206,000, Amos Ben Haim with 203,400, Gerardo Godinez with 193,300, and Eric Mifune with 192,600. Barring any late night changes that went unnoticed, those players should round out the top five.
Team PokerStars was out in full force on Thursday with a slew of players in action. Unfortunately for the host site and team sponsor, not all of them could make it through to Day 2. The team members who failed to make it through the day included Gualter Salles, Jorge Arias, Joao Nunes, Diego Brunelli, Leo Fernandez, Andre Akkari and Fredy Torres. Don't worry, though, because Maria "Maridu" Mayrinck, Christian de Leon, Angel Guillen, Humberto Brenes, Jorge Limon and Nacho Barbero are all still in the hunt. Barbero bagged up the largest stack of that bunch with over 75,000 and will return tomorrow to continue the quest for LAPT title number three.
A few of the other notables that were eliminated during Day 1 were the only couple to hold World Series of Poker gold bracelets Maria and Max Stern, Christian Kruel, young Brazilian poker superstar Felipe Ramos, and ex-footballer Paulo Rink.
With just about a third of the field remaining, action will continue Friday beginning at 12:00 p.m. local time in Sao Paulo. At the moment, it's all Csome, but he still has plenty of work cut out for him with numerous solid players just as hungry for the title as he is. The plan for Friday is to play all the way down until just 24 remain. That could very well mean everyone's going to be in for a long ride. Our suggestion is to pack some lunch, dinner, a midnight snack and a heck of a lot of coffee.
Be sure to check back for all the live updates straight from the floor.
As always, follow us on Twitter and become our fan on Facebook for the best up-to-the-minute news.