The Nightly Turbo: Another Durrrr Challenge, Another Las Vegas Casino Robbery, and More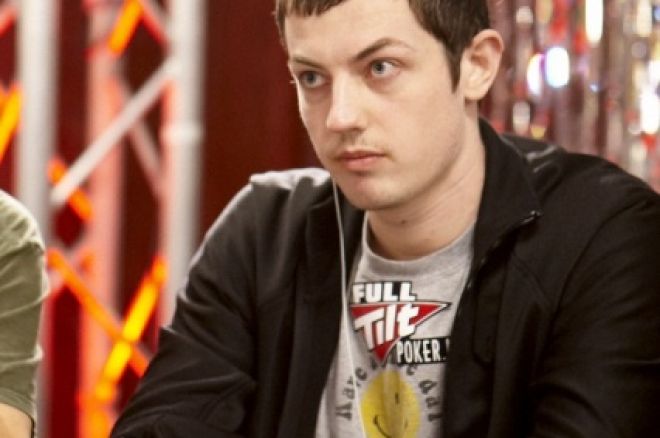 Another Las Vegas casino was robbed Thursday morning but before we tell you about that, we've got info on the "durrrr" Challenge - no not the ones that are currently running, a new one. Read on to find out more and enjoy your Thursday.
In Case You Missed It
We know its hard to fold an overpair sometimes. In our latest strategy article, "Miami" John Cernuto discusses when to "pump them" and when to "dump them."
PokerStars has announced the biggest Sunday Million in history to celebrate its fifth anniversary. Check out the details and the exclusive PokerNews Freeroll that could get you in.
Lynn Gilmartin was in Sao Paulo, Brazil, recently for the PokerStars Latin American Poker Tour. In the latest Around the World with Lynn, she gives you a peek at how much fun she and the PokerNews team had while they were there.
Challenge Durrrr
If you think you have the chops to take on one of the best players in the game, you could win $1.5 million. Full Tilt Poker has just announced the Challenge durrrr promotion. Tom "durrrr" Dwan hasn't even finished his other Challenges, but is adding another one to his plate - this one won't take as long.
Challenge durrrr vaguely reminds us of another showdown going on in the online poker world, but the rules are a little different. To Challenge durrrr, players will have to prove they're capable of playing ring games, tournaments, matrix tourneys, heads up challenges, and show they are capable of playing multiple tables at the same time.
This is open to players across all stakes, who earn a top spot on the leaderboard through Sunday, March 13. Players earn leaderboard chips by winning pots while playing two or more no-limit hold'em or pot-limit Omaha ring game tables at once, or one Rush Poker table.
The top leaderboard finishers will then play a $25,000 Matrix Tournament, and the player who earns top Matrix score will take on Dwan in four simultaneous heads-up sit-n-go's with the winner taking home $1.5 million.
Round one of the promotion begins February 26, and to play, you're going to have to get a Full Tilt Poker account.
Rio Robbed
Early Thursday morning, another Las Vegas casino was robbed just two months after $1.5 million was stolen from the Bellagio. An armed man wearing a fedora, fake mustache, and sunglasses walked into the Rio All Suites Hotel and Casino and stole about $32,000. Nobody was hurt during the robbery, but the man did pull a gun on a dealer who was attempting to stop the holdup.
According to a casino official, the robber took about $21,000 in $1,000 denomination chips and the rest in $500, $100, and $25. According to reports, the robber arrived and fled the scene in a taxi.
The Las Vegas Review Journal has more.
Things We Like to Hear
According to a recent report by Global Betting and Gaming Consultants, the online gambling industry has grown by 12 percent in the past year. The report says that the online gambling industry is now worth $29.3 billion.
"With the amount of countries that have legalized some form of online gambling, that number will most likely continue to grow over the next decade," gaming analyst Steve Schwartz said. "If that is the case, the industry could become one of the most relied on in the world when it comes to tax revenue created."
Of the $29.3 billion, 41 percent of it comes from sports betting, while online poker and casinos account for 46 percent. The study has also looked into the future and forecasts that the online gambling industry will be worth over $40 billion by 2014, that's only if the markets continue like they are, if the U.S. regulates, then the number could get bigger.
CasinoGamblingWeb.com has more.
Tekintamgac Back in the Headlines
Ali Tekintamgac is back in the headlines, but this time he wasn't cheating. If you aren't familiar with the name, he was the player accused of cheating at the Partouche Poker Tour.
He has recently filed a €1.5 million lawsuit against the Partouche Poker Tour. His lawyer broke it down as €1.3 million that he could have won (the first-place prize) had he not been eliminated and €200,000 for defamation.
That's about all we could get from the Google Translated article. We're not fluent in German.
Foosball Challenge
Sarah Grant caught up with Team PokerStars Pro Arnaud Mattern at the PokerStars European Poker Tour Copenhagen and decided to challenge him to a little foosball. Who won? You'll have to watch the video to find out.
Make sure you're following us on Twitter. It's the best way to get up-to-the-minute news. Also become a fan on Facebook.
We have just announced three more $15,000 Sunday Million Freerolls with PokerStars, with $1,000 to the winner and 260 tournament tickets, including 45 Sunday Million Tickets on offer.