The Nightly Turbo: Physicists and Poker, Caesars Palace Classic, and More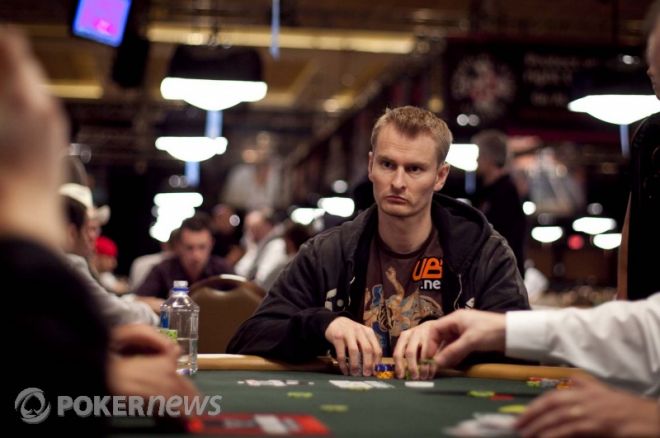 We like to bring you all of the day's news in one place so you aren't scrambling around looking for it. The Nightly Turbo is the best place to get the day's top poker news stories quick and easy, so you can go about your day a little more knowledgeably. Tonight, we're going to tell you about a story about why so many physicists like Michael Binger are playing poker, remind you about the Caesars Palace Classic, and more.
In Case You Missed It
Yesterday in South Carolina, five justices of the South Carolina Supreme Court heard arguments about whether poker is a game of skill or not. Find out more in Is Poker a Game of Skill Debate in South Carolina.
While most eyes are on the World Poker Tour Festa al Lago, that doesn't mean that there aren't plenty of tournaments happening around the world. This Week in Tournament Poker has the results.
Day 5 of the World Poker Tour Festa al Lago saw the field shrink to the final six players. Who's leading the way? Find out in this recap.
It's that time of the week again. Time for us to drop some poker strategy knowledge on you from one of the pros we caught up with. This time, we spoke to Anthony Yeh about a hand he played against Kathy Liebert at the WPT Festa al Lago.
The continuation of Day 7 of the 2010 World Series of Poker aired on ESPN Tuesday night. Did you miss it? We don't know how you keep doing that with our weekly reminders, but nonetheless, we're here to bring you the recap of the show so you know what's going on.
The 2010 World Series of Poker Main Event Final Table is just around the corner. Find out a little more about final tablist Soi Nguyen in our November Nine profile.
It's Not Rocket Science
Discover magazine has published a story called the Big Game Theory, which takes a look at why so many physicists are playing poker. Liv Boeree, Michael Binger, and Michael Piper - all physicists. What is it about the game that attracts physicists to the game? Writer Jennifer Ouellette says, "Perhaps poker appeals to physicists because it is an intricate, complex puzzle, steeped in statistical probabilities and the tenets of game theory."
Dutch-born physicist/World Series of Poker bracelet winner Marcel Vonk says, "The skills required are similar: mathematical abilities, the ability to spot patterns and predict things from them, the patience to sit down for a long time until you finally achieve your goal, and the ability to say 'Oh well,' and start over when such an attempt fails miserably."
After reading this, some of us here at PokerNews HQ are now beginning to understand why we're having problems excelling at this game.
If you've got some time, you're going to want to check out this article from Discover magazine.
Caesars Palace Classic
Did the World Poker Tour Festa al Lago preliminary events not go your way? You could always try your hand at the Caesars Palace Classic, which begins Thursday. The series, which runs from October 21 through November 7 will feature 34 events, with buy-ins as low as $230 up to $1,070 for the Championship Event. There are no-limit hold'em events scheduled, as well as pot-limit Omaha, turbo tournaments, a ladies event, and a seniors event. Get knocked out early? Don't worry, re-entry is allowed for all tournaments.
Want to find out more? Head on over to CaesarsPalace.com or call the poker room at 702-785-6566.
Addicted?
According to reports from the Florida Council on Compulsive Gambling, Florida college students are twice as likely as the general population to be compulsive gamblers. "A whole new generation of kids thinks that what they want to do when they finish school is be a professional poker player," Dr. Jeffrey L. Derevensky of McGill University said. Derevensky analyzed data gathered from seven Florida colleges and universities for the report. The Florida Council has even asked health and wellness officials from the universities to implement programs called Students Against Gambling Addiction.
Online site GR88.com is marketing directly to college students, but president Peter Karroll says the his site watches for gambling addictions. "When a computer has unusually high activity, a trigger alerts GR88 and a representative will interview and warn the player by phone. In some cases, access to the site is blocked," he said.
The Sun-Sentinel has more.
Noble Poker
Noble Poker is letting you become your own mini-affiliate. If you're part of the Noble Poker Partners Program, every friend you refer will earn you up to 25 percent of the rake every time one of your referrals plays. This will be deposited in your account once a month. You can invite your friends through Gmail and social networking such as Facebook, Twitter, Yahoo, etc.
Sound like something you're interested in? Check out NoblePoker.com for more.
PokerStars.net Big Game
We told you Monday that all this week the PokerStars.net Big Game would be airing new episodes. And we told you to be on the lookout for Tony G this week. The G and David "Viffer" Peat tangle in a hand in which to start the hand, Tony has
and Viffer has
. Then, before the dealer shows the flop, the two swap one card. Viffer then gets pocket sevens and Tony holds ace-king. Upon finding out about the shenanigans, Daniel Negreanu said, "What the hell?" and Joe Hachem said, "Is that allowed dealer?"
Who won the hand? You'll have to watch the video from PokerStars.tv below.
Now if only our tablemates would let us swap cards every now and again...
Follow us on Twitter for up-to-the-minute news.